Baby vissen: hoe te kweken en kun je er geld mee verdienen?
Het is zover: je hebt zin en tijd om baby vissen te kweken. Een kweek in een aquarium is mogelijk, mits je weet wat je moet doen. Ga je voor het eerst baby vissen kweken in een aquarium? Kies dan de juiste vissen om mee te beginnen. In deze blog vertellen we hoe jij zorgt voor een succesvolle kweek en comfortabele eerste levensdagen voor baby vissen in een aquarium.
Zorg voor de juiste omstandigheden
Zorg dat de baby vissen goed opgroeien! Dat kun je het beste doen met goed opgroeivoer. Voor de allerkleinste visjes gebruikt ik deze ontschaalde artemia eitjes. Als je visjes al wat groter zijn dan raad ik deze zoetwater granules XS aan. Goede resultaten, en dat is wel zo lekker!
We nemen je mee in het gedrag van aquariumvissen voor, tijdens en na de zwangerschap. Hoe kun je het beste vissen kweken? Kunnen nieuwbakken ouders agressief gedrag richting baby vissen vertonen? En: (hoe) verdien je geld met het kweken van vissen baby's? Deze én meer vragen beantwoorden we in deze blog.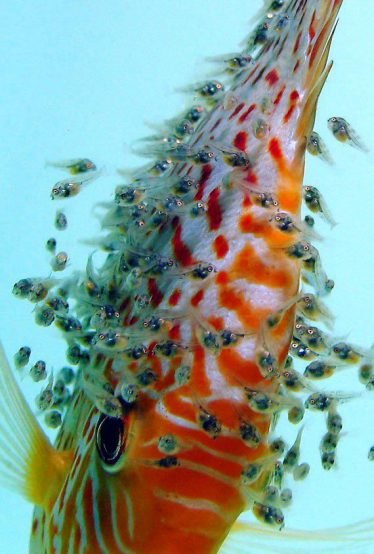 Waar gaan we in deze blog op in? In onderstaand overzicht vind je snel het antwoord op vragen rondom vissen baby's.
Wat is het allerbelangrijkste om gezonde vissen baby's te krijgen? Optimale omstandigheden als basis voor de kweek. Die kun jij creëren. Hoe doe je dat? We helpen je met een checklist voor het thuis kweken van vis baby's.
Checklist: een succes kweek van vissen baby's in een aquarium
Een succesvolle thuis kweek valt of staat met de 'paai zin' van de vissen in het aquarium. Wat jij kunt doen: de juiste voorbereidingen treffen om de fases voor, tijdens en na kweek goed te laten verlopen. Speciaal voor de beginnende vis kweker maakten we een handige checklist. Wat heb je nodig?
De omstandigheden voor het succesvol thuis kweken van baby visjes verschilt per vis soort. Elke vis vraagt om een nauwkeurige blik op haar aquariumwensen. Denk aan de temperatuur van het aquariumwater, waterwaarden, voeding en geschikte aquariumplanten. Het succes van de kweek zit in aandacht voor deze onderlinge nuances. Het goed inlezen in de vissoort vóor de start van de kweek is essentieel.
Een kweekbak met het juiste formaat. Indicatie kweekbak formaat voor kleine(re) vissen: 60 x 30 x 30 centimeter = +/- 55 liter. Indicatie kweekbak formaat voor grote(re) vissen: 90 x 30 x 30 centimeter = +/- 80 liter. Een kweekbak inrichten doe je op dezelfde manier als het inrichten van een aquarium. Bodem substraat neerleggen is niet noodzakelijk bij een kweekbak.
Aquariumplanten om beschutting te creëren. Aquariumplanten zoals Javamos en Vallisneria creëren goede schuilplekken voor de visbaby's. Let op: eileggers hebben meer aquariumplanten nodig dan levendbarende vissen. De eerste soort heeft ook schuilplekken voor haar eitjes en nodig.
Voeding om paai zin te bevorderen en baby visjes op te kweken. Tropische baby visjes hebben speciaal visvoer nodig. Artemia is geschikt voor de eerste levensdagen van baby visjes. Voor het opkweken van jonge tropische visjes zijn microwormpjes, kweekgranulaat en baby garnaaltjes goede opties en makkelijk online te kopen.
Een mannetje en een vrouwtje. Ben je ervan overtuigd dat je een mannetje én een (of twee) vrouwtje(s) voor de kweek beschikbaar hebt. Klinkt voor de hand liggend, maar in praktijk is het lastig om geslachtonderscheid te bepalen. In algemene zin geldt: het mannetje heeft fellere kleuren en is slanker gebouwd. Raadpleeg voor meer specifieke verschillen betrouwbare informatie over de geselecteerde vissen en/of ga naar een vis speciaalzaak.
Gezonde vissen. Zorg voor vissen in een goede conditie. Kweken met gezonde aquariumvissen is essentieel voor het kweken van sterke visbaby's. Mutaties en (genetische) aandoeningen worden doorgegeven aan het nageslacht. Bestudeer en observeer de vissen vóór de start van het kweekproces. Vertonen de vissen gezond gedrag – in lijn met de kenmerken van haar soort? Zien de vissen er gezond uit? Signaleer je geen signalen van visziekten?
Bovenstaande punten zijn essentieel voor een succesvolle vissen kweek.
Tip: indien je geen substraat (zoals: zand en/of korrels) op de bodem van de kweekbak toevoegt: zet de aquariumplanten in potjes, zodat ze op hun plek blijven.
Ondanks onderlinge verschillen kunnen we wél vertellen aan welke knoppen je kunt draaien om de paai zin bij de vissen te bevorderen en de kweek tot een succes te maken.
De juiste omstandigheden creëren voor, tijdens en na de kweek van vis baby's
Welke omstandigheden zijn optimaal voor een goede kweek? Ook hier geldt: raadpleeg per vis de nuances in perfecte kweek omstandigheden. Maar in de basis is het belangrijk om de volgende (externe) factoren voor een succesvolle kweek en het bevorderen van paai zin goed onder de loep te nemen.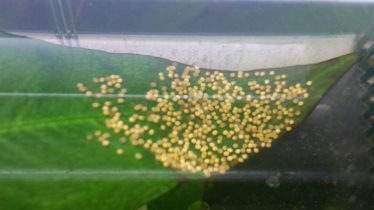 Waterwaarden: schoon water tijdens de kweek is essentieel. Lees van tevoren welke waterwaarden van het aquariumwater voor de te kweken vis het meest optimaal zijn. Ook heeft elke vissoort zijn eigen ideale waterwaarden. Zoek die dus op!
Temperatuur: het geleidelijk verhogen van de temperatuur bevordert paar gedrag onder tropische vissen. Seizoensinvloeden uit de natuur worden hiermee gesimuleerd. Verhoog de temperatuur met ongeveer 1-2 graden.
Verhoudingen: afhankelijk van de vissoort geldt dat een kweek meer kans op slagen heeft bij 1 mannetje op 2 tot 3 vrouwtjes.
Verlichting: tropische vissen zoeken vaak schaduwrijke plekken op rondom de voortplanting. Een aquarium in de volle zon is niet gewenst en voldoende schuilmogelijkheden is een must.
Voeding: voeding kan van invloed zijn op de 'voortplantingszin' van de tropische vissen. Het (met kleine beetjes) verhogen van de voedsel hoeveelheid en het aanbieden van levend- of diepvriesvoer kan paaien stimuleren.
De juiste visvoeding is van essentieel belang voor de eerste levensdagen van de baby vissen. We zetten de verschillende fasen en de juiste handelingen na de geboorte van de visbaby's kort op een rij. Het levend houden van de babyvissen is lastiger dan de kweek zelf. De uitkomst? Een (op)kweekbak zorgt dat jonge vissen rustige eerste levensdagen beleven. Zelf ben ik blij met deze opkweekbak, vanwege de mogelijkheid om (agressieve) ouders snel te scheiden van de vissen baby's. Vervolgens is de juiste verzorging van belang. Met dit oproeivoer zorg je voor een goede levensstart van de visbaby's.
In 5 fasen van geboorte naar het volwassen aquarium
Afhankelijk van de groeisnelheid van de visbaby's zijn de kleintjes na 3 – 5 weken groot en sterk genoeg om naar het gezamenlijke aquarium te verhuizen. Aan de verhuizing gaan de volgende fasen vooraf, waar de juiste (hoeveelheid) voeding van essentieel belang is.
Fase 1: eerste levensdagen: de baby vissen starten met fijn (vlok) voer.
Fase 2: vanaf +/- dag 3 tot +/- dag 15: de baby vissen krijgen klein levend voer. Denk aan pantoffeldiertjes, watervlooien en azijnaaltjes.
Fase 3: vanaf +/- dag 15 tot +/- dag 21: start met het voeden van Artemia. Dit is dierlijk plankton.
Fase 4: groeien de vissen en eten ze goed? Start met het afwisselen van het voer. Verschillende voeding zorgt dat de baby vissen sterker en weerbaarder worden.
Fase 5: als de vissen groot en sterk genoeg zijn kunnen ze overgeplaatst worden naar het volwassen aquarium. Het uitgangspunt is vaak dat de vissen wat groter moeten zijn dan dat in de bek van volwassen aquariumvissen past.
Nu ben je een eind op weg, maar we geven je nog wat tips mee:
Drie tips bij elke fase van vissen kweken
Tot slot, houd bij elke fase de volgende drie tip in je achterhoofd:
Tip 1: voed de baby vissen 3-5 keer per dag en niet meer dan de vis baby's in gemiddeld 5 minuten op kunnen. Monitor dit goed tijdens de eerste levensdagen.
Tip 2:

waterwaarden zijn van groot belang voor de groeisnelheid. Test regelmatig het water op stabiele en juiste waterwaarden.

Tip 3:

gedurende alle fasen eten baby vissen minuscule diertjes tussen algen in het aquarium. Een beetje alg in de (kweek)bak hoeft niet direct verwijderd te worden.
Ben je op zoek gegaan naar de specifieke omstandigheden om jouw thuis kweek tot een succes te maken? Dan hebben we nog extra 5 tips voor je.
Vijf extra tips voor thuis om de kweek niet in het water te laten lopen
Omdat kweeksucces in de nuances zit zetten we nog 5 tips op een rij om extra goed voorbereid te zijn. 
Tip 1: algen groei in de kweekbak? Verwijder niet direct alle algen uit de kweekbak. Overmatige algengroei is natuurlijk schadelijk, maar een beetje alg kan door de jonge visjes gebruikt worden als voedsel en schuilplek.
Tip 2: het aantal keer en de hoeveelheid van het voedsel voor vis baby's is lastig te bepalen. Voer altijd kleine porties en voer niet meer dan de hoeveelheid die de visjes in 4-6 minuten op kunnen eten.
Tip 3: kijk naar de gewenste waterstand van de vissen tijdens de kweek. Zo zijn Gourami's gebaat bij een lagere waterstand. Zij vragen om maximaal 20 centimeter water voor een optimale kweek.
Tip 4: verwijder eitjes die niet uitgekomen zijn. Hiermee wordt verspreiding van schimmels en visziekten verlaagd.
Tip 5: let op dat de babyvisjes groot genoeg zijn als ze worden teruggeplaatst in het aquarium, zodat de aquariumfilter geen gevaar vormt en ze niet direct door de grotere vissen worden opgegeten.
Kweek omstandigheden: afgevinkt! Maar: hoe gedragen de vissen zich rondom de kweek en welk gedrag is normaal?
Gedrag tijdens de kweek: is onrustig gedrag bij (toekomstige) vis ouders normaal?
Agressief gedrag bij (broedende) vis ouders is veel voorkomend en normaal. De oorzaak van gedrag rondom de kweek varieert van onrustig gedrag tot het opeten van de vissen baby's. We zetten drie gedragsvormen op een rij die voorkomen tijdens de kweek. Daarbij vertellen we: wat kun jij doen?
1. Gedrag: hanengedrag onder territoriale mannetjes vissen zoals Zoenvissen. De reden is simpel: de sterkste man mag zich voortplanten.
Wat kun jij doen: zet bij territoriale vissen 1 mannetje in het aquarium om de aquariumrust te bewaken. Check per vissoort wat de ideale man/vrouw verhouding tijdens de kweek is.
2. Gedrag: onnatuurlijk of onrustig gedrag onder de vissen. Stress onder vissen is niet bevorderlijk voor de voortplanting en stimuleert daarnaast visziekten. De oorzaak kan een onnatuurlijke aquariumomgeving zijn. Denk aan een te klein aquarium, een saaie omgeving of weinig schuilplekken voor de vissen.
Wat kun jij doen: zorg dat de vissen zich thuis voelen. Creëer een natuurlijke omgeving afgestemd op het soort tropische vis. Denk aan voldoende zwemruimte afgewisseld met genoeg schuilplek en aquariumdecoratie.
3. Gedrag: (mogelijk) agressief gedrag richting baby vissen. Diverse versgebakken ouders zien hun vissen baby's als voedsel.
Wat kun jij doen: een kweekbak met uitneembaar schot scheidt snel en makkelijk ouders van de vis baby's. Een kweekbak is ideaal om agressieve (en zieke) vissen te scheiden van andere vissen, eitjes of baby vissen.
Tip:
een laag knikkers op de bodem van de kweekbak waar de eitjes tussen dwarrelen beschermt tegen hongerige ouders die hun eitjes als
maaltijd
zien.
Speciaal voor de beginner: top 5 vissen die makkelijk te kweken zijn
Wat zijn makkelijk te kweken aquariumvissen? Hieronder 5 soorten waarbij je makkelijk vissen baby's kunt kweken:
1. Black Molly: zorg voor rust tijdens het vissen kweken. Black Molly 's zijn stressgevoelig, dit gaat ten koste van de 'paar zin' van de ouders.
2. Chinese Danio: zorg voor een stabiele watertemperatuur en voldoende beschutting.
4. Roodvinzalm: zet voldoende mannen en vrouwen vissen bij elkaar en planten met grote bladeren.
3. Guppy: deze kleurrijke visjes zijn de konijnen van het aquarium. De kweek gaat bij de juiste omstandigheden zo goed als vanzelf.
5. Dwerg gourami: maak het water warm genoeg (27 graden) en het waterpeil niet hoger dan 20 centimeter.
Meer over geschikte beginners vissen om te starten met een aquarium lees je in het artikel over de top 10 aquariumvissen voor beginners.
Goed, de ideale kweekomstandigheden heb je afgevinkt. Nu terug naar de basis: hoe komen baby vissen ter wereld? Afhankelijk van het soort aquariumvis kunnen vis baby's in twee vormen 'geboren' worden: in de vorm van een eitje of direct als mini visje.
Levendbarende vissen en ei-leggers: de 2 geboorte vormen van een baby vis
Er bestaan twee geboortevormen van baby vissen. Aquariumvissen worden verdeeld in twee groepen als het gaat om voortplanting:
1. Dit is de aquariumvis die (eerst) eitjes legt voordat de vissen baby's ter wereld komen. Voorbeelden hiervan zijn Maanvissen en Discusvissen.
2. Baart een aquariumvis haar baby vissen direct als mini volwassenen? Dan behoort zij tot de levendbarende aquariumvissen.
Beide geboortevormen lichten we kort toe. Zoals de term vermoedt zetten levendbarende aquariumvissen direct miniatuur visjes af. Het voortplanten gebeurt snel, gezien levendbarenden broedzorg niet kennen. Levendbarende vissen brengen hun baby visjes op de volgende manier ter wereld:
De bevruchting gebeurt inwendig. Met zijn anaalvin – die transport van zaadcellen mogelijk maakt – bevrucht het mannetje de eitjes in het lichaam van het vrouwtje.
De eitjes blijven na bevruchting in het lichaam van de moeder. Tijdens de zwangerschap groeien de eitjes uit tot miniatuur visjes.
Na 4 á 5 weken stoot het vrouwtje haar eitjes uit op een rustige plek op het aquarium. De jonge visjes zijn direct op zichzelf aangewezen. Voldoende schuilplek voor de baby vissen in het aquarium is van groot belang.
Levendbarende vissen zijn onder meer: Platy's, Hoogvinkarpers en de Black Molly.
Tip: andere aquariumvissen, inclusief de nieuwbakken ouders, zien baby visjes vaak als voedsel. Een (ruime) kweekbak voor de moeder na de bevruchting is daarom aan te raden.
Zijn er verschillen tussen de voortplanting en nazorg van de vissen baby's van levendbarende vissen en aquariumvissen die eitjes leggen? Jazeker. We lichten de kenmerken van eileggers nader toe.
Soorten ei-leggers: vier vormen hoe een baby vis eitje wordt gelegd en verzorgd
Vis baby's van eileggers komen ter wereld vanuit een eitje. De moeder heeft de eitjes gelegd op een (willekeurige óf zorgvuldig geselecteerde) plek in het aquarium. Het verschil tussen eileggers en levendbarende aquariumvissen kenmerkt zich niet enkel door de geboorte. Twee andere wezenlijke verschillen zijn:
Bevruchting: bij eileggers bevrucht het mannetje na de afzet de eitjes, buiten het lichaam van het vrouwtje.
(Na)zorg: een aantal eileggers kennen paaien en broedzorg, levendbarende aquariumvissen niet.
Naast deze overeenkomsten zijn er onderlinge verschillen tussen eileggers, want: eileggers bestaan uit diverse soorten. De vier soorten eileggers op een rij:
1. Vrijlegger: deze grootste groep binnen de eileggers heeft geen voorkeur voor de afzetplek van de eitjes. Een vrijlegger strooit haar eitjes rond, die vervolgens op een willekeurige plek in het aquarium belanden. Vrije leggers bieden geen broedzorg.
Voorbeeld van vrije leggers zijn Danio's, Zoenvissen en de Kegelvlek barbeel. 
2. Substraat broeders: deze eileggers zetten hun eitjes af op rotsen, aquariumdecoratie, aquariumplanten en/of het aquariumglas. Substraat broeders kennen broedzorg die door beide ouders gedragen wordt. Tijdens de broedzorg van de baby vissen beschermen en voeden de ouders hun kroost. 
Voorbeeld van substraat broeders zijn Maanvissen, de Harnasmeerval en het Antennebaarsje.
3. Schuimnest bouwers: vóordat deze eileggers paaien creëert de mannetjesvis een schuimnest: een combinatie van uitgeblazen belletjes en speeksel. De functie van het schuimnest is het aantrekken van minuscuul voedsel uit het aquariumwater en ervoor zorgen dat het nest aan het wateroppervlak blijft drijven (ten behoeve van zuurstof toevoer). Het vrouwtje legt het eitjes in het schuimnest. Het mannetje bewaakt dit fort tot de baby visjes vrij rond zwemmen.

Voorbeeld van schuimnest bouwers zijn labyrintvissen of wel Goerami's waaronder Betta Splendens
4. Muilbroeders: nadat het mannetje de afgezette eitjes heeft bevrucht nemen muilbroeders de eitjes in hun mond (muil). In veel gevallen dient het vrouwtje als muilouder, maar het kan ook het mannetje zijn. De broedzorg van de ouders vindt plaats in de mond van de ouder(s). Zodra de baby visjes zichzelf kunnen verzorgen worden ze door de muilouder uitgespuwd. 
Voorbeeld van muilbroeders zijn (veel) Cichliden waaronder Malawi cichliden en Kardinaal baarzen. 
Als je een echte kweek kenner bent geworden denk je wellicht na over een volgende stap: kun je geld verdienen met het weken van vissen baby's?
Vissen kweken voor geld: een goudmijn of onverstandig?
We houden het kort: wij raden de hobby kweker het thuis kweken voor geld af. Waarom? Om twee belangrijke redenen.
Reden 1: de vissen baby's die jij kan kweken, kan (bijna) iedereen kweken. Guppy's zijn het meest makkelijk te kweken, dus dat zal iedereen doen. Dit betekent dat het moeilijk is om(veel) geld te verdienen aan de kweek. Heb je (per ongeluk) een Guppy overschot? Dan is het natuurlijk beter om de vis baby's weg te geven en niet door de wc te spoelen.
Reden 2: het garanderen van kwaliteit is lastig. Vissen die moeilijk te kweken zijn, zijn gewilder. Echter: bij het kweken van visbaby's voor de verkoop hoort een kwaliteit garantie. Je moet kunnen garanderen dat jouw vissen baby's bijvoorbeeld geen ziekten meenemen naar een volgend aquarium. Kun je je het gesprek met jouw Marktplaats koper al voorstellen als jij per ongeluk zieke vissen baby's hebt verkocht?
Kortom: het is dikwijls meer gedoe om zelf gekweekte vissen te verkopen dan er goed geld mee te verdienen.
Tip: wij raden aan om vissen altijd bij een specialist te kopen. Op deze manier kun je zien waar de vissen vandaan komen en aan een specialist alles uitvragen over jouw nieuwe aquariumbewoners.
Tot slot: deel je ervaringen met ons en help andere beginnende thuis kwekers
Heb jij ervaring met het thuis kweken van vissen baby's? We delen die ervaring graag met andere hobbyisten, zodat we onze informatie nog vollediger kunnen maken. Deel je ervaring hieronder met een reactie of een foto van jouw (kweek) aquarium op onze pagina.