Black Molly: beste beginnersvis voor je aquarium!
De Black Molly, is dé vis om je eerste meters mee te maken als aquariumhouder. De gouden tip als je met een aquarium begint is dan ook: kies gemakkelijke aquariumvissen. Aquariumvissen die met relatief weinig aquariumkennis, goed in een aquarium kunnen overleven dus. In deze blog gaan we verder in op een aquariumvis die aan deze eigenschappen voldoet: de Black Mollies (of Black Molly's). Ben je op zoek naar meer aquariumvissen voor beginners? We hebben al een leuk artikel over een top tien beginnersvissen geschreven!
Wil je dat je Black Molly's gezond blijven? Zorg dan dat je voldoende kennis hebt en de juiste voeding gebruikt. Zelf heb ik goede ervaringen met visvoer speciaal voor gezondere vissen. Dit kun je hier eens eens verder bekijken. Superhandig! 
En nu! Waar gaan we het over hebben in deze blog over Black Mollies? Deze blog behandelt:
Inrichting Black Molly aquarium
De Black Molly is een makkelijke aquariumvis om te houden. Wel heeft de Black Molly wat strenge, maar simpele eisen aan haar huisvesting. Zij leeft het beste in een aquarium van minimaal 60 – 80 centimeter. Black Mollies houden van een plantrijke omgeving met een goede balans tussen zwem- en schuilruimte. Een geschikte aquariumplant is de Cabomba: een nuttige én mooie aquariumplant. De temperatuur van het aquariumwater is optimaal tussen de 22-28 graden Celsius.
Basis tips voor de inrichting:
Temperatuur water: 22-28 graden Celsius
PH (maar wat is nu PH waarde?) : 7,5 – 8
Aquarium grootte: minimaal 60 – 80 centimeter lang
Decoratie: creëer veel schuilruimte in de vorm van stenen of bijvoorbeeld de aquariumplant Javavaren (geschikt voor een beginnersaquarium!)
Rust: Overbevolking stimuleert witte stip en schimmel.
Nu heb je de juiste aquarium inrichting! Maar: welke vissen kun je goed bij Black Molly's in een aquarium zetten? Hoewel Black Mollies eruit zien als een duistere bedreiging, is het stiekem een zonnig gezelschap. Ze is sociaal en verdraagzaam met andere vissen! Lees snel verder.
Black Molly's en andere aquariumvissen
Door de nieuwsgierigheid van Black Molly's gaan zij het best samen met andere vissen met een assertief karakter. Aquariumvissen die goed samen gaan met Mollies zijn: guppy's, platy's en zwaarddragers. Aquariumvissen die af te raden zijn – ook omdat ze de Black Molly babies eten – zijn: Maanvissen en Discusvissen. De Kempvis is vanwege zijn agressieve aard ook geen goede combinatie met de actieve Black Molly.
Black Molly's gaan trouwens ook goed samen met soortgenoten – de andere Mollies! Je hebt Mollies ook in verschillende varianten, met verschillende kleuren.
Soorten Black Mollies
Er zijn verschillende soorten Black Molly's. Het verschil zit vooral in het uiterlijk. De Zilvermolly (Silver Molly), Gouden Molly en Dalmatiër Molly zijn kweekvormen van de Black Molly en hebben ook dezelfde eigenschappen. Ze hebben dus ook dezelfde zorg nodig. Alles wat je leest in deze blog kun je dus goed toepassen op de hele Molly familie.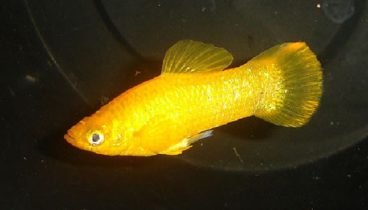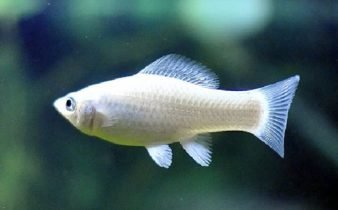 Black Molly als Algeneter
Naast dat de Molly's er leuk uitzien zijn het ook nog algeneters! Een schoonmaakhulp voor je aquarium dus! Black Molly's helpen je aquarium opruimen, ze knabbelen algen van de aquariumplanten en stenen. De Black Molly is geschikt om preventief of in de beginfase van algengroei (onder andere van de puntalg, draadalg en zweefalg) in te zetten. Echter, de Black Molly is geen oplossing tegen algen! Wil je echt weten hoe je van je algen af moet komen? Lees dan de artikelen over algen bestrijden in je aquarium.
De basis informatie over het houden van Black Molly's weet je nu. De volgende stap is: Black Mollies kweken! Als je dat wenst natuurlijk ;-). Volg dan het volgende stappenplan.
Stappenplan: Black Mollies kweken
De Black Molly's zijn gevoelig voor stress. Dit geldt vooral voor vrouwtjes. Zwangere Black Mollies hebben hetzelfde nodig als elke zwangere vrouw: rust. Stress zorgt ervoor dat er niet gepaard wordt en stimuleert vroeggeboorte van de baby's. Daarnaast stimuleert stress vatbaarheid voor ziektes. Om dit te voorkomen moeten de omstandigheden zo optimaal mogelijk zijn.
Wat jij kan doen? Er zijn een aantal variabelen waar je zelf invloed op hebt. Neem de volgende aandachtspunten mee voor een succesvolle kweek:
Stap 1: Verhouding man/vrouw
Verhouding man/vrouw. De kweek gaat het beste met één mannetje en 2 tot 3 vrouwtjes.
Stap 2: Voorwaarden
Schuilruimte kan gecreëerd worden door het toevoegen van planten en andere aquariumversiering. Denk aan Vallisneria, maar ook rotsen, kiemhout of andere aquarium decoratie.
Zorg voor een aquarium van minimaal 60-80 centimeter voor voldoende zwemruimte.
Balans in het aquarium. Het aquariumwater moet gezond en in balans zijn. Hoe je daar achterkomt? Lees de blog over aquarium water test voor alle antwoorden.
Stap 3: Denk aan een kweekbak
Kijk naar je andere vissen in je aquarium. Black Molly babies worden vaak als voedsel gezien door andere vissen, waaronder – wonderbaarlijk genoeg – hun ouders. De Maanvis en de Discusvis zijn ook niet geschikt, omdat ze de Black Molly babies kunnen opeten. Om dit te voorkomen kun je de Black Mollies babies tijdelijk (ongeveer 3-4 weken) in een kweekbak groot brengen.
Stappenplan kweekbak:
Gebruik water uit het oorspronkelijke aquarium voor de kweekbak
Zorg voor voldoende schuilruimte voor de kleintjes
De eerste 2 weken kun je de babies stofvoer geven. Overvoer de kleintjes niet, begin met een paar vlokjes per dag.
2 weken na het stofvoer kun je starten met watervlooitjes of fijn groenvoer zoals

geblancheerde

broccoli.
Gezond verloop van de kweek
Als de zwangere Black Molly zich goed voelt tijdens haar zwangerschap krijgt zij na ongeveer 28 dagen 20 tot 150 kleintjes. De Black Molly baby's komen levend ter wereld. De jonge Black Mollies kunnen – mits voldoende natuurlijk voedsel zoals algjes en andere aquariumplanten als schuilruimte – zonder extra zorg goed overleven.
Interessant feitje! Een Black Molly vrouwtje kan na 'bevruchting' ook zonder Black Molly mannetje kleintjes krijgen. Een vrouwtje kan het sperma opslaan en heeft hier genoeg aan voor 5-7 worpen.
Nu weet je hoe je Black Molly babies kan kweken! Maar: hoe weet je nu hoeveel mannetjes en vrouwtjes je gekweekt hebt!
Hoe herken je het Black Molly geslacht?
Wil je weten wat het geslacht is van jouw aquariumvissen? Easy! Je herkent het eerste verschil op basis van de aarsvin: een klein stokje onderaan de buik. Bij vrouwtjes is deze rond, bij de mannetjes puntig. Een Black Molly man kenmerkt zich ook door de aanzienlijk grotere rugvin, en soms door "snorvorming". Deze snor is een ongevoelig uitsteeksel op de schubben van de bovenkaak – waarmee ze de geslachtsdelen van het vrouwtjes kunnen prikkelen.
Grappig detail: de Black Molly kiest er bij voorkeur voor om te paren met een Black Molly mannetje met een "snor".
We vertelden eerder dat Black Mollies weinig eisen stellen aan onderhoud. Met een klein beetje inspanning zijn ze al tevreden! Natuurlijk kan het toch gebeuren dat je Black Molly ziek wordt. Meer informatie lees je in onze blog over visziekten herkennen. Let wel – hoe cliché ook: voorkomen is altijd beter dan genezen!
Help, mijn Black Molly is ziek
Black Molly's zijn vatbaar voor ziektes. De volgende omstandigheden zorgen ervoor dat je Black Molly vatbaarder is voor ziektes zoals witte stip en andere visziekten:
Te koud water: zorg dat het water > 22 graden is.
Transport: zorg voor een rustige overgang tussen de winkel en je eigen aquarium thuis. Schud niet teveel met het zakje en laat je Black Molly wennen. Houd ook het zakje waar je haar mee in naar huis neemt recht.
Overpopulatie: zet niet teveel aquariumvissen bij elkaar.
Stress: voorkom weinig schuil- en zwemruimte.
Natuurlijk kan het gebeuren dat je Black Molly toch ziek wordt. Wat te doen als je Black Mollies ziek zijn?
Diagnosticeer welke ziekte de Black Molly heeft. Witte Stip komt vaak voor, maar wordt nogal eens verward met andere visziekten. Het is daarom belangrijk om de juiste ziekte te herkennen, zodat je maatregelen kan nemen voor de genezing.
Direct oplossen. Na de diagnose van de ziekte neem je direct maatregelen om de Black Molly te genezen. Je kunt hiervoor het stappenplan uit een andere blog over visziekten lezen.
Voorkomen beter dan genezen. Ondanks dat vissen die genezen van Witte Stip een sterkere resistentie hebben.
Tip:
kijk hiervoor vooral kritisch naar de waterkwaliteit. Doe bijvoorbeeld eerst een
watertest
van je aquarium.
Met de basiskennis die je nu hebt kun je met een gerust hart naar de winkel. Je weet tenslotte nu hoe je de Black Mollies moet houden. Toch nog een afsluitende noot: let vooral ook goed op in de winkel!
Kopen van Black Mollies:
Bij het kopen van Black Molly's is het van belang om zelf scherp te blijven! Black Molly is een aquariumvis met een actief karakter. Een gezonde Black Molly zwemt dus energiek en laat zich niet makkelijk vangen. Black Molly's zijn dus letterlijk: hard to get. Degene die het meest lastig is om te vangen – is waarschijnlijk het meest gezond.
Belangrijk: monitor de overgang tussen het aquarium in de winkel en het aquarium thuis. Black Mollies zijn gevoelig voor een verschil in water PH waarde (zuurgraad). Een paar tips om dit goed te begeleiden:
Laat de Black Molly eerst wennen aan het water in een apart potje.
Elke 10 minuten vervang je 10% van het originele water door water uit je aquarium.
Na ongeveer 2 uur kun je de Black Mollies overzetten naar

het

aquarium. 
Black Molly basis info
Tot slot nog kort de basis info over de Black Molly waar je je goed staande mee kunt houden als je in gesprek bent met een doorgewinterde aquariaan:
De Black Molly is een levendbarende tandkarper.
Black Mollies zijn sociaal, verdraagzaam en actief.
De vissoort komt niet in de natuur voor en is al een kweekvorm op zich.
De Latijnse naam is: Poecilia Sphenops.
Black Mollies zijn omnivoren, en een actieve algeneter.
Deze vissoort kweekt optimaal in een "harem": 1 mannetje op meerdere vrouwtjes.
Tot slot een vraag aan jou!
Mooi! Nu ben jij de Molly expert, je weet nu VEEL over deze gezellige, actieve beginnersvis! Zijn we nog iets vergeten? We zijn heel benieuwd. Laat het ons weten