Top 5 aquarium zoutwater koralen voor beginners
Het is natuurlijk belangrijk om de juiste zoutwatervissen te kiezen voor in je aquarium, maar zoutwater koralen zijn net zo goed onmisbaar in je zoutwateraquarium. Niet alleen omdat het er mooi uitziet, maar ook omdat het nodig is voor je vissen en voor het waterklimaat. Er zijn heel veel verschillende soorten koralen en als je net begint met een zoutwater aquarium, kan het moeilijk zijn om de juiste koralen te kiezen. Waar moet je op letten en welke koralen zijn de beste keuze voor een beginnend aquariaan? Wij brengen je de top 5 koralen voor beginners!
1. Sacropython – Paddestoel lederkoraal
Een van de makkelijkst te houden zoutwater koralen is de Sacropython, het paddestoel lederkoraal. Deze koralen zijn zeer aan te raden voor beginners, ze houden zich namelijk ook prima staande in een bak waarin de waardes nog wat schommelen.
Doordat dit koraal zelfs aangeeft wanneer het goed gaat met je waardes, is het dus ook erg handig om dit koraal in je aquarium te hebben.
Ziet het koraal er mooi uit, dan is dat het teken dat je waardes optimaal zijn. Ziet het koraal er minder mooi uit, dan weet je dat er nog wat aan je waardes gedaan moet worden. De Sacropython is er in veel verschillende kleuren en ook qua poliepvorming kunnen ze erg uiteen lopen. De verschillende "soorten" van dit lederkoraal zijn eindeloos, al is er één overeenkomst: ze hebben allemaal de vorm van een paddestoel.
Vermeerderen van de Paddestoel lederkoraal
In een goedlopend aquarium vermeerdert het koraal zichzelf. Ook kun je dit zelf op gang brengen door een stukje van de hoed af te snijden en dit op een steentje te zetten. Dit kan dan snel uitgroeien tot een compleet nieuw koraal. Paddestoel leders leven van hele fijne plankton deeltjes in het water. Deze vangen ze op met hun poliepen en de rest van hun voeding halen ze uit licht wat door de zoöxanthellen wordt omgezet in voedingsstoffen. Eens in de zoveel tijd vervellen ze. Dit doen ze om onverteerd voedsel en afvalstoffen af te scheiden. Het koraal zal dan enige tijd ingetrokken staan. Dit is normaal en hier hoef je je dus geen zorgen om te maken. Gebeurt dit te vaak, dan is er wat aan de hand met de waardes in de bak en dan zullen deze moeten worden aangepast.
| | |
| --- | --- |
| Moeilijkheidsgraad | Beginners |
| Lichtsterkte | Matig tot hard |
| Waterstroming | Matig tot hard |
| Bijvoeren | Met zeer fijne plankton |
| Plaatsing | Midden tot bovenin de bak |
2. Euphyllia Glabrescens – Toortskoraal
De Euphyllia Glabrescens, een toortskoraal. Dit koraal is zeer populair onder beginners, omdat ook dit koraal goed tegen de wisselende waardes van een beginnend aquarium kan.
Het koraal heeft de vorm van een toorts door zijn lange, zwiepende tentakels en daar heeft dit koraal dan ook zijn naam aan te danken. De Euphyllia Glabrescens mag best wat stroming hebben en kan laag in de bak geplaatst worden, hoewel wat hoger in de bak ook prima is. Let er bij het plaatsen van dit koraal wel altijd op dat het niet te dicht bij kwetsbare zoutwater koralen staat want deze kan hij beschadigen met zijn lange tentakels die flink kunnen netelen.
En wat moet je verder nog weten over de Toortskoraal
Dit koraal haalt zijn voedingsstoffen uit het licht dat de zoöxanthellen omzetten, maar dit koraal pakt ook zeer graag voer zoals mysis en artemia. Het is bij deze koraalsoort wel belangrijk dat het aquarium een goed calciumgehalte heeft; hij moet namelijk een skelet vormen van deze bouwstoffen. Is er geen calcium aanwezig in het aquarium, dan kan er ook geen groei plaatsvinden.
| | |
| --- | --- |
| Moeilijkheidsgraad | Beginners |
| Lichtsterkte | Matig tot hard |
| Waterstroming | Matig tot hard |
| Bijvoeren | Eventueel met mysis en artemia |
| Plaatsing | Zowel laag, midden als bovenin de bak |
3. Catalaphyllia Jardinei – Flowerkoraal
De Catalaphyllia Jardinei, een flowerkoraal, is zeer populair. Echter is dit koraal wel een wat moeilijker koraal. Er is namelijk wat meer moeite nodig om dit koraal goed te onderhouden en goede omstandigheden te bieden dan bij andere zoutwater koralen. Daarnaast kan dit koraal niet goed tegen schommelende waardes en moet het in kwalitatief goed zeewater geplaatst worden.
Het koraal staat wel prachtig in een aquarium door de prachtige felle punten en de zwepende tentakels die van kleur kunnen variëren van fluoriserend diep blauw, paars of felroze. De kleur is afhankelijk van waar het koraal vandaan komt. Flowerkoraal moet goed in de bak geplaatst worden; dit is erg belangrijk alvorens het een succes kan worden.
Let nog op het volgende bij de Flowerkoraal
Zeer felle verlichting is niet aan te raden en het is niet slim om het koraal recht in de stroming te zetten; het is beter om deze op een wat rustigere plek te zetten. Om een flowerkoraal goed gezond te houden moet het bijgevoerd worden naast de voedingsstoffen die ze zelf aanmaken via zoöxanthellen. Denk hierbij aan mysis, artemia, stukjes mossel of een beetje spiering.
| | |
| --- | --- |
| Moeilijkheidsgraad | Gevorderden |
| Lichtsterkte | Matig |
| Waterstroming | Matig |
| Bijvoeren | Met mysis, artemia, stukjes mossel of spiering |
| Plaatsing | Laag in de bak |
 

4. Zoanthus – Buttons
De Zoanthus, ook wel Buttons, is een zeer populaire koraalsoort onder zowel beginners als gevorderde aquarianen. Het zoutwater koraal staat prachtig in je aquarium en het is verkrijgbaar in alle kleuren van de regenboog. Mede hierdoor is dit koraal zo populair.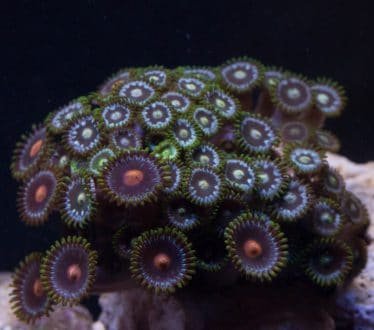 Dit koraal groeit redelijk makkelijk onder de juiste omstandigheden en het kan vrij makkelijk gestekt worden. Er is dan ook een zeer grote handelsmarkt voor. Over de hele wereld worden de stekjes verkocht, soms voor wel 300 dollar per poliep!
Er zijn veel verschillende varianten en deze hebben ook allemaal namen gekregen zoals Bambam's, Gatorades of Rasta's.
Het plaatsen van de Buttons moet altijd even voorzichtig gebeuren aangezien de ene soort van licht houdt en de andere wat minder. Qua stroming kunnen ze best wat hebben. Zoanthussen halen hun voedingsstoffen gedeeltelijk uit het licht en gedeeltelijk uit het water.
Buttons koraal is zeer giftig
Het is daarom belangrijk om bij te voeren met stofvoeding die speciaal voor deze koraalsoort ontwikkeld zijn. Ook is het toevoegen van Amino's zeer sterk aan te raden. Zoanthussen zijn erg giftig, zelfs giftiger dan een cobra. De stof Palytoxine komt vrij als de poliep beschadigd wordt. Als dit gif op je handen terechtkomt, kan dit een nare reactie geven. Zo kunnen er wondjes ontstaan of nog erger. Het is dus belangrijk dat je de zoutwater koralen met veel voorzichtigheid behandelt. Doe je dat, dan is er niets aan de hand en heb je een zeer mooi koraal in je aquarium staan!
| | |
| --- | --- |
| Moeilijkheidsgraad | Beginners tot gevorderden |
| Lichtsterkte | Matig tot hard, verschilt per soort |
| Waterstroming | Matig tot hard |
| Bijvoeren | Met speciale stofvoeding en Amino's |
| Plaatsing | Niet te dicht in de buurt van andere koralen |
5. Acanthastrea koraal
De Acanthastrea is een echte aanwinst voor je aquarium! Dit koraal is goed te houden voor de wat meer ervaren beginner. Dit koraal is te krijgen in alle kleuren van de regenboog en hoe specialer de kleur is, des te duurder is het koraal.
Dit koraal houdt niet van fel en direct licht en kan dus het beste in het midden of onderin de bak geplaatst worden. Een zachte stroming is het best. Het is hierbij belangrijk om goede waterwaardes te hebben, maar gelukkig kan dit koraal ook wel tegen wat schommelingen. Om echt goed te kunnen groeien, heeft het koraal wel echt sterke waterwaardes nodig.
Verder nog belangrijk bij de Acanthastrea Koraal
Daarnaast moeten ze ook goed worden bijgevoerd, zo'n 2 à 3 keer per week met voer dat speciaal voor deze koraalsoort gemaakt is of met wat mysis en artemia wat direct per poliep gevoerd kan worden. 's Nachts kan dit koraal zich best agressief gedragen, dus het is verstandig om met de plaatsing rekening te houden met de vechttentakels die tevoorschijn kunnen komen, zodat ze geen andere zoutwater koralen kunnen beschadigen.
| | |
| --- | --- |
| Moeilijkheidsgraad | Beginners tot gevorderden |
| Lichtsterkte | Matig |
| Waterstroming | Matig |
| Bijvoeren | Speciale voeding voor deze koraalsoort, mysis en artemia, 2 à 3 keer per week |
| Plaatsing | Niet te dicht in de buurt van andere koralen, onderin de bak |
De juiste zoutwater koralen kopen
Bovengenoemd zijn slechts een aantal aanbevelingen voor de beginnende zoutwater aquariaan. Natuurlijk betekent dit niet dat dit de enige koralen zijn die geschikt zijn, er zijn er nog veel meer! Je kunt deze het beste kopen bij een specialist als Coral and Fish Store. Daar kun je ook om advies vragen en ga je zeker weten met de juiste koral naar huis!
Tot slot een vraag over zoutwater koralen aan jou
Heb jij ervaraing met zoutwater koralen? Of heb je er nog vragen over. Stel ze vooral in de reacties, dan komen we er op terug. Heel veel succes met deze geweldige hobby!