De maanvis, alles wat je erover moet weten!
De maanvis behoort tot de meest populaire aquariumvissen. En dat is niet voor niets want met hun typerende vorm en prachtige kleuren is een maanvis een aanwinst in je aquarium. Het zijn vrij rustige aquariumvissen, behalve tijdens de voortplanting. Deze sierlijke schoolvis heeft zoals de naam al aangeeft, de vorm van een maan. Door deze vorm en hun platte lichaam zijn ze bijzonder wendbaar en bewegen ze zich met gemak tussen aquariumplanten heen.
Houd je aquariumvissen in leven! Helaas gaat het nog vaak mis en overlijden veel vissen onnodig. Gelukkig kun je daar iets aan doen: kennis opdoen. Zelf vind ik het belangrijk dat je goede voeding voor maanvissen gebruikt. Zo voorkom je om onnodig terug naar de vissenwinkel te gaan.
Weetje: de maanvis heeft een voorliefde voor aquariumplanten zoals de Vallisneria.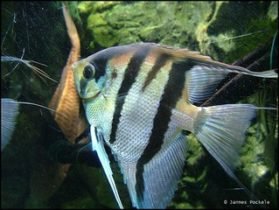 Achtergrond van de maanvis
Om een maanvis te kunnen houden, is het belangrijk om ze te begrijpen. Dat kun je beter doen door op de hoogte te zijn van enige achtergrond informatie. De maanvis behoort tot de familie van de cichliden en komt uit het Amazonegebied. Net als cichliden hebben maanvissen tandjes om zich te verdedigen.
Weetje: maanvissen zijn groepsdieren, houdt er altijd minimaal vijf bij elkaar.
De maanvis is van nature een rustige vis die oorspronkelijk leeft in een omgeving met langzaam stromend water, tussen de boomwortels en planten. De maanvis laat zich liever door de stroming meevoeren dan dat hij hard zwemt. Houdt daarmee rekening in je aquarium: de maanvis wil niet meegenomen worden in de stroming, dus zorg voor een rustige stroming. Lees ook eens de blog over soorten maanvissen voor meer informatie.
Eitjes van een maanvis
De maanvis vormt een paartje en houden zich romantisch samen bezig met de leg. Daarbij legt het vrouwtje kleverige eitjes op planten met grote bladeren of een stuk verticaal hout. Het mannetje zwemt vervolgens over de eieren heen om ze te bevruchten. Vervolgens worden door beide maanvissen de eitjes bewaakt en zorgzaam toegewuifd met zuurstof.
Weetje: het vrouwtje legt per keer maar liefst enkele honderden eitjes.
Al na twee tot drie dagen komen de eitjes uit waarbij de jongen nog niet de karakteristieken vorm van hun ouders hebben. In eerste instantie blijven de jongen hangen aan het substraat, na ongeveer vijf dagen zwemmen ze vrij in je aquarium rond.
Kweken en voortplanting
Maanvissen kweken is zeker mogelijk. Ze hebben alleen de neiging om hun eigen kweek op te eten. Het beste kun je daarom gebruik maken van een aparte kweekbak. Jonge maanvissen kunnen droogvoer eten maar het beste kun je ze voeren met levend voedsel zoals watervlooien. Lees ook eens de blog over maanvissen kweken.
Het verschil tussen de mannetjes en de vrouwtjes kun je alleen zien bij de verdikking van de aars. Bij mannetjes is deze kleiner dan bij de vrouwtjes. Vooral in de paartijd is dat goed te zien. De maanvis kiest zijn eigen partner waarna het territorium verdedigd zal worden.
Weetje: bij schrik of stress trekken de kleuren van de maanvissen weg.
Maanvissen en andere vissen
De maanvis kan prima met andere vissen worden gehouden maar houdt wel rekening met het rustige karakter van maanvissen. Je kunt het beste wat rustige soorten bij elkaar zetten. Ook is het niet handig kleine aquariumvissen erbij te plaatsen want dat ziet de maanvis als een lekker hapje. Andersom geldt dat je geen barbelen zoals de sumatraan bij de maanvissen moet plaatsen omdat deze aan de mooie lange vinnen van de maanvis zal gaan knagen. Dit leidt tot beschadigingen bij maanvissen en dat willen we niet hebben.
Specificaties van de maanvis
| | |
| --- | --- |
| Aquarium | Minimaal 100-150 liter |
| Lengte van de vis | 10-15 cm |
| Waterkwaliteit | Ph waarde tussen 6-6,5, DH waarde onder de 4 |
| Leeftijd | Rond de 5 jaar |
| Andere vissen mogelijk? | Ja, zolang ze maar rustig zijn |
| Watertemperatuur | 25-28 graden |
| Moet ik nog iets weten? | Ja, het is een schoolvis en leeft niet in een harem. |
Weetje: maanvissen houden niet van te sterk licht, zorg daarom voor voldoende aquariumplanten of drijfplanten.
Een vraag aan jou…!
Heb jij nog ervaringen, vragen of opmerkingen over de maanvissen? Laat dan een reactie achter!