Witte waas in het aquarium bestrijden!
Een witte waas in het aquarium lijkt een ramp, maar is het niet. Je wilt het beste voor je tropische vissen en je aquariumplanten en een witte mist in de bak ziet er ongezond uit. Je kunt steeds minder zien en dit is niet het idee van een aquarium. Waarom ontstaat deze witte alg, wat zijn de symptomen en hoe krijg je het zo snel mogelijk weer weg? Je leest het allemaal in dit artikel.
Gaat je witte waas niet binnen een aantal dagen weg?
Last van een witte waas? Probeer dan eens dit middel waar ik zelf hele goede resultaten mee behaald heb. Mijn aquarium was in mum van tijd kristal helder en de kosten vallen enorm mee. Op naar helder aquariumwater!
Witte waas in het aquarium, hoe kan dat?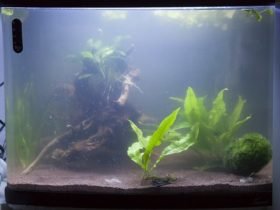 Een witte waas in het aquarium is vervelend, maar zeker geen ramp. Het komt voornamelijk voor bij net opgestarte aquaria of na een te grote verversing van het aquariumwater. In feite is deze witte waas in het aquarium niets anders dan een explosie van bacteriën.
Die zijn weliswaar erg klein, maar in zo groten getale aanwezig dat deze 'een witte waas' vormen. Deze witte mist kan overigens ook ontstaan door het ernstig verstoren van het evenwicht in de bak, door bijvoorbeeld de filters te grondig schoon te maken. Daardoor moet de populatie "goede" bacteriën eerst weer opgebouwd worden.
De witte waas in het aquarium is eigenlijk een explosie van bacteriën. Gelukkig is dit niet schadelijk en op te lossen door voldoende aquariumplanten zoals Waterpest en Cabomba te plaatsen.
Kijk voor meer oplossingen tegen algen ook eens op de pagina over Algen bestrijden!
Oplossingen voor een witte waas in het aquarium
Voorkomen is beter dan genezen. Begin je met een nieuw aquarium? Laat deze dan eerst twee weken 'rusten' met voldoende aquariumplanten en zonder aquariumvissen erin. Niet alleen is dit de enige diervriendelijke wijze van het plaatsen van tropische vissen, zo zorgen de bacteriën er ook voor dat een evenwicht ontstaat. En dit zal de witte waas in het aquarium snel doen verdwijnen. Laat dus eerst de natuur het werk doen, voordat je aquariumvissen plaatst.
Let op! Ververs vooral niet teveel aquariumwater! De witte waas in je aquarium zal vanzelf terug komen.
Heb je je aquarium al een tijd en ontstaat dan pas een witte waas? Dan is er iets anders aan de hand. Ofwel het aquariumwater is te grondig ververst ofwel de filters zijn te stevig aangepakt. Bacteriekoloniën in de filter hebben een zuiverende werking, als deze ernstig zijn verstoord dan wordt de reactie daarop zichtbaar in je aquarium. Vaak met algen of een 'waas' op het wateroppervlakte als gevolg.
Plaats in dat geval een paar bossen Cabomba en/of Waterpest. Cabomba en Waterpest zijn aquariumplanten die snel groeien maar ook sterk zijn. De snelle groei van deze plant voorkomt algen, zoals de witte 'algen'. Deze aquariumplanten zijn ook dusdanig sterk dat deze niet ineens dood op de bodem liggen.
Tip: Ga niet altijd op het advies af van een aquariumwinkel. Je rekent dan op de expertise van iemand die graag verkoopt. In dit geval zijn dure middelen niet nodig.
Chemische oplossing is gewoon niet nodig
Naast deze planten zijn er verschillende middeltjes om het water in balans te krijgen, maar pas hiermee op. Hoe meer dingen je in het aquarium gooit, hoe groter de kans dat je de balans verstoort. Je kunt wat dat betreft beter kiezen voor aquariumplanten en algeneters, dan voor vloeistoffen met chemische middelen.
Tot slot
Kort samengevat: witte algen zijn eigenlijk vrij onschadelijke bacteriën die vooral voorkomen bij nieuw opgestarte aquaria. De oplossing is natuurlijk, namelijk het plaatsen van aquariumplanten zoals Cabomba en/of Waterpest.
Succes met het toepassen van de oplossingen en houdt ons op de hoogte! Vertel ons vooral wat jouw ervaringen met deze witte waas in je aquarium zijn. Of stel je vraag in de comments.