Aquarium verwarming, wat je moet weten!
Als je tropische vissen in huis wilt hebben, dan zul je ook een stukje van het tropische klimaat mee moeten nemen. De meeste aquariumvissen kunnen prima met 25 graden leven, maar dat is toch een stuk warmer dan kamertemperatuur. Gelukkig hoef je de thermostaat niet omhoog te draaien.
Aquarium verwarming is onmisbaar voor een zoetwater aquarium!
Grote temperatuurschommelingen kunnen ook grote nadelige consequenties hebben met alle gevolgen van dien. Wel zo handig dus als je gemakkelijk de juiste temperatuur kunt instellen. Voor een aquarium verwarming is het belangrijk dat deze stevig is zodat deze niet gaat lekken, en dat er een temperatuur regeling op zit. Zelf gebruik ik een relatief goedkope maar kwalitatief goede verwarming. Die al jaren goed werkt. Deze kun je hier via het Aquariumwarenhuis vinden. Ze zijn er in verschillende sterkten. Bruggetje om te onthouden: 100 watt is geschikt tot 100 liter, 200 watt is geschikt van 100 tot 200 liter en 300 watt is geschikt voor 300 tot 500 liter. Je vissen zullen er blij mee zijn!
Er zijn verschillende soorten aquarium verwarming met verschillende voor- en nadelen in omloop. Welk type aquarium verwarming past het beste bij jou en waar moet je op letten? En hoe warm willen jouw vissen het hebben? Je leest het in deze blog.
Aquarium verwarming, hoeveel Watt heeft jouw aquarium nodig?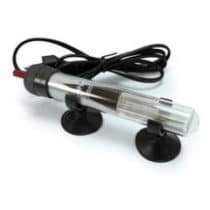 Okee first things first, hoeveel Watt heb je nou nodig om een aquarium te verwarmen? Doorgaans wordt er met 1 Watt per liter gerekend in een goed verwarmde kamer. Is de kamer minder goed geïsoleerd en verwarmd, dan zou 1,5 Watt genoeg moeten zijn voor een liter water. Vergeet niet dat je zelf het verbruik naar beneden kunt brengen door het aquarium verstandig te plaatsen. Een aquarium direct naast een raam kan veel invloed hebben op de temperatuur in je aquarium.
Zowel teveel als te weinig warmte is gevaarlijk voor de planten en de vissen in het aquarium. Over het algemeen kun je beter je aquarium verwarming iets lager zetten dan te hoog. Dit komt omdat een hoge temperatuur ook zeer aantrekkelijk is voor algen en bacteriën. Deze gedijen nou eenmaal beter bij een hogere temperatuur. Wel zorgt een combinatie van warmte, voldoende voedingsstoffen en veel aquariumverlichting dat je planten heel snel gaan groeien. En dat is zo slecht nog niet.
Tip: schaf een temperatuurstripje aan, deze meet hoe warm je aquarium is. Een snelle blik is dan voldoende om te bepalen of je de juiste temperatuur hebt.
Aquarium temperatuur en veelvoorkomende tropische vissen
Verreweg de meeste aquariumvissen hebben voldoende aan een aquarium van 25 graden warm. Toch is het verstandig je aquariumvissen nader te bekijken om te kunnen bepalen wat de ideale warmte is en of je de thermostaat van je aquarium verwarming omhoog moet draaien. De meeste mensen leven immers ook liever in 25 graden dan in 15 of 35 graden. Een overzicht met een aantal meest voorkomende vissen en de juiste temperatuur vind je hierna. Lees de blog over de top 10  aquarium vissen voor beginners meer informatie.
| | |
| --- | --- |
| Tropische vissen | Temperatuur |
| Guppy (Poecilia Reticulata) | 19 tot 25 graden |
| Zwaarddrager (Xiphophorus Helleri) | 22 tot 26 graden |
| Siamese kempvis (Betta Splendens) | 26 en 30 graden. |
| Kegelvlekbarbeel (Rasbora Heteromorpha) | 22 tot 25 graden |
| Roodvinzalm (Aphyocharax Anisitsi) | 19 en 27 graden |
Welke aquarium verwarming is het beste voor jou?
Wanneer je tropische vissen hebt, is een verwarming van levensbelang. Welke soort verwarming past het beste bij jou? Heb je veel aquariumplanten groeien? Dan is de bodemverwarming de beste keuze voor jou. Heb je een kleiner aquarium, een klein budget of weinig begroeiing, dan is staafverwarming ideaal. Sommige mensen kiezen voor meerdere verwarmingselementen in een aquarium, zeker wanneer deze iets groter is. Valt een verwarming uit, dan is er nog geen probleem.
| | |
| --- | --- |
| Aquarium type | Aquarium verwarming soort |
| Biorb aquarium | Heeft een eigen type intelligente verwarming |
| Nano aquarium | Staafverwarming |
| Aquarium tot 75 liter | Staafverwarming |
| Aquarium groter dan 75 liter | Staafverwarming en/of bodemverwarming |
| Malawi aquarium | Staafverwarming |
| Brakwater aquarium | Staafverwarming en/of bodemverwarming |
Verschillende soorten aquarium verwarming
Op de aquarium markt zijn verschillende soorten aquarium verwarming te vinden. De meest voorkomende zijn bodemverwarming, staafverwarming, externe verwarming en combinatie verwarming. De twee soorten aquarium verwarming die het meest gebruikt worden, zijn de bodemverwarming en de staafverwarming.
Bodemverwarming
Bodemverwarming is een type aquarium verwarming waarbij verwarmingsdraden evenwijdig verspreid op de bodem worden geplaatst. Het uiteinde van deze verwarmingsdraad eindigt in een thermostaat die de temperatuur regelt. Hoe je het beste bodemverwarming kunt plaatsen zie je op het volgende filmpje.
Hoewel bodemverwarming niet voor ieder type aquarium geschikt is behoort deze tot mijn favoriet. Dat komt voornamelijk doordat het warmte element niet zichtbaar is en de temperatuur gelijkmatig wordt verdeeld. Dit houdt het aquariumsubstraat gezonder.
Weetje: de bodemverwarming is het meest geschikt voor aquaria met veel planten. Warme 'voetjes' zal je planten goed doen.
| | |
| --- | --- |
| Voordelen van bodemverwarming | Nadelen van bodemverwarming |
| De aquarium verwarming is vrijwel onzichtbaar, het ligt op de bodem onder het grind | De bodemverwarming is duurder in aanschaf |
| Het is een zeer nauwkeurige manier om het water op temperatuur te houden | Dit type aquarium verwarming is lastiger te installeren, je aquarium moet ervoor leeg zijn |
| Het zorgt voor een minimale stroming in de bodem waardoor afvalstoffen minder lang in de bodem blijven en voedingstoffen beter bij de planten komen. | Wat je niet wilt is je bodemverwarming vervangen. Dat betekent: aquarium legen |
Staafverwarming
Staafverwarming is een type aquarium verwarming dat eigenlijk altijd geschikt is voor elk type aquarium. De staafverwarming is veel goedkoper, maar verwarmt op zijn beurt alleen het water. De temperatuurschommelingen zijn daardoor groter dan bij een bodemverwarming. Hoe je het beste staafverwarming kunt installeren zie je op het volgende filmpje.
Een gelijkmatige temperatuur in je aquarium houdt je aquariumbalans gezonder. Dit is goed voor je aquariumvissen- en planten. In de winter moet dit type aquarium verwarming harder werken, en in de zomer een stuk minder. Voor een staafverwarming is dat geen probleem maar houdt geregeld je temperatuur in de gaten.
Tip:
plaats de staafverwarming altijd in de stroming van je
aquariumfilter
. Dan wordt de warmte geleidelijk verdeeld over je aquarium.
| | |
| --- | --- |
| Voordelen van staafverwarming | Nadelen van staafverwarming |
| Gemakkelijke installatie. Stop de staafverwarming in het aquarium en stel de juiste temperatuur in | De temperatuur verschilt op verschillende plekken in je aquarium. Dat is niet ideaal |
| Dit type aquarium verwarming is relatief goedkoop in aanschaf en geeft waar voor je geld | De bodem wordt niet geweldig verwarmt en dat is niet ideaal voor de plantengroei |
| Is je staafverwarming kapot? Geen probleem, de vervanging is super simpel, geen paniek | Dit type aquarium verwarming is vrij zichtbaar in je aquarium |
Tot slot
Een tropisch aquarium zonder aquarium verwarming is niet mogelijk. Het is belangrijk goed te begrijpen welk type aquarium verwarming past bij jouw aquarium. Als je snel een keuze moet maken, zo vlak voor je vakantie, zet dan de temperatuur op 25 graden.
Wat zijn jouw ervaringen met aquarium verwarming. En heb jij een staafverwarming of bodemverwarming. Deel je ervaringen of stel je vraag in de comments!