Algen in je aquarium, wat doe je eraan?
Aquariumplanten en algen zijn eigenlijk 'concurrenten' van elkaar. Beiden onttrekken voedingsstoffen uit het aquariumwater. Algen kunnen hardnekkige problemen met zich mee brengen maar zijn ook een indicator dat er sprake is van een biologisch onevenwicht in het aquarium. Met een beetje goede wil kun je aan het type alg afleiden wat er veranderd moet worden in het aquarium om het evenwicht weer te herstellen.
Snelle oplossing tegen alg?
Snel van je algen af? Dan is er een oplossing. Zelf gebruik ik daarvoor een goed anti algenmiddel. En dat werkte briljant! Wel zo gemakkelijk!
Verschillende soorten algen
Verschillende soorten algen kunnen zich in een aquarium vestigen, de meest bekende soorten zijn (klik op de naam voor meer informatie en de bestrijding en verwijdering ervan):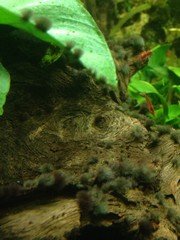 Baardalg
Oorzaak
Algen in je aquarium ontstaan, en nog erger, vermenigvuldigen zich door een achteruitgang van de balans in je aquarium. Aquariumplanten reageren daar op met verschillende groeistoornissen. Algen profiteren juist van deze situatie omdat ze zich sneller aan de omstandigheden aanpassen. Wat maakt een aquarium onstabiel? Antwoord: onvoldoende voedingsstoffen, te laag CO2- gehalte, te veel verlichting, slechte watercirculatie, te weinig planten, toedienen van te veel vissen voedsel, rottende planten en dieren.
Voorkomen
Een algenvrij aquarium begint met preventie ervan. De beste preventie is een aquarium met goed groeiende en gezonde plantenpopulatie. Bovendien zijn sommige aquariumbewoners zoals slakken en vissen, onvermoeibare strijders tegen algen die wel verschijnen.
Bestrijden
Algen bestrijdt je pas echt als je ze kunt voorkomen, anders groeien ze doodleuk weer terug. Algen kun je op een natuurlijke manier of chemisch bestrijden. Zelf ben ik geen voorstander van chemisch bestrijden omdat je daarmee de oorzaak van het probleem niet weg haalt. De bestrijding van alg verschilt van soort tot soort. Bepaal dus eerst welk type alg je hebt. Afhankelijk daarvan kun je een plan de campagne maken.
Beginnend aquarium & voedingsstoffen
Algen streden snel op bij een beginnend aquarium. Dit komt omdat er in een nieuw aquarium nog geen juiste balans in het aquariumwater is. De beste oplossing: zorg direct voor veel snel groeiende aquariumplanten voeg ook direct meststoffen en CO2 toe.
In één oogopslag
De beste preventie bestaat uit een gezond, dicht plantenbestand.
Algen ontstaan door een achteruitgang van de balans.
Oorzaken zijn verschillend maar voedseltekort leidt tot de meeste typen algen.
Algen kun je pas bestrijden als je weet met welk type alg je te maken hebt. Klik daarvoor op de namen van de soorten algjes boven in het artikel en je weet hoe je er vanaf komt!
Een vraag aan jou..
Wat zijn jouw praktische ervaringen? Of heb je nog vragen over algjes in het algemeen? Laat een reactie achter!