Discusvissen, de mooiste aquariumvissen ter wereld
Discusvissen zijn aquariumvissen die afkomstig zijn uit het Amazonegebied en worden beschouwd als de mooiste zoetwatervissen in de wereld. Ze hebben prachtige patronen en kunnen een heel pallet aan kleuren hebben. Discusvissen behoren tot de families van cichliden zoals Malawi cichliden en zijn scholenvissen die meestal heel relaxt in je aquarium vertoeven.
Wil je Discusvis jongen of de Discusvis kweken? Dan kun je niet zonder de juiste hulpmiddelen. Wat super goed werkt is een unit waar de discusvis zijn eieren tegen kan afzetten. Onmisbaar eigenlijk. En daarnaast de juiste voeding speciaal voor discusvissen. Dan moet het goed gaan!
Discusvissen houden doe je zo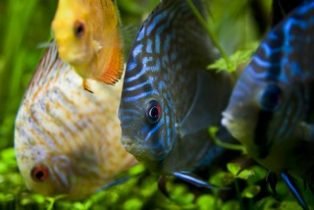 Discusvissen voelen zich thuis in een omgeving met langzaam stromend helder zacht en zuur water. Het liefst met boomwortels en takken om hun heen. Aquariumplanten zijn belangrijk maar zorg ervoor dat er veel ruimte voor de discusvissen over is om in scholen te zwemmen.
Het zijn vredelievende vissen hoewel ze aquariumvissen die heel snel bewegen liever niet om zich heen dulden. Het is belangrijk dat discusvissen veel ruimte in het aquarium hebben.
Wel is het belangrijk dat de discusvis in een groep worden gehouden, bovendien speelt de waterkwaliteit een essentiële rol in het welzijn van deze bijzondere aquariumvissen.
Discusvissen kun je combineren met: characidae, corydora's, maanvissen en apistogramma's.
Specificaties van de Discusvissen
| | |
| --- | --- |
| Grootte | 10-20 cm |
| Water | PH 6-6,5, zacht water |
| Verwarming | 28-30 graden |
| Kweken? | Moeizaam maar mogelijk |
| Harem? | Nee, paartjes |
| Leeftijd | Tot wel 10 jaar oud |
| Voeding |  Gevarieerd, watervlooien zijn een pre |
| Opmerking | Discusvissen voeren hun jongen met een afscheidingsproduct van hun eigen huid |
Discusvissen soorten
Een veelgebruikte indeling voor discusvissen bestaat uit een tweedeling: de Symphysodon discus en de Symphysodon aequifasciata. Een hele mond vol. Toch zal de gemiddelde discusliefhebber vier soorten onderscheiden: de Heckel discusvis, de bruine discusvis, de groene discusvis en de blauwe discusvis. En die zijn stuk voor stuk prachtig om te zien. Je kunt deze soorten ook bij elkaar houden, en dan krijg je echt een heel kleurenpakket in je aquarium. Dat is prachtig om te zien.
Weetje: discusvissen zijn groepsdieren, houdt daarom zeker vijf a zes stuks bij elkaar.
Discusvissen kweken en voortplanting
Het kweken van discusvissen is zeker niet eenvoudig. Daarvoor kun je het beste een aparte kweekbak houden. Voor hen is een perfecte waterkwaliteit fundamenteel om jongen te krijgen. De kweekbak dient de voorwaarden daarvoor te scheppen. Zorg dus voor een goede filter, ver vers het water regelmatig (om de, of elke dag) en zorg dat er ruimte is, door aquariumplanten of bladeren, zodat de eieren daarop afgezet kunnen worden. Het water moet tussen 30-31 graden zijn, met een PH van 5,5-6,5 en een hardheid van maximaal 4 DH. Het water zal dus vaak getest moeten worden op de ideale waardes.
Bij discusvissen is het lastig te onderscheiden wat de mannetjes en vrouwtjes zijn. Je kunt het echter zien aan een verdikking bij de aars: bij de vrouwtjes rond en plat en bij de mannetjes puntiger. Let op dat discusvissen hun territorium verdedigen indien er al eieren zijn afgezet. Daarvoor prepareren ze eerst een stuk hout of bladeren om vervolgens de eieren af te zetten. Er worden rond de 150 eieren gelegd die na drie dagen uitkomen. Na ruim een jaar zijn ze vervolgens geslachtsrijp.
Weetje: houd per volwassen Discusvis 100 liter water aan!
Discusvissen kopen
Eigenlijk moet je nooit zomaar vissen ergens vandaan halen. Dat geldt voor de discusvis, maar eigenlijk voor alle aquariumvissen in het algemeen. Mocht je uiteindelijk besluiten om een aquarium vol met deze prachtivissen te houden, let dan vooral goed op de volgende punten.
Ga altijd naar een erkende vissenhandelaar/ vissenwinkel. Waar ga je de Discusvis aanschaffen? Dit zijn niet de aller goedkoopste vissen maar geloof me, goedkoop is duurkoop.
Eenmaal binnen, vraag jezelf af: hoe zien de kleuren van de vis eruit? Vissen die een doffe kleur hebben moet je niet kopen. Grote kans dat er iets mee aan de hand is. Bijvoorbeeld een ziekte.
Hoe ziet het zwemgedrag van de discusvis eruit? Deze vissen zijn vaak erg rustig maar bewegen zich wel stabiel voort. Hangt de vis een beetje vreemd of zie je ander afwijkend gedrag? Niet kopen.
Als je toch aan het kopen bent, koop gelijk het juiste voer. Discusvissen houden van gevarieerd voedsel. Soms vers, soms droogvlokken. Houdt daar dus ook goed rekening mee.
Nu kun je eindelijk met een gerust hart Discusvissen kopen om daarna volledig te genieten van zijn prachtige kleuren. Een goed ingericht Discus aquarium is echt een lust voor het oog. Dus wat mij betreft heb je een goede keuze gemaakt. Zorg er wel voor dat je voldoende stuks aanschaft. Een enkele variant is heel erg zielig. Zorg dat je er minimaal vier tot zes stuks in hebt.
Een vraag aan jou…!
Heb jij nog aanvullingen, vragen of opmerkingen over de discusvis? Wat zijn jouw ervaringen? Laat dan een reactie achter!