Aquarium verlichting, wat je echt moet weten!
Aquarium verlichting heeft grote invloed op je plantengroei én algengroei. En om maar gelijk met de deur in huis te vallen, te veel aquarium verlichting wordt vaak overschat. Deze gedachte ontstaat vanuit het idee dat veel aquarium verlichting goed is. Het tegendeel is waar. Aquariumplanten functioneren door de bocht genomen beter met minder aquarium verlichting dan met meer. Kies daarom altijd voor het zekere dan voor het onzekere en schroef de aquarium verlichting terug. Lees ook eens de blog over aquarium Led verlichting voor meer informatie.
Tijd voor nieuwe aquariumverlichting?
Geen idee welk merk aquariumverlichting goed is? Kijk dan eens naar merken zoals Juwel en Eheim. Dan weet je zeker dat je goed zit. Wist je dat er heel wat toffe opties voor aquarium verlichting zijn? Kijk maar eens via Aquariumwarenhuis wat er allemaal te vinden is. Zelf ben ik erg fan van decoratie verlichting omdat zoiets een fantastisch effect op je aquarium heeft. Ik gebruik de Bubble air verlichting voor mijn onderwater vulkaan.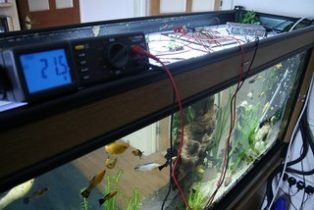 Te veel aquarium verlichting
Door de intense belichting gaan je aquariumplanten harder groeien en worden de voedingsstoffen sneller verbruikt. Hoe feller en langer de aquarium verlichting, hoe meer bemesting en CO2 je aquariumplanten dus nodig hebben.
Al snel zullen de benodigde bouwstenen om te groeien niet voldoende meer aanwezig zijn. Vul je dat onvoldoende aan, dan zullen je planten allerlei symptomen krijgen en slecht groeien. Gevolg: algen explosie.
Te weinig aquarium verlichting
Te weinig aquarium verlichting leidt tot een te zwakke groei van je aquariumplanten. Vooral de moeilijkere planten zullen het daar moeilijk mee hebben. Bijvoorbeeld de rode aquariumplanten. Hierdoor zal de zuurstofproductie dalen en dat kan vervelend zijn voor je tropische vissen. Deze aquariumvissen zullen dan naar lucht 'happen'. Slecht groeiende planten hebben overigens vaak andere oorzaken dan aquarium verlichting. Vooral plantenvoeding in je aquarium heeft daar grote invloed op.
Tip:
Last van algen zoals
draadalg
of
baardalg
? Schroef je aquarium verlichting terug naar 6 uur per dag.
Hoeveel aquarium verlichting is nodig?
De hoeveelheid licht is afhankelijk van je aquariuminhoud en je soort en hoeveelheid planten en vissen. Afhankelijk van het soort aquariumplanten en aquariumvissen dat je hebt moet je verlichting tussen de zes en tien uur per dag aan staan. De doorsnee aquarium verlichting staat 8 uur per dag aan.
Hoe vaak moet je de aquarium verlichting vervangen?
Controleer elk jaar de verlichting. Als je TL-buizen hebt dan is het goed te weten dat deze op den duur slijten. Ze geven nog wel licht maar de intensiteit is niet voldoende om de aquariumplanten voldoende te voeden. Eens per jaar, anderhalf jaar dien je de buizen te vervangen. Voor LED geldt dit overigens niet, deze lampen gaan vele jaren (>10) mee.
Vaak zorgt condens of kalk ervoor dat er een 'laagje' over de lamp heen komt. Vergeet dus niet de lamp schoon te maken. Doe dit voorzichtig met een sponsje met lauw/warm water, zodat de lamp niet beschadigd.
Tip: Als je meer dan één lamp moet vervangen, vervang er dan elke week één. Als de lichtintensiteit plots teveel verandert, geef je algen kans te groeien.
Haal je aquarium weg bij direct zonlicht
Thuis doe je het licht aan als het buiten donker wordt. Bij aquaria gaat die vergelijking niet helemaal op. Het lijkt een voordeel je aquarium bij het raam te zetten zodat je het natuurlijk licht kunt gebruiken en geen kunstlicht nodig hebt. Dit is niet het geval. Te veel (direct) zonlicht is schadelijk voor je aquarium. Zonlicht stimuleert namelijk algengroei en hindert ook vissen die van beschutting houden. Daarbij kan je aquarium in de zomer veel te warm water krijgen door direct zonlicht en dat is ook niet goed. Houd je aquarium dus uit de buurt van het raam of hang het gordijn er voor.
Uitgangspunten over aquarium verlichting die je moet weten
Veel aquarium verlichting kan, maar zorg dan ook voor voldoende voedingsstoffen en CO2 toevoer.
Verder geldt dat hoe minder CO2 je aquarium bevat, hoe minder verlichting je nodig hebt. Planten hebben immers CO2 nodig als ze gaan groeien en als dat er onvoldoende is groeien er vooral algen. En dat wil je nou net niet hebben.
Verschillende soorten aquariumplanten hebben een verschillende behoefte aan licht. Voor de meeste rode aquariumplanten geldt dat ze een sterkere lichtbehoefte hebben dan groene aquariumplanten.
Vissoorten vragen om een inrichting die bij hen past. Een veelvoorkomende fout is dat er lukraak aquariumvissen bij elkaar worden gezet. Voorkom dat omdat elke vissengroep verschillende eisen aan zijn omgeving stelt. Je zult zien dat je vissen zich prettiger gaan voelen bij de voor hen juiste hoeveelheid licht en dat komt je aquarium en de levensduur van je vissen weer ten goede!
Het is verder altijd aan te raden gebruik te maken van een bedekte achterwand zodat er geen licht doorheen komt en er echt sprake is van donkere schuilmogelijkheden voor aquariumvissen. Als bodembedekking kun je ook het beste donkerkleurig grind of een fijne kiezelsoort nemen.
Wat vaak voorkomt bij aquariumplanten is dat ze netjes in het aquarium worden gezet, even groeien en er dan mee stoppen. Komt je dat bekend voor? Grote kans dat het ligt aan je aquarium verlichting (of je waterwaardes of aan voedingstekort).
Soorten aquarium verlichting
Je kunt je aquarium op veel manieren verlichten. De meest voorkomende aquarium verlichting typen zijn TL-verlichting, HQL-verlichting (halogeen) en LED-verlichting.
TL-verlichting is het meest toegepast en in aanschaf het voordeligste. In verband met het verlies van licht is het belangrijk bij TL-verlichting een aquarium te hebben dat niet dieper is dan 50 cm.
Halogeenverlichting en LED-verlichting zijn duurder, maar leveren mooier en intenser licht op. LED-verlichting is duurder om te kopen maar verbruikt minder energie en de lampen gaan langer mee.
Weetje: reflectoren boven je aquarium lampen kunnen de aquariumverlichting wel met 80% verhogen.
Tot slot!
De aquarium verlichting zit meestal in de kap. Een andere optie is LED spotverlichting, die je in het aquarium zelf aanbrengt. Je creëert hiermee "highlights" in je aquarium en dat geeft mooie effecten. Een andere kleur LED-lamp is een optie, maar denk bijvoorbeeld ook aan een rood spotje in een vulkaan in je aquarium. Samen met een bruissteentje geeft dat een spannend effect.
Een vraag aan jou…
Heb jij nog aanvullingen, vragen of opmerkingen over aquariumverlichting? Laat dan een reactie achter!