Aquarium led verlichting, wat moet je weten!
Enkele jaren geleden is er een nieuwe vorm van verlichting verschenen, die geleidelijk aan ook steeds meer zijn weg begint te vinden in de aquariumwereld. We hebben het hier over de opkomst van LED (Light Emitting Diode). Met deze opkomst komen natuurlijk ook vragen en internet staat bol van de antwoorden en mogelijkheden. Maar wat is nou waar en wat niet? En waar moet je op letten bij het kopen van aquarium LED verlichting?
Heb je last van algen? Koop dan niet meteen nieuwe LED verlichting. Er zijn goede oplossingen voor. Zelf gebruik dit anti algenmiddel en dat werkt perfect. Vaak kan je aquarium verlichting dan nog wel wat langer mee.
In deze blog gaan we in op veel voorkomende vragen met betrekking tot aquarium LED verlichting voor het zoetwateraquarium en we hopen jullie zo te helpen in de zoektocht naar het kopen van de perfecte verlichting voor je aquarium!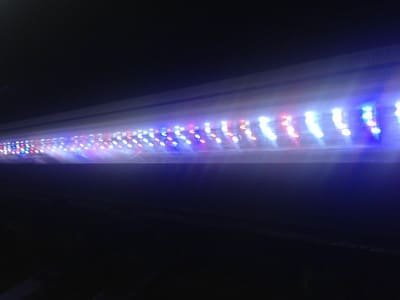 De onderwerpen die in deze blog aan de orde komen zijn:
Aquarium LED verlichting verbuikt minder energie en gaat langer mee
De allereerste vraag – waar iedereen mee te maken krijgt – is: Waarom zou ik overstappen op aquarium LED verlichting? Het simpele antwoord hierop is: Aquarium LED verlichting heeft vele voordelen, waaronder minder energieverbruik door een laag vermogen en in vergelijking met TL-verlichting gaat aquarium LED verlichting langer mee. Het is zelfs zo dat als je de verlichting in je aquarium optimaal wilt houden, de TL-verlichting elk jaar vervangen moet worden, omdat het zijn verlichtingscapaciteit verliest. Daarnaast wordt er beweerd dat aquarium LED verlichting beter zou zijn in de strijd tegen algen. Of dit zo is, bespreken we verderop.
Andere leuke bijkomstigheden van aquarium LED verlichting, zijn:
Schittering effect: Hierbij wordt de beweging van het oppervlaktewater duidelijk weerkaatst op glimmende oppervlakken, zoals de rug van je aquariumvissen 😉 Hierdoor beleef je het onderwaterleven nog intenser!;
Dimbaar: Doordat aquarium LED verlichting dimbaar is, kun je verschillende situaties in je aquarium creeëren, zoals dag- en nachtverlichting, zonsopgang, zonsondergang, schemering, bewolking en maanlicht.
Lichtspreiding beperkt zich tot het aquarium: Bij TL-verlichting is de lichtspreiding 360° (helemaal rond). Hierdoor wordt veel licht niet effectief gebruikt en kun je een soort bouwverlichtingseffect hebben in je kamer. Aquarium LED verlichting beperkt de lichtspreiding vaak tot 120°, waardoor de verlichting minder buiten je aquarium valt.
Kortom: Het verschil tussen LED en TL is:
LED heeft een lager energieverbruik dan TL
LED heeft een langere levensduur dan TL
LED heeft meer technische mogelijkheden dan TL
Let wel op: Aquarium LED verlichting staat nog in de kinderschoenen en (nog) niet elke LED verlichting voldoet aan de verwachtingen die worden gewekt. Het grootste risico bij het kopen van aquarium LED verlichting is: Meer geld voor minder licht. De levensduur van de verschillende LED's moet zich in de praktijk nog bewijzen. Ook de 'halfwaarde tijd' (het teruglopen van de verlichtingscapaciteit) is in de praktijk nog niet bewezen.
Tip:
Pas op met het kopen van relatief goedkope aquarium LED verlichting. Deze lijken vaak een soort lichtflikkeringen te veroorzaken en dat is op termijn heel
erg
irritant!
Aquarium LED verlichting helpt algen bestrijden
Er zijn verkopers die beloven dat de overstap naar aquarium LED verlichting je problemen met algen oplossen. Om te beoordelen of dit waar is, moeten we eerst kijken wat algen nu eigenlijk zijn.
Veel mensen denken namelijk dat algen van die irritante groene diertjes (nee, geen aliens 😛 ) zijn, die je hele aquariumwereld overnemen. Dat ze deze wereld over kunnen nemen is waar, maar het zijn geen diertjes. Het zijn eigenlijk ook gewoon planten, zij het een simpele variant. Wist je bijvoorbeeld dat zeewier ook een algensoort is?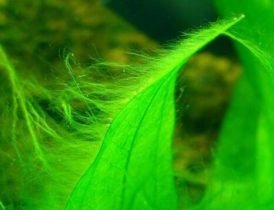 De meeste algen doen – net als alle andere planten – aan fotosynthese (het proces waarbij lichtenergie gebruikt wordt om CO2 in je aquarium om te zetten in andere bruikbare stofjes). Dit is heel belangrijk voor de plantengroei! Vandaar dat algen aquariumplanten kunnen wegconcurreren en andersom. Als de algen namelijk alle voedingsstoffen opgebruiken en niets overlaten voor de aquariumplanten, gaan je planten dood.
Maar als je aquariumplanten goed groeien en daardoor de voedingsstoffen voor de algen wegnemen, gaan je algen dood. Dat is pas algen bestrijden!
De conclusie is dus eigenlijk: Algen gaan alleen maar dood (of kunnen zich niet uitbreiden) als je plantengroei goed is. En dat is eigenlijk wat de verkopers zeggen: Aquarium LED verlichting kan ervoor zorgen dat je plantengroei beter wordt.
Maar…. is dit dan waar? Ja, dit is waar. Dit heeft namelijk alles te maken met het kleurenspectrum van LED. Bij de fotosynthese gebruiken planten namelijk rood en blauw licht en dit kun je met aquarium LED verlichting maken. Hierover in het volgende hoofdstuk meer.
De kleur van je aquarium led verlichting is belangrijk
Als je op zoek gaat naar de verschillende kleuren aquarium LED verlichting, dan vind je vaak de volgende kleursamenstellingen:
Blauw;
Wit;
Blauw/wit;
Rood/wit;
Blauw/rood/wit;
Paars;
RGB.
RGB gaat hier niet over de Regionale Belasting Groep en ook niet over Recylced Green Bikes J, maar letterlijk over de kleuren Rood, Groen en Blauw. Wanneer aquarium LED verlichting bestaat uit de kleur RGB, betekent dit dat eigenlijk elke kleur met deze verlichting gecreëerd kan worden. Het werkt namelijk volgens hetzelfde principe als het mengen van de primaire kleuren rood, geel en blauw. Rood en geel maakt oranje, rood en blauw maakt paars en geel en blauw maakt groen. En…. als je nou de kleuren rood, geel en blauw mengt krijg je… juist: Een heel vies kleurtje. Gelukkig is dit niet zo met RGB-licht: Als je deze kleuren alle drie mengt, krijg je juist wit licht! Zoals de afbeelding hier laat zien.
Nu lijkt RGB de perfecte oplossing. Je kunt er immers alle kleuren mee creëren die je maar wilt. Maar… dit hoeft niet!
Voor de plantengroei wordt namelijk maar een deel van het brede lichtspectrum dat RGB LED biedt gebruikt. Voor de fotosynthese wordt voornamelijk licht uit het blauwe en rode spectrum gebruikt. Het groene licht is niet nuttig voor de plant en wordt gewoon teruggekaatst. Voor je plantengroei volstaat dus verlichting met rode, blauwe en witte LED. De witte lampjes zijn er speciaal voor jou en onze ogen 😉 Sfeerverlichting.
Natuurlijk kun je RGB LED prima gebruiken om de gewenste – meest gekke – kleuren in je aquarium te creëren, maar houd daarbij wel rekening met je plantengroei. Aquariumplanten stellen verschillende eisen aan aquariumverlichting.
Zonlicht nabootsen klinkt logisch, maar is het niet
Vaak horen we dat mensen zonlicht (of daglicht) willen nabootsen. Logisch, wat is nu beter dan moeder natuur. En met RGB-licht kun je zonlicht nabootsen. Het is inderdaad zo dat in de natuur alle kleurenspectra aan bod komen – van UV tot infrarood – en dat de verhouding afhangt van de seizoenen. Zo is er in de zomer meer blauw licht voor de groei en in de herfst meer rood licht voor de vruchtproductie. Maar daarnaast is er ook een verschil in de hoeveelheid licht. In de winter kan er namelijk wel tot 90% minder licht zijn dan in de zomer.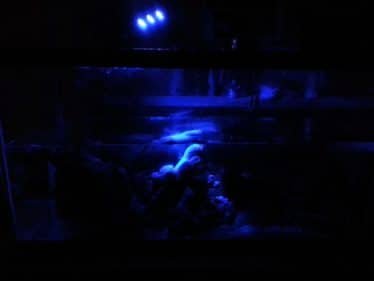 Gaat het over de verzorging en groei van je aquariumplanten, dan moet je ook nog eens kijken of de 'originele' planten in de schaduw staan of niet. Schaduwplanten hebben namelijk weer meer rood licht nodig en aquariumplanten die in de volle zon groeien hebben weer meer behoefte aan blauw licht.
Om een ingewikkeld verhaal simpel op te lossen: Het is niet verstandig om echt zonlicht (of daglicht en de seizoenen) na te gaan bootsen in je aquarium. Het aquarium heeft door de beperkte inhoud (en het relatief grote aantal vissen en planten op dit kleine stukje) zijn eigen 'wereld' en vraagt daarom ook om zijn eigen licht. Het advies is om voor zowel rood als blauw licht te gaan, dan zit je altijd goed.
Samen met wit licht ziet je aquarium er dan prachtig uit. Je kunt hiervoor ook blauw, wit, blauw/wit, rood/wit, blauw/rood/wit en RGB als aquarium LED verlichting gebruiken. Aan jou om te kijken wat er in je aquarium en je budget past.
Leuk feitje: Met aquarium LED verlichting kun je wel een zonsopkomst en zonsondergang in je aquarium creëren. Aquarium LED verlichting is namelijk dimbaar! Over het dimmen van je aquariumverlichting gaan we verderop dieper in.
Maanlicht
Hier en daar wordt ook nog gesproken over het nabootsen van maanlicht. Dit wordt veelal gedaan met blauwe aquarium LED verlichting, gericht op één enkel punt in het aquarium. Dit licht is vooral decoratief en heeft geen toegevoegde waarde voor de aquariumplanten. Maar pas op! Alleen blauw licht is ook licht en hoe langer het licht is in je aquarium, hoe fijner algen dat vinden. Probeer daarom te doseren.
Overstappen op aquarium LED verlichting: Hoe pak je dat nou aan?
Bij de aanschaf van een aquarium hebben veel mensen een aquarium met een lichtkap. Wanneer je over wilt stappen op aquarium LED verlichting, kom je al de eerste uitdaging tegen. Want: Op internet wordt aquarium LED verlichting vaak los aangeboden en wel met de volgende systemen:
Beugelsystemen
Ophangsystemen
Zuignappen
Het beugel- en ophangsysteem zijn bedoelt om op of boven je aquarium te plaatsen. Maar waar laat je de lichtkap dan? De verlichting onder water (met zuignappen) is dan een oplossing. Een nadeel hiervan is dat de verlichting niet meer boven je aquarium hangt, maar ergens aan de zijkant. Niet ideaal, maar moet je zelf dan maar constructies gaan maken, waarbij je de aquarium LED verlichting met bevestigingsbeugels aan de bestaande TL-verlichting hangt?
Gelukkig is er goed nieuws! De aquarium LED verlichting is nog steeds in ontwikkeling. En daar spelen bekende merken nu al handig op in!
Er bestaat bijvoorbeeld een LED-balk die heel gemakkelijk je T5 of T8 lichtbalk vervangt. De kleppen aan de zijkant van de lichtbalk (zoals bij veel Juwel aquaria) zijn gewoon weer te bevestigen aan de LED balk.
In plaats van je lichtbalk te vervangen, is er ook nog een andere mogelijkheid. Verwijder je TL buis (T5 of T8) en zet gewoon een LED-buis in de al bestaande bevestigingsringen van je TL verlichting.
Ook zijn er LEDunits ontwikkeld die geschikt zijn voor alle soorten aquaria met T5 en T8 verlichting. Deze kunnen gewoon bevestigd worden aan het 'oude' verlichtingssysteem.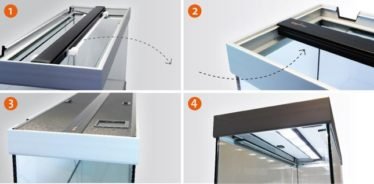 Daarnaast kunnen deze units worden opgehangen of bovenop het aquarium worden geplaatst. Multifunctioneel dus!
En jazeker, ook voor nano-aquaria is er handige aquarium LED verlichting, die te bevestigen is aan aquaria van 10 tot 30 liter.
Waar moet je verder op letten? Naast de verschillende kleuren van aquarium LED verlichting, wordt er ook nog gestrooid met de woorden Watt, Lumen en Kelvin. We leggen het uit!
Wat zegt graden Kelvin over je aquarium LED verlichting?
Goed, je hebt je aquarium LED verlichting gevonden, met een bepaald percentage koud- en warmwit licht, rood licht en blauw licht. Kleurtemperatuur: 6800K. Uhm… wat?
'K' staat voor graden Kelvin en dit zegt dus iets over de kleurtemperatuur. Nu weet je nog weinig meer hè? Het komt erop neer dat hoe lager het aantal K(elvin), hoe warmer de kleur van je verlichting is. Blauwachtig licht heeft een hogere kleurtemperatuur dan roodachtig licht. Een gloeilamp is hele warme verlichting (en heeft dus een lage 'K') en de allereerste LED (blauwachtig) was hele koude verlichting (met een hoge 'K'). Om het duidelijker te maken, staan hieronder de kleurschakeringen per 'K'.
Voorbeelden hoe de verhouding 'K' ten opzichte van de kleurtemperatuur is:
| | |
| --- | --- |
| Kleurtemperatuur (K) | Omschrijving |
| 1200 | Kaarslicht |
| 2000 | Zonsopkomst en -ondergang |
| 2800 | Gloeilamp |
| 3000 | Halogeenlamp, TL 830 |
| 3500 | Uur na zonsopkomst |
| 4000 | TL 840 |
| 5000 | Gemiddelde overdag |
| 6500 | Heldere blauwe hemel |
| 7000 – 10000 | Zware bewolking zonder direct zonlicht |
Wil je het aquarium als een levend schilderij in je woonruimte hebben staan, dan geldt de regel: Hoe hoger het aantal 'K', hoe beter je aquarium tot zijn recht komt. Immers: bij 6500K (heldere blauwe hemel) springen je vissen en aquariumplanten beter in het oog dan bij 1200K (kaarslicht).
Watt en Lumen: Hoe zit dat dan?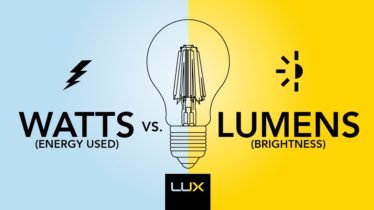 De Watt (W) is de natuurkundige eenheid van vermogen (energie per tijdseenheid). Een lamp met een vermogen van 60 watt gebruikt een hoeveelheid energie van 60 joule per seconde. Dit zegt dus niets over de lichtopbrengst. En juist de lichtopbrengst is belangrijk om te weten als het gaat over de lichtkwaliteit in je aquarium. De lichtopbrengst is uitgedrukt in Lumen. Maar hoeveel moet je nou aan lichtopbrengst hebben in je aquarium? Dit hangt af van een groot aantal factoren, waarvan de volgende de belangrijkste zijn:
De afmetingen van het aquarium;
Het type aquarium;
De aanwezigheid van voedingsstoffen voor de planten;
De lichtkleur en groeirendement;
Het type verlichting.
Globaal bij een standaard aquarium kunnen de volgende richtlijnen gevolgd worden:
Type aquarium
Te houden planten
Verlichting
Lumen/liter
Gezelschapsaquarium

Malawi/Tangayika biotoop

Zuid/Midden Amerika of Azie biotoop

Dit type aquarium is voornamelijk geschikt voor planten die weinig tot gemiddeld licht nodig hebben.
Zwak verlicht aquarium
10
Gezelschapsaquarium

Nano aquarium

Plantenbak
Zuid/Midden Amerika of Azie biotoop

In dit aquarium kunnen planten met een gemiddelde tot hogere lichtbehoefte staan.
Gemiddeld verlicht aquarium
15
Gezelschapsaquarium

Aquascape aquarium

Plantenbak

In dit type aquarium kunnen planten met een hoge lichtbehoefte gehouden worden.
Sterk verlicht aquarium
20
Houd er rekening mee dat er op 50 cm waterdiepte nauwelijks nog licht van het belangrijke rode spectrum de bodem bereikt, waardoor bij een waterdiepte van meer dan 50 cm de verlichting nog slechts matig voldoet voor het aquarium. In dit geval zal het aantal lumen met betrekking tot je rode LED-verlichting voor het aquarium, hoger moeten zijn dat het gemiddelde.
Weetje: Sinds de opkomst van aquarium LED verlichting is het steeds belangrijker geworden om lichtopbrengst uit te drukken in Lumen, in plaats van in Watt. Dit om te voorkomen dat LED aanbieders appels met peren gingen vergelijken. Meestal werd er bij aquarium LED verlichting alleen het Watt-vermogen opgegeven en een vergelijking gemaakt met een bestaand vermogen van een gloeilamp. Dus aquarium LED verlichting van 1,2 Watt werd vergeleken met een gloeilamp van 25 Watt.
Mocht het aantal Lumen nou niet vermeld zijn, check dan even onderstaande tabel met de lichtopbrengst in Lumen vergeleken met Watt.
| | |
| --- | --- |
| Wattage (gloeilamp) | Lumen (aquarium LED verlichting) |
| 15 | 136 |
| 25 | 249 |
| 40 | 470 |
| 60 | 806 |
| 75 | 1055 |
| 100 | 1521 |
| 150 | 2452 |
| 200 | 3452 |
De voordelen van het dimmen van je aquarium LED verlichting
Met een controller is je aquarium LED verlichting te dimmen. Dit kun je bijvoorbeeld inzetten om een zonsopgang en zonsondergang te creëren of dag en nacht te simuleren. Bijkomend voordeel hiervan is dat je meteen een timer op je verlichting hebt staan. Daarnaast – en misschien wel de belangrijkste reden – om een dimmer bij je aquarium LED verlichting te nemen, is het instellen van de lichtintensiteit in je aquarium.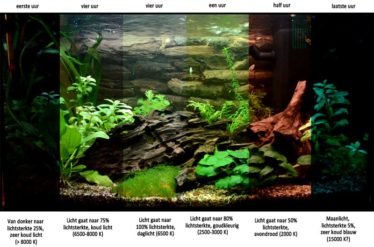 Zoals hierboven beschreven is het voor de balans in je aquarium o.a. belangrijk om het juiste aantal Lumen aan verlichting te hebben. Door de verlichting te dimmen, kun je de lichintensiteit instellen naar de biotoop die jij in je aquarium hebt. Ook kan het heel goed werken bij de bestrijding van algen. Waar je met TL verlichting het aantal uren dat je verlichting aan staat vaak terug moet schroeven naar minder dan 8 uur op een dag, kan het met aquarium LED verlichting volstaan om de lichtintensiteit terug te schroeven naar bijvoorbeeld 40% (afhankelijk van het percentage dat je al hanteerde).
Ook is het belangrijk om bij de overstap van TL- naar aquarium LED verlichting de lichtintensiteit langzaam op te bouwen. Aquarium LED verlichting heeft veelal een hogere lichtintensiteit dan TL verlichting. Zet je je aquarium LED verlichting meteen op 100%, dan is de kans op een algenexplosie groot.
Voorbeeld: Je hebt een gezelschapsaquarium met redelijk wat planten van 240 liter. Zet deze dan niet meteen op 20 Lumen per liter, maar neem eerst 15 of zelfs 10 Lumen per liter. Stel: Je hebt aquarium LED verlichting dat 4519 Lumen aan licht opbrengt. Je wilt in dit geval dus 2400 tot maximaal 3600 Lumen aan lichtopbrengst. Dit kun je bereiken door je licht te dimmen naar 53 – 80%.
Kortom: De voordelen van dimmen zijn:
Het creëren van zonsopkomst en -ondergang;
Het regelen van de lichtintensiteit geschikt voor elk type aquarium;
Je hoeft je verlichtingsduur niet te verminderen bij problemen

met

algen.
Tot slot een vraag aan jou!
Het loont in mijn ogen zeker om over te stappen op aquarium LED verlichting. Het biedt zeker op technisch vlak vele mogelijkheden. Daarnaast is aquarium LED verlichting op langere termijn ook milieuvriendelijker. Als je bovenstaande tips in acht neemt, ben je al een heel eind op weg in je zoektocht naar de juiste LED verlichting voor je aquarium.
Natuurlijk is aquarium LED verlichting nog volop in ontwikkeling en is er nog genoeg om aan te passen en te ontdekken. Heb jij nog aanvullingen of wil je je eigen ervaringen met ons delen? Laat dan een berichtje achter in de comments of stuur ons een email!