Betta Splendens, de kempvis van het aquarium!
Betta Splendens: zowel van binnen als van buiten de meest extroverte aquariumvis. Onder diegene die gaan voor het aquariummotto: "het oog wil ook wat", zijn Betta Splendens populaire aquariumvissen. Als de Betta Splendens beweegt, zorgt hij dat je blijft kijken naar zijn golvende staart en uitgesproken kleuren. Hij heeft dan ook het temperament en de ijdelheid van iemand die gewend is veel aandacht te krijgen. De verzorging van deze bijzondere tropische vis, ook wel de Siamese Kempvis genoemd, vraagt nauwkeurigheid. We vertellen je alles wat je moet weten in deze blog.
Houd jij je Betta Splendens gezond? Ziektes, of zelfs de dood liggen op de loer wanneer waterwaarden niet in orde zijn. Stoffen zoals nitriet nemen dan razendsnel je aquarium over. Betta Splendens zijn hier gevoelig voor. Speciale Betta voeding is daarom belangrijk. Zelf ben ik erg tevreden over het type Betta voer dat je via het Aquariumwarenhuis eens kunt bekijken.
Waar gaan we het allemaal over hebben?
Tip:
Wil je meer weten over andere aquariumvissen? Bekijk dan over welke
aquariumvissen
we eerder een blog schreven.
In de inleiding gebruikten we bewust een mannelijke aanspreekwijze toen we al kort vertelden over Betta Splendens. Dat is niet voor niets. Het opvallende karakter, de nauwkeurigheid in de verzorging en het prachtige voorkomen geldt namelijk vooral voor de mannelijke Betta variant.
Weet je:
Betta Splendens wordt ook de (Siamese) Kempvis genoemd. Daarom gebruiken we deze termen door elkaar
heen
in deze blog.
De vrouwelijke eigenschappen van het Betta Splendens mannetje
In de natuur is het vrijwel altijd zo dat de schoonheid door de mannelijke kant van het dierenrijk wordt opgeëist. Zo ook voor Betta Splendens. Waar je bij de kernwoorden: sierlijk, hautain, kleurrijk, mysterieus, karakteristiek en temperamentvol waarschijnlijk als eerste aan een vrouw denkt, zijn dit toch écht de (uiterlijke) kenmerken van een Betta Splendens mannetje.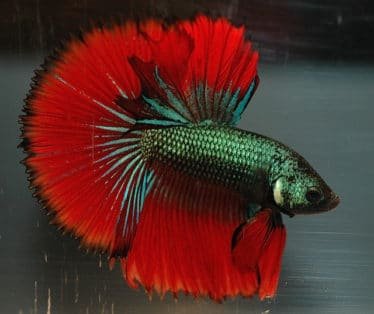 De mannelijke Siamese Kempvis is een imposante verschijning in je aquarium door zijn lange, gracieuze staart, sierlijke vinnen en opvallende felle kleuren. Met deze 'mooi boy' in je aquarium is aquariumdecoratie dan ook bijna overbodig. Als het Betta mannetje zwemt lijkt het alsof de wind zachtjes langs hem heen golft.
Het Betta Splendens vrouwtje valt daarnaast een beetje in het niet. Ze is leuk om naar te kijken, maar kleiner (maximaal 5 cm) dan haar mannelijke tegenhanger (maximaal 7 cm). De vrouwelijke Siamese Kempvis heeft een korte staart, korte vinnen en is een stuk minder kleurrijk.
Nu je weet hoe je een Kempvis mannetje en vrouwtje uit elkaar houdt, is het tijd om een Betta aquarium in te richten. Hoe richt je een aquarium in als je de opvliegende Kempvis te vriend wilt houden?
Een checklist zodat je niets vergeet als je een Betta aquarium inricht
Betta Splendens begeven zich meestal in de bovenste laag van je aquarium, dicht bij het zuurstof oppervlak. Ze hebben behoefte aan rijke begroeiing om in te schuilen. Een handige checklist om het aquarium zo optimaal mogelijk in te richten:
Grootte van aquarium: +/- 100 centimeter (> 120 liter). Hierbij gaan we uit van een aquarium met 1 mannetje en 3 vrouwtjes.
Een donkere bodem. Dit geeft een veilig gevoel voor de Siamese Kempvis en zijn kleuren komen zo beter uit.
Temperatuur: 26-28 graden. Hogere temperaturen zijn wenselijk, Betta Splendens overleeft met gemak een warme zomer.
Een zachte filter. De Kempvis houdt van rustig, bijna stilstaand water. Een filter is wel belangrijk om de waterkwaliteit en de waterwaarden gezond te houden.
Dichte bebossing, dus veel aquariumplanten. Zorg voor veel schuilmogelijkheden. Plaats aquariumplanten in dichte bosjes bij elkaar, vooral aan de randen van het aquarium. Kies voor planten die groeien tot en/of op het wateroppervlak. Voorbeelden van planten die je kunt gebruiken zijn: drijfplanten, Vallisneria en Javavaren.
1 mannetje op +/- 3 vrouwtjes. Betta Splendens mannen worden vaak agressief als ze gaan paren. Hun assertiviteit richting het vrouwelijke geslacht kun je dus het beste verdelen over verschillende vrouwtjes.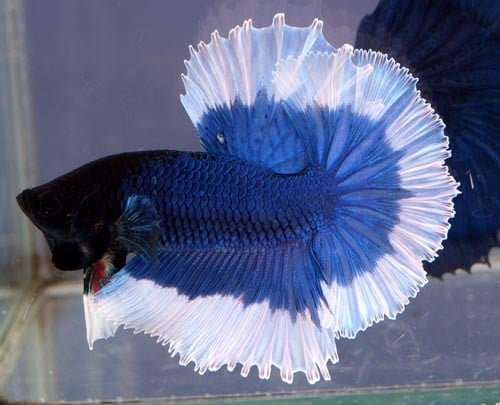 Weetje: Betta Splendens zijn bijzonder vatbaar voor ziekten. De oorzaak ligt vaak bij stress, waterwaarden die uit balans zijn of snelle temperatuurverschillen. We zetten de belangrijkste ziekten en oplossingen die jij kan ondernemen op een rij.
Tip:
vanwege hun agressieve karakter kunnen twee Kempvis mannetjes niet samen in een aquarium. Let bij het kopen van Betta Splendens zelf ook goed op of je niet twee mannetjes mee naar huis krijgt. Niet alle mannetjes hebben natuurlijk even lange staarten. Kijk goed naar een combinatie van het karakter, de staarten, kleuren, vinnen én de
grootte
van de vissen.
Symptomen en maatregelen bij (beginnende) Betta's ziekten
De conditie van en in het aquarium is de belangrijkste oorzaak van ziekten bij Betta Splendens. Signaleer je bij de Kempvis een van de volgende symptomen? Neem dan direct maatregelen.
1. Scheef of 'schommelend' zwemmen. Dit is waarschijnlijk een zwemblaas probleem of buikwaterzucht. Maatregelen die je direct moet treffen:

Buikwaterzucht is zeer besmettelijk, dus zet de Betta direct apart.
Verhoog langzaam de watertemperatuur en voeg zuurstof toe.
Raadpleeg een dierenspeciaalzaak voor de juiste behandeling. Helaas is een zwemblaasprobleem zelden goed te behandelen.
2. Aanslag in de vorm van een soort watten. Dit betreft een schimmelinfectie. Schimmel komt voor bij zieke of gewonde Kempvissen. Maatregelen:
Zet de vis in quarantaine.
Voeg 15 gr. zout toe aan 100 ml water.
Verhoog langzaam de watertemperatuur tot 29 graden.
Raadpleeg een dierenarts of dierenspeciaalzaak voor verdere behandeling.
3. Een doffe, aangetaste huid. Dit is vaak een teken van parasieten. Maatregelen:
Zet de Kempvis in quarantaine
Verhoog langzaam de watertemperatuur tot 29 graden.
Raadpleeg een dierenarts of dierenspeciaalzaak voor de juiste behandeling.
4. Samengeknepen vinnen, 'schokkerig' zwemmen en/of een doffe aangetaste huid. Dit is een teken van parasieten. Een veel voorkomende parasiet is witte stip. Maatregelen:
Zet de Kempvis in quarantaine.
Verhoog langzaam de watertemperatuur tot 29 graden.
Volg de behandeling van witte stip in onze eerdere blog.
5. Witte, rafelige vinnen bedekt met (ontstoken) wonden. Dit zijn tekenen van vinrot, een bacterie die vooral ontstaat door stress en een beschadigde huid. Maatregelen:
Ververs langzaam (in delen) het water. Doe dit met +/- 10-30% per keer.
Bestel medicatie, meestal een antibioticum, bij een dierenspeciaalzaak.
Voorkom stress situaties bij de Betta Splendens, zoals transport of nieuwe vissen in het aquarium.
Monitor de waterkwaliteit van het aquarium.
Voorkom Betta Splendens ziektes, nog drie algemene tips 
Meer over visziekten en de behandeling hiervan lees je in het blog wat we eerder schreven. Tot slot nog 3 algemene tips voor het voorkomen en direct behandelen van visziekten:
Test de waarden in je water regelmatig. Een slechte waterconditie leidt onherroepelijk tot ziekten. Over het testen van het water in een aquarium hebben we meer informatie.
Proportioneer de voeding. Teveel voeding wat in het water blijft drijven, vervuild het aquariumwater. Je hoeft niet elke dag vissen te voeren. Om de dag kan ook prima. Valt voeding op de bodem? Dat is een teken dat je teveel hebt gevoederd.
Wees alert op nieuwe vissen in het aquarium. Het plaatsen van nieuwe vissen is altijd een risico op nieuwe visziekten. Vooral Witte Stip. Houd daarom de weken na de plaatsing je aquariumvissen goed in de gaten op afwijkend gedrag.
Gesproken over nieuwe vissen; zijn er eigenlijk geschikte aquariummaatjes voor de temperamentvolle Kempvis?
Geschikte en ongeschikte aquariumvissen voor Betta Splendens
Heb je je aquarium goed ingericht? Let er dan op dat je de Betta Splendens samen zet met andere vissen die dezelfde eisen aan een aquarium stellen. En vooral geen actief en assertief karakter hebben.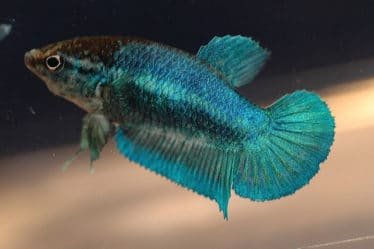 Betta Splendens kunnen niet samen met : Sluierstaarten, guppy's, Cichliden en Vuurgarnalen. Deze aquariummaatjes zijn te druk en/of te pro-actief.
Kies voor vissen die niet te nieuwsgierig zijn en met een rustige aard zoals: de Chinese Danio, de Pantsermeerval, het Vuurzalmpje en de Kegelvlekbarbeel.
Nog meer weten over deze interessante Siamese Kempvis? We hebben wat leuke feitjes voor je verzameld. Heb jij nog leuke weetjes of tips voor ons? Laat het ons weten als reactie onder dit blog.
5 leuke en handige weetjes over Betta Splendens
Altijd leuk voor borrelpraat met andere aquarium hobbyisten: leuke en handige weetjes over de Siamese Kempvis.
Weetje 1: Kempvis vrouwtjes zijn goed te lezen: ze vertelt je precies hoe ze zich voelt. Heeft ze geen strepen? Dan voelt ze zich goed. Bij horizontale strepen over haar lichaam voelt ze zich oncomfortabel. En, makkelijk voor de Betta mannen, bij verticale strepen is ze bereid te paren. In de afbeelding hieronder zie je horizontale, lichte strepen op het lichaam van het Betta vrouwtje. Ze laat hier zien dat ze angstig is.
Weetje 2: de naam (Siamese) Kempvis is ontstaan, omdat de Kempvis mannetjes met elkaar vechten totdat een van de twee het begeeft. Houd dus nooit meer dan één mannetje in een aquarium. In Thailand organiseert men nog steeds 'gevechten' tussen Betta mannetjes. Ze laten de vissen niet doodgaan, maar scheiden ze, zodra er een overduidelijke winnaar is. Overigens zou dit voor de gezondheid van de Betta helemaal verboden moeten worden.
Weetje 3: natuurlijk wil je het liever niet, maar het is niet erg als de lange staart van Betta Splendens scheurt door bonje met de buren, een prikkelbare aquariumplant of tijdens het paren. Een gescheurde Betta Splendens staart herstelt vanzelf of groeit weer aan.
Weetje 4: Kempvis mannetjes spreiden hun sierlijke staart en vinnen uit om hun mannelijke indringers te imponeren. Wil je eens zien hoe dreigend een Kempvis er uit kan zien? Houd hem dan een spiegeltje voor… Al vinden we het een leuk feitje, we raden het wel af om te doen, het is toch stressvol.
Weetje 5: net te laat met je aquarium schoonmaken? Siamese Kempvissen kunnen overleven in zuurstofarm water met behulp van hun ademhalingsorgaan: het labyrint. Via het labyrint ademt de Betta Splendens boven het wateroppervlak lucht in. Kleine bloedvaatjes in het labyrint absorberen zuurstof uit de ingeademde lucht. De overgebleven lucht (zonder zuurstof) wordt weer als een boertje uitgeademd. Deze boertjes, of kleine belletjes, vormen samen een schuimnest. Dit schuimnest is de basis voor de kweek van Betta Splendens.
Leuk, een schuimnest waar je niets voor hoeft te doen. Helaas gaat de rest van de Siamese Kempvis kweek niet vanzelf. We helpen je bij het opstarten van een succesvolle kweek, inclusief een handige checklist.
Algemene regels voor het kweken van de Betta Splendens
 Voor een succesvolle Kempvis kweek moet je letterlijk en figuurlijk wat in huis hebben. Kweken gebeurt het beste in een aparte kweekbak, die aan de volgende voorwaarden voldoet:
Watertemperatuur: ongeveer 28-29 graden.
Waterstand: ongeveer 15 centimeter. De jonge Kempvisjes kunnen dan ademen boven het wateroppervlak en het mannetje kan gevallen eitjes tijdens het paaien makkelijk oppakken.
Stroming: minimaal, zodat het schuimnest niet wordt verstoord.
Begroeiing: fijne planten om te schuilen zoals Cabomba. Eventueel kan je Vallisneria toevoegen die als verrijking van het

schuimnest

wordt gebruikt.
In 7 stappen een succesvolle Kempvis kweek
De levensfase van de Betta Splendens ook van belang. De vissen worden maximaal vier jaar en kweken het beste in hun 'jonge jaren'. De kweek heeft wat voeten in de aarde, we leiden je er stapsgewijs doorheen.
Stap 1: zet de Kempvis man in de kweekbak rond de 15 cm diep (ongeveer 25 liter), en laat hem een kleine week wennen. Soms begin hij al met het maken van zijn schuimnest, soms moet hij daar eerst een vrouwtje voor 'zien'.
Stap 2: als het mannetje gewend is kun je een van de vrouwtjes uit je aquarium toevoegen aan de kweekbak. Siamese Kempvissen zijn selectief in hun paringspartner. Je ziet als volgt of een Betta Splendens mannetje of vrouwtje 'zin' heeft om te paren:
De man spreidt zijn vinnen niet en duwt zijn keelzak naar beneden. Hij is geïrriteerd door het vrouwtje en wil op dit moment niet met haar paren.
De man spreidt zijn vinnen uit en hij zet zijn keelzak op. Hij probeert het vrouwtje te imponeren en wil met haar paren.
Het vrouwtje toont horizontale strepen, haar kleur vervaagt of ze schuilt. Ze is angstig en (nog) niet toe aan paaien.
Het vrouwtje zwemt in de open ruimte en probeert in de buurt van het schuimnest te komen. Ze is bereid om te paren en wacht af of het mannetje haar accepteert bij zijn nest.
Stap 3: hoef jij niks voor te doen. Als het mannetje en vrouwtje elkaar geaccepteerd hebben zoeken de vissen toenadering. Ze "omhelzen" elkaar zachtjes en "schudden" met hun lichamen. Het mannetje helpt het vrouwtje om haar eitjes af te stoten.
Stap 4: hoef jij niks voor te doen. De eitjes komen terecht op de staart van het mannetje waar ze bevrucht worden. Het mannetje brengt de eitjes naar zijn schuimnest.
Stap 5: let goed op het mannetje na het paren. Als hij agressief wordt richting het vrouwtje kun je het vrouwtje het beste verwijderen uit de kweekbak. Het mannetje neemt de verzorging van de eitjes over.
Stap 6: hoef jij niks voor te doen. De eitjes komen na maximaal 72 uur uit. De jonge Kempvissen kunnen al na een paar dagen zelf zwemmen.
Stap 7: verwijder het Betta mannetje uit de kweekbak, omdat hij mogelijk zijn eigen kinderen als een aanvulling op zijn maaltijd ziet. Voed de jongen ongeveer twee keer per dag met stofvoer, Liquifry of Azijnaaltjes.
Een Betta Splendens kweek lijkt makkelijk, maar soms duurt het aardig wat pogingen om een succesvolle kweek uit te voeren. Heb vooral geduld. Als jij je verzorging en inrichting goed op orde hebt ligt het daarna aan het karakter en de "mood" van de Kempvissen. Dat heb jij niet in de hand. Nog drie extra tips:
Tip 1: om het afzetten van de eitjes te versnellen kun je het water langzaam verhogen tot maximaal 30 graden.
Tip 2: Vallisneria is ook een perfecte plant in het aquarium van Kempvissen, omdat de mannetjes Vallisneria gebruiken als extra ondersteuning van hun schuimnest. De Kempvissen weven de plant gemakkelijk door de belletjes van het schuimnest heen.
Tip 3: soms kan het bevorderlijk zijn om Kempvissen te voeden met levend- of diepvriesvoer om het paaien te stimuleren.
Is de kweek gelukt? Kijk er niet van op als je ineens een nieuwe Betta Splendens soort hebt rondzwemmen. De Siamese Kempvis is zo doorgekweekt dat er steeds een nieuwe variant kan bijkomen.
Betta Splendens soorten, na elke kweek kans op een nieuw exemplaar
De Siamese Kempvis kent diverse variaties en kleuren en kan één, twee of meerdere kleuren bevatten. Ze komt voor in rood, blauw, turquoise, oranje, wit, paars of een variatie daarop. Vanwege de talloze variaties bestaat na elke kweek de kans op een nieuwe variant. Wist je dat er zelfs wereldwijd speciale Betta-shows worden georganiseerd voor de meest opvallende kweek?
We zetten de meest gekende variëteiten van Betta Splendens op een rij.
Sluierstaart. Herkenbaar aan haar lange, slepende staart. Dit zijn de meest verkochte Betta Splendens, maar tegelijk de minst 'speciale' variant binnen het Betta soort.
Halve Maan (Half Moon Betta). Bij het spreiden van zijn staart, ontstaat een 'halve maan' in een perfecte 180 graden. Deze soort is ontstaan vanuit recessieve genen, dus het kweken van een pure Halve Maan is vrijwel onmogelijk.
Plakat. Dit zijn kortvinnige Betta's, niet te verwarren met vrouwelijke Betta's. Komt het meest overeen met de oorspronkelijke (wilde) Betta vorm en wordt het meest gebruikt bij 'gevechten'.
Driehoek (Delta Betta). Herkenbaar aan de staartvin die zich kan uitspreiden als een driehoek. De Delta variant heeft veel weg van de Halve maan variatie. Verschil: de Halve Maan Betta kan zijn staart uitspreiden in een hoek van 180 graden, een Delta Betta kan dit niet.
Rondstaart (Round tail Betta). Deze variatie Betta heeft een staart met afgeronde hoeken die samen een "D" vormen. Wederom wordt deze variant vaak verward met de Halve Maan. Verschil: de staart van een Halve maan heeft scherpe randen, een rondstaart heeft ronde randen aan het uiteinde van zijn staart.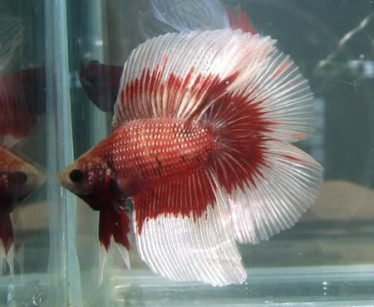 Dubbelstaart. Deze variant heeft een korter lijf en de staartvin van deze Betta is aan het uiteinde verdeeld in twee puntige delen. Dit is een variatie op de kortvinnige Plakat. De verdeeldheid van de staart is een genetische afwijking. Vanwege zijn korte lijf is deze variant meer vatbaar voor zwemblaasproblemen.
Spade staarten. Herkenbaar aan zijn kleine staart die een brede basis heeft en daarna smaller wordt. Komen niet meer vaak voor. Zijn kleine staart heeft een wijde basis die uitmondt in een een smalle punt. De vorm van zijn staart lijkt op het uiteinde van een schop.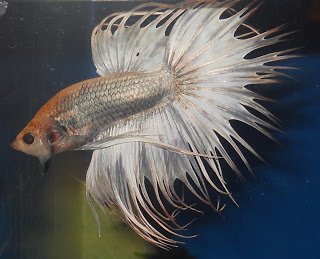 Roosstaart. Overmatige vertakkingen van de vinnen, waardoor de staart lijkt op een rozenblad. De soort is ontstaan doordat men de 'perfecte' Halve maan variant wilde kweken. Opvallend zijn de extreme vertakkingen en overlappingen van zijn staart.
Kroonstaart. Een variatie waarbij de staart uitmondt in een soort 'spikes'. Vanwege zijn 'spikes' erg populair in aanschaf vanwege zijn 'stoere' en unieke uiterlijk.
En dan tot slot, de basis specificaties van de Siamese Kempvis.
Tot slot, de Betta Splendens specs
Andere namen: Siamese Kempvis, Kempvis
Lengte: 5-7 cm
Watertemperatuur: 25-28 graden
Karakter: assertief en actief
Kweek: in een aparte kweekbak
Voeding: muggenlarven, diepvriesvoer en droogvoer (makkelijke eter)
Belangrijk: geen twee mannetjes in één aquarium
We zijn heel benieuwd naar jouw ervaringen met Betta Splendens. Heb jij tips, aanvullingen, nog meer geschikte aquariummaatjes gevonden of wil je een foto van jouw aquarium met Kempvissen aan ons laten zien? Deel dan je foto's op onze website via onze aquarium ervaringen pagina.