Sluierstaart, de sierlijke goudvissen voor je aquarium!
Sluierstaarten zijn populaire goudvissen. Ze zijn het meest geliefd vanwege de diversiteit aan kleuren en vormen binnen haar soort. Een sluierstaart is een sierlijke, koud water beginnersvis die de tijd neemt om van A naar B te zwemmen. De trage sluierstaarten zijn de mini diva's van je aquarium. Naast haar imposante uiterlijk vraagt ze namelijk je aandacht voor haar verzorging. We zetten de belangrijkste zaken overzichtelijk voor je op een rijtje. Mis je iets? Laat dan je vraag achter als reactie, onderaan deze blog. Lees ook eens onze blog over de vissenkom voor meer nuttige informatie.
Wist je dat Sluierstaarten ouder dan 15 jaar behoren te worden? Ouder dan een hond, een echt huisdier dus. Voeding is daarvoor fundamenteel. Zelf gebruik ik alleen speciaal goudivssen voer. Je kunt het voer via het Aquariumwarenhuis bekijken. Boordevol goede vitaminen en bouwstoffen. Heeft je goudvis een dikke buik? Dan is er waarschijnlijk sprake van buikzucht, handel snel en check Trichosal
Wat gaan we in deze blog behandelen? Een korte samenvatting: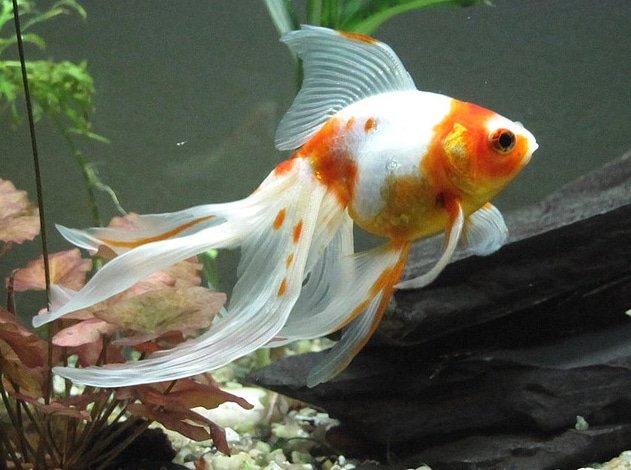 Wat zijn de eisen voor een Sluierstaart aquarium?
Het belangrijkste eerst. Sluierstaarten hebben ruimte nodig om te groeien en te zwemmen. Ze kunnen tot 20 centimeter groot worden dus de grootte van het Sluierstaart aquarium is belangrijk. Daarnaast zijn er nog wat andere voorwaarden waaraan je moet voldoen. Deze voorwaarden helpen de leefomgeving van je Sluierstaart te verbeteren:
Grootte aquarium: ongeveer 50 liter per Sluierstaart. Start met een aquarium vanaf +/-60 liter. Neem hier ook als het kan wat marge in, de bodembedekking en aquariumplanten nemen ook ruimte in (+/- 50 liter van een aquarium van 250 liter). Koop je vier of vijf Sluierstaarten dan is het beste om ze in een aquarium van 200 – 250 liter te plaatsen om de Sluierstaarten hun maximale groeiruimte te geven.
Temperatuur: tussen de 12 en 24 graden is ideaal. Sluierstaarten kunnen ook in kouder water overleven maar het water moet op kamertemperatuur blijven om Sluierstaarten actief te houden. Vijvers zijn daarom niet enorm geschikt voor deze goudvis.
Samen: Sluierstaarten leven heel graag samen in een groepje. Het zijn geen dieren die je alleen kunt houden. Houd hier daarom rekening mee met de grootte van je aquarium.
Aan de inrichting stelt de Sluierstaart ook wat eisen. We hebben een checklist gemaakt voor als je je Sluierstaart aquarium gaat inrichten.
Hoe kan ik mijn Sluierstaart aquarium goed inrichten?
Aquarium filter: gebruik een filter die in ieder geval 2 keer per uur het water van je aquarium filtert. Wil je weten welke filter bij jouw aquarium past? We schreven eerder een blog over aquarium filter.
Bodembedekking: zand is het fijnste voor je Sluierstaarten, omdat ze daar lekker in kunnen woelen. Zand is wel minder onderhoudsvriendelijk dan grint, omdat zand verstuift en mengt in het water wanneer vissen er in woelen. Grint werkt ook goed als bodembedekking, maar kies dan heel fijn, afgerond grint. Grof grint heeft vaak scherpe randjes die de Sluierstaarten kan verwonden.
Sluierstaarten leven graag samen in een aquarium. Ze zwemmen graag in groepjes. Het diva gedrag van de Sluierstaart is dus niet terug te zien in haar sociale eigenschappen. Al kan dan weer niet iedereen bij haar in het aquarium terecht…
Kan een Sluierstaart samen met andere vissen?
Een Sluierstaart kun je beter niet samen zetten met actieve zoetwater aquariumvissen. Een Sluierstaartvis is traag en ze houdt ook van trage mede aquariumbewoners. Andere goudvissen kun je beter in een andere bak zetten. Deze andere goudvissen zijn vaak sneller dan Sluierstaarten en daarmee ook sneller bij het eten. Hierdoor krijgen ze niet altijd voldoende voer binnen. Sluierstaarten zwemmen ook het liefst samen met hun eigen soort, dus andere Sluierstaarten.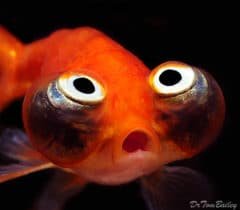 Een andere uitdaging is om andere aquariumbewoners te vinden die bij dezelfde watertemperatuur en waterwaarden als de Sluierstaart goed overleven. We hebben een paar suggesties voor aquariumbewoners die goed samen gaan met Sluierstaarten:
1. Appelslakken: deze slakken kunnen warmer water aan, maar gedijen goed bij water rond de 20 graden. Dit is zowel voor de Appelslak als de Sluierstaart een goede temperatuur. We schreven eerder een leuk blog over de Appelslak, als je daar meer over wilt weten.
2. Andere soorten Sluierstaart Goudvissen, zie daarvoor het hoofdstuk "Sluierstaart soorten".
Heb jij goede ervaringen met andere aquariumvissen die samengaan met Sluierstaarten? We zijn heel benieuwd. Laat het ons weten in de reacties onder deze blog.
Feitje: Sluierstaarten zijn minder geschikt voor een vijver dan andere Goudvissen. Sluierstaarten kunnen namelijk minder goed tegen kouder water. Ze kunnen dus, vooral in de winter, niet overwinteren in een vijver.
Sluierstaarten zie je in diverse vormen en patronen. Wist je dat er zelfs een Sluierstaart met Panda patroon bestaat? Vanwege het vele doorkweken van de Sluierstaarten kan na elke kweek weer een iets andere variant ontstaan. We behandelen de meest voorkomende Sluierstaart vissen én de exotische varianten.
Sluierstaarten soorten : een overzicht
De meest voorkomende Sluierstaart heeft vooral oranje als hoofdkleur, en heeft het meeste weg van een normale Goudvis. Vanwege diverse kruisingen zijn er uiteenlopende soorten Sluierstaarten. Hieronder vertellen we je kort over een aantal soorten veel voorkomende Sluierstaarten en welke het meest exotisch zijn.
| | | | | |
| --- | --- | --- | --- | --- |
| Variant | grootte | temperatuur | Belangrijkste kenmerk | Weetjes |
| Leeuwenkop | Tot 30 cm | 15-23 graden | een rode verdikking op zijn kop | bijnaam: red cape |
| Blaasoog | Tot 15 cm | 15-20 graden | twee met vocht gevulde blazen onder zijn ogen | ogen beschadigen snel, let op met scherpe randjes in je aquarium |
| Telescoopoog | Tot 35 cm | 15-20 graden | twee grote, uitpuilende ogen | Zien minder goed, daarom voedsel idealiter op één plek in het aquarium geven. |
| Zwarte Sluierstaart | Tot 35 cm | 15-20 graden | de zwarte variant van de Telescoop oog Sluierstaart | Zien minder goed, daarom voedsel idealiter op één plek in het aquarium geven. |
| Buffelrug | Tot 25 cm | 15-23 graden | geen rugvin | Groeit langzaam. |
| Hemelkijker | Tot 25 cm | 15-20 graden | langer lichaam, uitpuilende ogen naar boven gericht | Naarmate ze ouder worden komen hun telescoopogen steeds hoger te staan. |
Naast veelvoorkomende Sluierstaarten zijn er ook meer exotische varianten. Onze favorieten zijn Panda en de Chocola Sluierstaartvissen. Deze komen niet zo vaak voor, dus je moet er echt naar op zoek!
Alle Sluierstaart varianten die we hiervoor genoemd hebben kunnen trouwens prima samen leven in een aquarium.
Van welke aquariumplanten houdt de Sluierstaart?
De Sluierstaart Goudvis houdt van planten om haar heen. Sluierstaarten zijn echte groen liefhebbers. Ze vindt het fijn als de planten aan de zijkant van het aquarium staan, zodat de Sluiervissen in het midden veel zwemruimte hebben. Geschikte planten zijn onder andere: Waterpest en Cabomba.
Tip: zorg dat je aquariumplanten goed vast zitten. Sluierstaarten zijn beweeglijk en houden ervan om in de bodem te woelen. Aquariumplanten kunnen hierdoor los komen, en dat zorgt er niet alleen voor dat je aquarium een zooitje wordt. Door het loskomen van de aquariumplanten komt ook meer vuil vrij wat ervoor zorgt dat er minder zuurstof in je aquarium gereguleerd wordt. Stevig vastzetten die planten dus.
Is Sluierstaarten kweken moeilijk of gemakkelijk?
We vallen maar meteen met de deur in huis: Sluierstaarten kweken is niet gemakkelijk. Na 1 tot 3 jaar kun je aan de Sluierstaarten zien of ze geslachtsrijp zijn. Mannetjes Sluierstaarten krijgen kleine, witte bultjes op hun kieuwdeksels. Het vrouwtje krijgt een dikke buik, gevuld met eitjes. Daarna is het werk aan de mannetjes, die leveren een grote bijdrage aan de bevalling. De mannetjes Sluierstaarten drukken met hun neus tegen de buik van het Sluierstaart vrouwtje, waardoor zij haar eitjes kan baren. De eitjes worden na de bevalling door de mannetjes bevrucht en komen al naar een paar dagen uit.
Het kweken is lastig, maar bij een positieve kweek ziet je aquarium er als volgt uit:
Verhouding man/vrouw: ideaal is meerdere mannetjes op een vrouwtje.
Geslachtrijp: het vrouwtje is geslachtrijp als zij een bolle buik krijgt. Hier zitten dan de eitjes in.
Bevalling: De mannetjes duwen op de buik van het vrouwtje. Dit proces heet paaien. Paaien kan er ruw aan toe gaan. Dit is normaal, kleine scheurtjes in de kieuwen herstellen vanzelf.
Paaien: paaien is heel intensief voor de Sluierstaarten. Er komen hierdoor veel hormonen vrij die in het water terecht komen. Deze hormonen kunnen zorgen voor een nitrietpiek in het aquariumwater. Zorg er daarom voor dat je direct na het paaien 25%-50% van het water ververst met schoon water. De nitriet piek is vooral gevaarlijk voor de eitjes.
Eitjes: Sluierstaarten kunnen hun eigen eitjes opeten. Lekker anti Darwin, het beste is om eitjes direct apart te zetten. Als ze bijvoorbeeld op een plantje liggen, kun je het plantje overzetten naar een aparte bak.
Kweekbak: de waterkwaliteit van de aparte kweekbak is belangrijk. De eitjes kunnen het moeilijk krijgen bij een te grote overgang naar ander water. Je kunt het beste aquariumwater mengen met schoon kraanwater, liever meer aquariumwater dan kraanwater. Zorg er wel voor dat het water dezelfde temperatuur is van het aquariumwater voordat je de eitjes overzet. Het regelmatig een beetje verversen van het water is heel belangrijk.
Uitkomen eitjes: de eitjes komen ongeveer na 4 dagen uit.
Voeding baby Sluierstaarten: je kunt starten met vloeibaar voedsel, een paar druppels per dag. Daarna kun je starten met vaster voer zoals opfokvoer en muggenlarven. Voer niet teveel, dat vervuilt het water. Zorg dat je altijd voer gebruikt dat naar de bodem zinkt. Sluierstaarten kunnen door het happen bij het wateroppervlak teveel lucht binnen krijgen.
Overzetten naar aquarium: zonder problemen kun je de jonge Sluierstaarten na ongeveer 3 maanden weer terugzetten bij hun ouders in het aquarium. Let hierbij ook weer op een goede overgang. Zorg dat de waterkwaliteit en de temperatuur van het aquarium hetzelfde is en laat ze eerst weer wennen aan het aquariumwater.
Volwassen: de jonge Sluierstaarten krijgen na ongeveer 3 tot 8 maanden hun oranje (of andere kleur). Ze kunnen – met de juiste omstandigheden – 15 tot 20 jaar oud worden.
Als je geluk hebt, maar vooral een groot aquarium, dan kun je zelf een unieke Sluierstaart kweken. Vanwege de vele mutaties hebben Sluierstaarten maar een paar eigenschappen van de overkoepelende soort. De overige eigenschappen en kenmerken zijn eigenlijk een verrassing.
Sluierstaart ziekten, herkennen en oplossen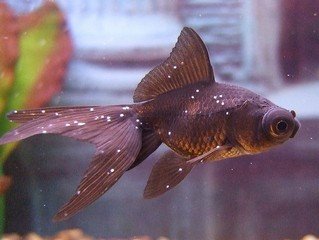 Doordat de Sluierstaart goudvis behoorlijk doorgekweekt is, is ze wat gevoelig. De vele mutaties leveren bij veel Sluierstaarten zwemblaasproblemen op. Deze problemen komen voor als de zwemblaas – die het drijfvermogen van een vis reguleert – niet recht in haar lichaam zit. Drijvend voer stimuleert zwemblaasproblemen doordat de vis teveel lucht binnen hapt. Het evenwicht in de zwemblaas wordt hierdoor verstoord. Als een Sluierstaart een zwemblaasprobleem heeft zwemt ze scheef, ondersteboven of drijft ze zelfs. Een verkeerde zwemhouding is heel vermoeiend voor Sluierstaarten. Belangrijk is ook dat je dit meteen probeert op te lossen.
Twee oplossingen voor zwemblaasproblemen:
Een paar dagen niet voeren: als je ziet dat de Sluierstaart beginnende zwemblaasproblemen heeft, stop dan een paar dagen (ongeveer 3) met haar voeden. Ze kan prima een paar dagen zonder voer, en hierdoor voorkom je dat zij nog meer lucht binnen hapt. Na enkele dagen kan het dat een zwemblaasprobleem vanzelf minder wordt en uiteindelijk verdwijnt.
Een aparte bak: als de zwemhouding van de Sluierstaart heel onnatuurlijk wordt, bijvoorbeeld als zij onderste boven zwemt, plaats de vis dan in een aparte bak zodat zij kan herstellen. Het waterniveau van deze aparte bak mag je laten dalen totdat de vis nog net onder water is. Hierdoor 'leunt' zij op de bodem en kan zij uitrusten. Doe dit ongeveer 5 dagen en voeg elke dag een beetje water toe, totdat de vis weer vrij kan rondzwemmen. Doe dit geleidelijk, als je ziet dat de Sluierstaart nog moeite heeft haal je weer een beetje water uit de bak. Als de Sluierstaart weer goed kan zwemmen, plaats haar dan weer geleidelijk terug in het aquarium.
Witte Stip, Waterzucht en meer
Witte Stip is ook veel voorkomend bij Sluierstaarten. Dit is een parasiet die bij veel aquariumvissen voorkomt. Lees onze blog over het herkennen en genezen van Witte stip voor meer informatie.
Naast zwemblaasproblemen en Witte stip zijn Sluierstaarten ook gevoelig voor erythrodermatitis. Dit is een bacteriële infectie die gekenmerkt wordt door rode vlekken in de Sluierstaart huid. Een andere bacteriële infectie is Waterzucht, waarbij vocht zich ophoopt in het weefsel van de aquariumvis. Je herkent dit aan opgezwollen ogen, een grotere buikomvang en soms verlies van schubben. Zowel erythrodermatitis als Waterzucht kan met een (preventief) visgeneesmiddel verholpen of voorkomen worden. Wil je weten wat voor ziekte je Sluierstaart heeft en hoe je dit kan genezen? Lees dan ons blog over het herkennen en oplossen van visziekten.
Zie hieronder een foto van Witte Stip. Als je ziet dat je Sluierstaart deze symptomen heeft raadpleeg dan direct een dieren- of aquariumspeciaalzaak voor mogelijke behandelwijzen. Let ook al op afwijkingen in het uiterlijk van de Sluierstaart bij het kopen.
Sluierstaarten kopen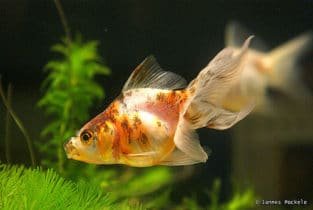 Sluierstaarten zijn actieve aquariumvissen. In de winkel moeten ze dus al actief rondzwemmen. Let bij het kopen van Sluierstaarten daarnaast op het uiterlijk. Een schone huid, met mooie, hele schubben is belangrijk. Let ook op het aquariumwater in de winkel. Het is belangrijk dat het water in de winkel al schoon en helder is.
Feitje! Wil je weten of je Sluierstaart een mannetje of vrouwtje is? Dat is een ware zoektocht. Je kunt een mannetje en vrouwtje pas onderscheiden als ze geslachtrijp zijn (na 1-3 jaar). Het mannetje krijgt kleine pukkeltjes op zijn kieuwen en vinnen en het vrouwtje een bolle buik waar eitjes inzitten.
Sluierstaarten gekocht? Let op een soepele overgang van de winkel naar je aquarium thuis. Het beste is om haar eerst te laten wennen in een apart bakje, en dan langzaam steeds een deel van het water te verversen met het water uit je aquarium.
Daarna start natuurlijk de echte verzorging van de Sluierstaarten. Hieronder lees je welk voer je het beste kan geven, en hoeveel.
Sluierstaart voer en verzorging
Sluierstaarten willen veel eten. Maar veel eten is niet goed voor zowel de Sluierstaart als het aquarium. Er komen teveel afvalstoffen in het water terecht. Belangrijk is om ook voer te geven dat naar de bodem zakt. Dit voorkomt teveel lucht in de buik van de Sluierstaart. En dit voorkomt weer zwemblaasproblemen, weet je nog? De volgende opties zijn geschikt als Sluierstaart voer voor volwassen Sluierstaarten:
Gedroogde of bevroren watervlooitjes
Geblancheerde sla, doperwtjes, spinazie of waterkers
Tubifex (wormpje)
Rode muggenlarfjes
Korrels en/of droogvoer – verkrijgbaar in dierenspeciaalzaak
De regel is: liever te weinig dan te veel eten. Sluierstaarten en andere Goudvissen, overvoeden zichzelf snel. Een dag voeding overslaan is daarom helemaal niet erg. Voed altijd in kleine beetjes, dus een paar vlokjes droogvoer of ander fijn voedsel wat we hiervoor genoemd hebben.
Feitje I: wil je weten of je je Sluierstaarten teveel eten geeft? Kijk hoeveel eten er overblijft 1 minuut nadat je het eten hebt gegeven. Alles wat overblijft na 1 minuut is teveel.
Feitje II: vaste etenstijden zorgen voor minder stress bij Sluierstaarten. Voedt ze – als het lukt – op vaste tijden.
Tip: bewaar de Sluierstaart voeding in een ondoorzichtige, afgesloten pot. Licht en zuurstof zorgen ervoor dat de vitamines in de voeding sneller verdwijnen. Een glazen / transparante pot of pot zonder deksel is dus minder geschikt.
Tot slot, nog wat Sluierstaart informatie
We hadden beloofd dat je alle informatie over Sluierstaarten overzichtelijk in deze blog terug kon vinden. Daarom tot slot alle Sluierstaart basis informatie samengevat:
Latijnse naam: carassius auratus
Makkelijk of moeilijk te houden: makkelijk tot gemiddeld
Grootte: van 5 tot 20 centimeter
Alleen of samen: samen
Aquariumgrootte: 50 liter per volwassen Sluierstaart
Kweek vereiste: 1 vrouwtje en meerdere mannetjes
Bijzonderheid: na elke kweek kan een nieuwe variant ontstaan
We vroegen het al eerder, mis je iets: we horen het heel graag van je!