Appelslak in je aquarium? Doen!
De appelslak is misschien wel de meest opvallende slak voor in het aquarium. Deze tropische zoetwaterslak is heel populair door zijn omvang en door zijn kleur. In het wild kunnen kan de appelslak tot 20cm groot worden, in het aquarium worden ze zelden groter dan 7cm. De fel gele appelslak is het meest bekend, maar kweekvormen zijn er ook in het groen, wit en blauw.
Help ik heb teveel slakken
Help, ik heb teveel slakken, wat moet ik doen! We horen het vaak. Een mooie diervriendelijke oplossing is een slakkenval. Deze kun je hier bekijken. Een prachtige manier om van slakken af te komen.
Appelslakken houden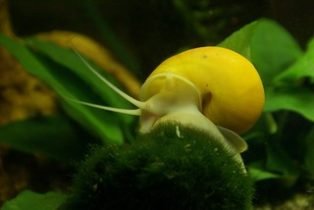 De meeste appelslak soorten zijn tropisch en willen daarom een temperatuur van rond de 21-23 graden. Het geldt bij appelslakken dat een appelslak bij een temperatuur van hoger dan 25 graden ongeveer één jaar zal leven, en bij een temperatuur van 20 graden wel vier jaar.
Voor de aanschaf moet goed gekeken worden welke soort het betreft. Anders neem je een risico met oog op je aquariumplanten. Appelslakken houden is goed mogelijk maar overlijden toch vaak door onbekende redenen. Om ervoor te zorgen dat de vers gekochte appelslakken langer blijven leven is een beetje kennis noodzakelijk. Te beginnen bij de verschillende soorten.
Algemene soorten appelslakken
De appelslak is eigenlijk een verzamelnaam van een grote variatiet van verschillende slakken families. De meeste zijn niet verkrijgbaar in de handel. Voor de geïnteresseerden onder ons, dat zijn de: Pomacea diffusa, Pomacea canaliculata en de Marisa cornuarietis. Waarom is dat belangrijk om te weten? Vanwege je aquariumplanten. De Pomacea canaliculata en Marisa comuarietis eten namelijk je aquariumplanten op. En dat moeten we natuurlijk niet hebben. De Pomacea diffusa laat gelukkig je aquariumplanten wel met rust. Zie bijgaande foto en dan weet je gelijk welke je moet hebben! Kijk eens naar de volgende video, dan zie je hoe mooi appelslakken zijn.
Appelslak en aquariumplanten
Zoals hierboven duidelijk is geworden, is de keuze voor de juiste appelslak belangrijk. Vaak hoor je geluiden van iemand die na de aanschaf van slakken ineens allemaal aangevreten aquariumplanten heeft. De schuld nog wel eens toegewezen aan de appelslakken maar dat is bij de Pomacea diffusa geenszins het geval. Deze eten geen aquariumplanten. Appelslakken en aquariumplanten zijn dus prima mogelijk.
Appelslak en eitjes
De eieren van de appelslak zijn gemakkelijk te herkennen. Ze lijken een beetje op een tros druiven of een framboos. In het begin hebben ze nog een witte kleur maar na een paar uur wordt de buitenkant hard. Na een paar dagen krijgen ze hun definitieve roze kleur (bij de Pomacea diffusa).
De eieren moeten in een vochtige omgeving gedijen maar mogen niet nat worden of in het water terecht komen. De Pomacea diffusa legt haar eieren namelijk buiten het aquarium, een dekplaat is daarom absoluut noodzakelijk. Na ongeveer drie weken komen de eieren uit en vallen de jonge slakjes in het water.
Appelslak en voeding
Een appelslak heeft een brede eetlust, zolang er maar voedingswaarde in zit. Een appelslak maak je gelukkig door af en toe groenten als komkommer en sla in je aquarium te stoppen. Ook visvoer, dode vissen en algen worden gewaardeerd. Hoewel niet alle algen worden opgegeten. Welke aquariumbewoners dat wel doen lees je in de blog over dieren en algen bestrijden. Geef ze niet teveel eten want ze produceren een behoorlijke hoeveel afval.
Appelslak en waterkwaliteit
Appelslakken zijn doorgaans beter bestand tegen slechte waterkwaliteit dan je aquariumvissen. Er hoeven dus niet speciale eisen aan het water te worden gesteld. Waar wel aandacht aan besteed moet worden is aan de calciumconcentratie. De schelp is namelijk opgebouwd uit calsiumkristallen dus bij een tekort kunnen er gaten in de schelp ontstaan. Zorg daarom voor een pH waarde van 6,8 en 7,8.
Een andere kant van de waterkwaliteit betreft dode appelslakken. Deze zijn een grote belasting voor je aquariumwater. Haal deze dus altijd direct uit je aquarium.
Een vraag aan jou…!
Heb jij nog ervaringen, vragen of opmerkingen over de appelslak? Laat dan een reactie achter!