Discusvis, Top vier mooiste soorten discusvissen!
Discusvissen zijn één van de meest geliefde aquariumvissen in omloop. Niet zo vreemd als je prachtige kleuren, hun pallet aan strepen en unieke vorm ziet. Bovendien zijn het scholenvissen, en een groep maanvissen bij elkaar is net een uniek schilderij. Net als bij de meeste aquariumvissen zijn er vele varianten van de discusvis. Wil je meer weten over discusvissen in het algemeen? Lees dan de blog met algemene informatie over discusvissen eens.
Eerst behandelen we de top vier mooiste Discusvissen, daarna lees je nog belangrijke informatie over de inrichting van het aquarium.
Discusvissen kweken of jongen krijgen? Help ze een handje! Discusvissen hebben een juiste oppervlakte nodig waar ze hun eieren tegen af kunnen zetten. Daarvoor kun je een handige kegelvormig object voor gebruiken. Zelf heb ik goede ervaringen met de speciaal daarvoor gemaakte afzetkegel. Deze kun je hier op Aquariumwarenhuis vinden. Een geweldig hulpmiddel! Voor resultaat, vergeet niet de juiste voeding te gebruiken. Heel belangrijk!
Bij de discusvis komt dat overeen met de personages in de film Reservoir Dogs met mr. Brown en mr. Blue. Bij de discusvis zijn er vier soorten: de blauwe, bruine, groene discusvis en de Heckel discusvis. Deze blog behandelt ter inspiratie de vier meest voorkomende families van de discusvissen. Niet voor niets, want discusvissen zijn adembenemend om naar te kijken. Kijk maar eens op de volgende video's.
Nummer één: de Heckel Discusvis
Heckel beschreef in 1840 al over de vis die bekend staat onder de naam Symphysodon discus, ofwel de Heckel Discus. Deze discusvis heeft als belangrijke kenmerk de brede vijfde band die over zijn lichaam heen loopt.
Horizontaal heeft deze discusvis lichtblauwe golvende strepen. Zijn lengte is ongeveer 20cm hoog. De heckel discusvis heeft mooie basiskleuren die variëren van rood to turqoise blauw. Dit is één van de aquariumvissen die je ooit eens in je aquarium moet hebben zien zwemmen.
Nummer twee: groene Discusvissen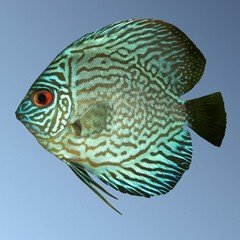 Na de Heckelvis werd in 1903 een tweede soort beschrijven, namelijk de Symphysodon aequifasciatus aequifasciatus ofwel de groene Discusvis. De groene discusvissen hebben een groen/blauwe basiskleur.
Zowel over de rug als over de buik lopen groene strepen. Een kweekvariant van deze discusvissen worden ook wel Pellegrin discus of de Royal green discus genoemd.De groene discusvissen zijn bijzonder om te zien omdat de kleur groen niet vaak voorkomt bij tropische vissen.
Groen moet overigens ruim geïnterpreteerd worden, het is meer een soort zichtbare groene waas. Zoals het plaatje laat zien, mag het resultaat er echter wel zijn!
Nummer drie: de blauwe Discusvis
Van de Symphysodon aequifasciatus is later nog een soort beschreven, de aequifasciatus haraldi ofwel de blauwe Discusvis.
Dit is persoonlijk gezien een prachtige vis, de blauwe kleur is zeer opvallend. Rondom de kop zijn rood- achtige kleuren en blauwe strepen waar te nemen. Over het lichaam en de buik lopen eveneens blauwe horizontale strepen.
Blauwe discusvissen kunnen een heel bijzonder patroon met zich meebrengen. En dat ziet er schitterend uit!
Nummer vier: bruine Discusvissen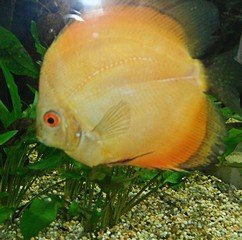 Van de Symphysodon aequifasciatus is later nog een soorten beschreven, de Symphysodon aequifasciatus axelrodi, ofwel de bruine Discusvis. De bruine discusvis is eigenlijk de oermoeder van de discusvissen.
Sommige vinden deze tropische vissen een beetje saai en ze worden dan ook in beperkte mate verkocht. Op zijn kop, maar ook de buikvinnen heeft deze tropische aquariumvis blauwe strepen.
De basiskleur van discusvissen zijn echter een bruin, rood achtige kleur. Soms worden bij dit soort gebruik gemaakt van kunstmatig kleurvoer. Zodra je daarmee stopt, zal de (vaak) rode kleur weer overgaan tot de basiskleur.
De inrichting van een Discusvissen aquarium
Voor in de huiskamer is een speciaal ingericht aquarium voor deze soorten vissen een pareltje. Ze hebben echter wel enkele eisen waaraan voldaan moet worden bij de inrichting ervan. Speciaal voor jou, een lijstje met de belangrijkste eisen en wensen.
Let erop dat discusvissen niet in een gezeldschapsapsaquarium thuishoren, maar in een speciaal voor hen ingericht aquarium.
De natuurlijke omgeving bevat veel donkele oevers met een zandbodem, bedekt met bladeren en vooral heel veel hout. Probeer dat ook na te bootsen in je aquarium.
Leg bijvoorbeeld lavastenen en kienhout neer zodat er voldoende schuilmogelijkheden zijn. Dat komt de kleur van de vissen ten goede!
Zorg voor een niet al te sterk verlicht aquarium. Daar houden ze niet van en krijgen ze stress van. Hierdoor worden de kleuren doffer en dat willen we natuurlijk niet.
Verder is het nog goed om te weten dat je de temperatuur van het aquariumwater in de gaten moet houden. Een temperatuur rond de 27 graden wordt gewaardeerd. Hoger moet je vooral niet doen, want daardoor leven ze korter! Let ook op de bodem van je aquarium. Deze mag geen scherpe punten door stenen of andere oorzaken hebben. Als je bovenstaande tips in acht neemt, dan voorkom je dat deze aquariumvissen schuwe en doffe wezens worden. Daarmee wordt je aquariumstuk een pareltje.
Een vraag aan jou…!
Heb jij nog ervaringen, vragen of opmerkingen over discusvissen? Laat dan een reactie achter!