Vissenkom inrichten en schoonmaken
Hoeveel goudvissen in een vissenkom heb jij als kind gehad? Ik heb een aantal goudvissen gehad in, ik weet het nog goed, een ronde vissenkom met een plastic schatkistje op de bodem. De goudvissen kreeg ik altijd per twee: Suske en Wiske, Bob en Boris en Sipje en Sopje passeerden de revue. Ze leefden maximaal drie maanden. We schreven eerder al een blog over wat je moet weten over goudvissen. In deze blog vertellen we waarom een vissenkom kopen eigenlijk niet zo'n goed idee is. En als je toch een vissenkom wilt hebben, waar deze aan moet voldoen om je goudvissen te vriend te houden. Staat je vraag niet in de blog? Laat het ons dan weten in een reactie onder deze blog.
Wist je dat goudvissen tussen de 15 en 20 jaar oud kunnen worden? Bij een kleine bak is het belangrijk om het wat gezond te houden, anders is dat erg schadelijk voor je goudvissen. Zelf ben ik fan van een preparaat die het gemis aquariumwater zo gezond mogelijk houdt. Daar zal je goudvis blij mee zijn! Het beste blijft echter een grote bak. Heeft je goudvis een dikke buik? Dan is er waarschijnlijk sprake van buikzucht, handel snel en check Trichosal
In deze blog gaan we het over het volgende hebben:
Wat een vissenkom met een goudvis doet
Op internet lees je veel over wat een vissenkom met een goudvis doet. Het klopt inderdaad dat een normale vissenkom (de bekende glazen kom) niet geschikt is voor goudvissen. We zetten de meest voorkomende, en juiste, gegevens over een vissenkom op een rij.
Ruimtegebrek. Een goudvis heeft ruimte nodig, zodat haar buitenkant kan meegroeien met haar ingewanden die, net als bij een mens, steeds volwassener worden. Heb je wel eens een plantje verpot en je afgevraagd waarom het plantje jarenlang klein blijft? De natuur heeft haar organismen zo gemaakt dat ze zich aanpassen aan hun omgeving. Sommige mini cactussen kunnen meer dan een meter groot worden, als je hem maar een ruime bloempot geeft. Hetzelfde geldt voor goudvissen in een vissenkom. De buitenkant van de Goudvis stopt met groeien door de minimale grootte van de kom. Haar ingewanden groeien door, wat er voor zorgt dat de organen tegen elkaar aangedrukt worden en de vis kan overlijden.
Zuurstofgebrek. Een vissenkom biedt – zonder extra zorg – onvoldoende ruimte om zuurstof in het water op te laten lossen. Daarom happen vissen in een vissenkom vaak letterlijk naar lucht (zuurstof) onder het wateroppervlak. Dat is op den duur schadelijk voor de vis zelf
Tekort aan echte waterplanten. Een kom biedt weinig ruimte voor echte waterplanten. De minimale eisen om waterplaten te laten groeien zijn hier niet aanwezig. Waterplanten zijn nodig om een natuurlijke balans in het water te krijgen: het opnemen van CO2 en afgeven van zuurstof. Om een natuurlijke balans te krijgen heb je goed groeiende waterplanten nodig.
Slechte waterkwaliteit. In een vissenkom is het moeilijk om de juiste waterwaarden te krijgen (wat zijn ook alweer waterwaarden?). Door vervuiling (uitwerpselen en teveel voeding dat oplost in het water) van een kleine ruimte stijgen gevaarlijke stoffen zoals nitriet snel. Dit is dodelijk voor je goudvissen.
Okee, wonen in een Vissenkom is voor een goudvis dus net zoiets als leven in een eerstejaars studentenkamer. En die student mag dan dus ook zijn kamer van < 8 meter niet uit. We raden daarom een aquarium aan, boven de kom.
Maar: we kunnen ons ook goed voorstellen dat een gemiddeld aquarium van > 100 liter niet bij iedereen in huis en de portemonnee past. Of dat je al een vissenkom hebt en deze niet zomaar weg kunt doen. Hierin moet je realistisch zijn. Daarom gaan we je, als je al een vissenkom hebt, zo goed mogelijk helpen om er nog iets voor je goudvissen van te maken.
Hoe kun je wel een vissenkom houden?
Heb je al een vissenkom? Het kost wat aandacht en tijd, maar er zijn een aantal initiatieven die je kunt nemen om het leven in een vissenkom, of het liefst een mini aquarium, aanzienlijk te verbeteren:
Klein pompje met een filter. In een kleiner wateroppervlak is het juist belangrijk om zuurstof te reguleren en water in beweging te houden. Water dat (te) stil staat stimuleert de groei van schadelijke bacteriën. Je kunt verschillende kleinere filterpompjes kopen die geschikt zijn voor het filteren van 20 liter water. Een vissenkom gaat vanaf 5 liter en is daarom te klein voor een pompje en/of filter. In dit extreem kleine wateroppervlak kun je een bruissteentje toevoegen. Het helpt iets maar heeft niet dezelfde impact als een filterpompje.
Geschikte aquariumplanten. In een vissenkom hebben ook waterplanten het moeilijker. Kies voor zuurstofrijke en relatief sterke aquariumplanten zoals Cabomba en Waterpest. De goudvis kan hier ook een beetje aan knabbelen en zich in verschuilen.
Mini aquarium. Als alternatief voor je kom kun je nadenken over een kleiner- of BiOrb aquarium. In dit aquarium zit meestal een ingebouwde filter. Voordelen van een BiOrb aquarium zijn dat deze: lichter, sterker en moderner is dan een vissenkom. Een groot nadeel is de prijs. Een BiOrb aquarium van 30 liter kost (nieuw) al snel € 200,-. Lees in ons blog over het BiOrb aquarium ook eens welke vissen geschikt zijn voor dit kleine aquarium.
Regelmatig water verversen. Hoe minder wateroppervlak, hoe sneller bacteriën de overhand krijgen. Zorg dat je het water in je kom schoon houdt. Te vaak schoonmaken is ook weer schadelijk voor de natuurlijke balans van je water. Beter kun je elke week 25-50% van het water verversen. Wel consequent blijven doen! Zorg er bij de waterverversing voor dat de temperatuur van de het water in de kom, en het toegevoegde water van dezelfde temperatuur is. Plotselinge grote temperatuurwisselingen zijn schadelijk voor de goudvissen.
Zuurstof steen toevoegen. Hierdoor beweegt het water gelijk een beetje en dat is goed tegen schadelijke bacteriën. Plaats een zuurstofsteen op de bodem van de vissenkom. Let wel op dat de zuurstofsteen subtiel is, een grote bruisende massa in een kom is zeer zeker ook niet goed voor de vissen. Dus: een rustige bruissteen. 
Steentjes voor op de bodem. Goudvissen houden ervan kleine deeltjes tussen de steentjes uit te plukken. Let voor de bodembedekking wel op wat voor goudvissen je hebt. Sommige goudvissen hebben meer behoefte aan fijne bodembedekking, zoals Sluierstaart goudvissen. Lees hiervoor onze blog over de Sluiertaart. 
Een zuiveringsmiddel voor leidingwater. Leidingwater kan minimale hoeveelheden Chloor bevatten en is gezuiverd voor de consumptie van mensen. Een waterbehandelingsmiddel, zoals Gold Protekt, stimuleert de productie van goede bacteriën in het leidingwater. Een beetje daarvan toevoegen kan zeker geen kwaad. Lees wel de gebruiksaanwijzing voor het juiste gebruik en goede hoeveelheid.
Haal de vissenkom uit de zon. Temperatuur schommelingen zijn niet goed voor Goudvissen, ze raken snel gestrest hierdoor. Staat de kom op bepaalde momenten van de dag in de zon? Dan is het tijd om de kom te verplaatsen. Ten eerste krijg je daardoor een stuk sneller algengroei, ten tweede kan het water te warm voor vissen worden. Bespaar jezelf veel ellende en zorg dat direct zonlicht wordt vermeden.
Hieronder lichten we toe wat je nog meer kan doen rondom de verzorging van Goudvissen in een vissenkom. Schoonmaken is een belangrijk onderdeel. Heb je aanvullingen of vragen? Laat het ons weten onder deze blog.
Hoe kun je goed een vissenkom schoonmaken?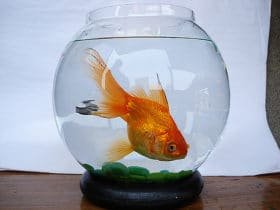 Een vissenkom maak je regelmatig schoon. Het belangrijkste is dat je het water wekelijks voor een deel (25-50%) ververst. Water in een vissenkom vervuilt snel, onder andere omdat goudvissen smeerpoetsen zijn. Ze zwemmen, zeker in een vissenkom, snel in hun eigen uitwerpselen en etensresten. Ververs het water dus (gedeeltelijk) een keer per week, om te voorkomen dat er te veel ammoniak en nitriet (schadelijke stoffen) in het water komt.
Bij een vissenkom zijn een aantal problemen herkenbaar. De meest herkenbare schoonmaakproblemen met een schoonmaaktip hebben we daarom op een rijtje gezet. 
Probleem één: ik heb bruin of groen water en/ of groene steentjes in mijn vissenkom.
Oorzaak: vervuiling, er is sprake van alg vorming in het water.

Schoonmaak oplossing: ververs wekelijks 25-50% van het water. Knip de ongezonde bladeren van de waterplanten af. De vieze kiezels / steentjes kun je uit de vissenkom halen en even in kokend water leggen. Laat ze even afkoelen en leg dit daarna weer terug. De dagen daarna verdwijnt de groene alg of waas vanzelf. Vergeet ook de kleine onderdelen, zoals decoratie, niet om met een borstel of schuurspons schoon te maken. Gebruik hiervoor alleen water.
Probleem twee: er liggen teveel uitwerpselen van de vissen op de bodem.
Oorzaak: te veel voeding gegeven of te lang niet schoongemaakt.

Schoonmaak oplossing: Het vuil op de bodem moet je regelmatig weghalen. Met een afgeknipte tuinslang (stop de ene kant in het water en even goed aanzuigen aan de andere kant) kun je gemakkelijk bodemvuil weg laten vloeien. Ook belangrijk is regelmatig het water te verversen. Ververs water in je vissenkom wekelijks met 25-50%. Verruil bijvoorbeeld 2,5 liter water van het aquarium voor vers water.
Probleem drie: mijn kiezelstenen zijn vies en bruin (bruine aanslag) geworden.
Oorzaak: vervuiling van het water.

Schoonmaak oplossing: Ververs wekelijks het water ongeveer met 50%, haal alle kiezels eruit en leg deze in kokend water. Laat afkoelen en stop deze daarna weer in de vissenkom terug. Zelfs als er nog aanslag opzit, zal deze na een aantal dagen verdwijnen. Een kleine beetje bruine of groene steentjes is overigens niet zo'n probleem.
Probleem vier: wat doe ik met mijn vissen tijdens het schoonmaken?
Oorzaak: de kom zelf is aan een grondige schoonmaakbeurt toe.

Schoonmaak oplossing: houd de vissen in een schone emmer (gebruik vooral geen gebruikte emmer in verband met achtergebleven chemicaliën) met het water uit de vissenkom. Na het schoonmaken laat je de vissenkom een uur op kamertemperatuur komen en kunnen de vissen weer terug. Let op, vang de vissen met een schepnet en gooi het oude water vooral niet terug in de kom. Dat water is immers vervuild.
Meer schoonmaaktips 
Gebruik geen chemicaliën. Schoonmaakmiddelen zijn zeer schadelijk voor vissen. Gebruik voor de schoonmaak enkel water en een schuursponsje
Optimaliseer het leidingwater in je kom. Leidingwater soms schadelijke stoffen zoals chloor. Gebruik een water verzorgingsmiddel zoals Gold Protekt dat speciaal is bedoeld voor goudvissen en andere koudwatervissen.
Zet de vissenkom niet in de zon, maar zorg wel voor een plek met licht. Vissen houden van natuurlijk lichtsomloop, ofwel gewoon zoals een dag verloopt. Een andere reden om de kom niet in de zon te zetten is dat zonlicht algengroei in je

aquarium

stimuleert.
Waar moeten planten in een vissenkom aan voldoen?
Je kunt niet zomaar waterplanten in je vissenkom zetten. Net als dieren hebben planten ook minimale eisen om te overleven. De waarheid is dat in een vissenkom eigenlijk maar weinig planten overleven. Daarom zou ik de sterkere soorten zoals Waterpest en Cabomba nemen. Vaak heb je kans dat één van beide niet groeit. Dat is niet anders. Sommige drijfplanten doen het overigens ook goed in een vissenkom.
Waterpest en Cabomba zijn ook uitstekende zuurstofplanten. Zuurstofproductie in een vissenkom is ook essentieel. Vissen 'ademen' in de kom zuurstof in en scheiden CO2 uit. CO2 zetten waterplanten weer om naar zuurstof. Lukt het allemaal niet met groeiende planten. Dan kun je altijd nog een aquarium overwegen 😉
Wil je een vissenkom kopen? Let er dan goed er geen barsten in de kom zitten. Let bij het kopen van een vissenkom ook goed of het glas helder is, en geen wittige waas heeft. Dat is een teken dat de kwaliteit niet goed is. Tot slot, en het is al gezegd, als je vissen wilt kun je beter geen vissenkom kopen, maar een aquarium.
Goed, nu heb je de kom met de juiste waterplanten, waterdecoratie, een fijne filter en de juiste plek in huis gevonden. Hoe kies je dan de juiste bewoners voor de vissenkom? Eerder vertelden we dat goudvissen tussen de 20 en 40 cm kunnen worden. Een vissenkom is dus ongeschikt voor de meeste soorten goudvissen. Zijn er aquariumbewoners die wel geschikt zijn voor een vissenkom?
Zijn er geschikte vissen voor een vissenkom?
Daar gaan we weer, eigenlijk is het beter om gewoon een aquarium te kopen. Maargoed, daar sta je dan met je kom. In een kleinere leefomgeving zoals een vissenkom of een BiOrb aquarium is het belangrijk om de juiste bewoners te kiezen. Geschikte aquariumvissen voor een klein aquarium hebben we al een blog over geschreven. Hier nog een aantal vissenkombewoners op een rij. Al deze aquariumbewoners hebben wel echt een minimum van 5 liter nodig.
1. Guppies
Maximaal hoeveelheid: 5 stuks. Guppies zijn tropische aquariumvissen. Een vissenkom op kamertemperatuur van minimaal 18 graden is daarom niet ideaal, maar wel mogelijk. We schreven eerder al een blog over Guppies.
2. Zebra Danios
Maximaal hoeveelheid: 5 stuks. Ook hier geldt: dit zijn tropische aquariumvissen. Toch kunnen de Zebra Danios wel tegen water op kamertemperatuur. Waar ze niet tegen kunnen is fluctueren van de temperatuur. Goed opletten dus bij een waterwissel.
3. Vuurgarnalen
Maximaal hoeveelheid: hier zou ik eerder zeggen, minimaal 10. Over Vuurgarnalen schreven we eerder een blog. Een superleuke aanwinst.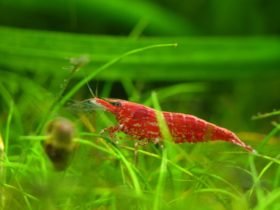 Nu je alle informatie hebt om de 'ideale vissenkom' te creëren, wegen we de kom nog een keer af tegen het aquarium.
Tot slot: Vissenkom versus aquarium
Een vissenkom of een aquarium? Een kom is gemaakt als decoratiestuk of laagdrempelige middel voor een huisdier. Niet in de eerste plaats om aquariumvissen een goede huisvesting te bieden. Voor goudvissen is een vissenkom sowieso niet geschikt.
Nog even wat feitjes van een vissenkom versus een aquarium op een rij:
Een aquarium biedt ruimte voor een goede filter, wat de doorstroming en dus zuivering van het water stimuleert. Een kom heeft minder of geen ruimte voor een filter.
In een aquarium kan water zuurstof absorberen, in een kom is het wateroppervlak te klein voor het goed absorberen van zuurstof. Je zult dus veel vaker het water moeten verversen om de zuurstof regulatie gezond te houden.
Een aquarium biedt volop ruimte voor aquariumplanten die noodzakelijk zijn voor de zuurstoftoevoer en het creëren van voldoende schuilruimte. In een vissenkom is ruimte voor een á twee planten en die groeien vaak niet goed. Dat is een voorwaarde voor een gezonde leefomgeving voor je vissen.
goudvissen zijn dieren die in een groep willen leven. In een aquarium is ruimte voor meerdere vissen. In een kom zitten goudvissen elkaar in de weg en vervuilen ze de kom te snel.
Heb je niet alle informatie kunnen vinden of mis je iets? We horen het heel graag van je in de reacties onderaan deze blog.