Aquariumplanten, wat moet je weten? Veel!
Zoals de wereld planten nodig heeft om leven mogelijk te maken, zo heeft een aquarium ook aquariumplanten nodig. In een aquarium zorgt een gezond plantenbestand voor het juiste evenwicht. Een juist evenwicht zorgt ervoor dat algen geen kans maken en dat je aquariumbewoners gezond blijven.
Zorg voor gezonde aquariumplanten!
Zorg er wel voor dat de aquariumplanten niet onnodig dood gaan. Dat is niet alleen frustrerend, maar kan ook behoorlijk kostbaar zijn. Wat ik zelf altijd doe is het toevoegen van de juiste plantenvoeding in combinatie met deze vloeibare CO2. Daarmee groeien mijn aquariumplanten als kool en ben ik van veel problemen af. Top!
Waarom een aquarium planten nodig heeft
Geen enkele technische installatie kan aquariumplanten vervangen. Dat komt omdat waterplanten een aantal fundamentele functies hebben: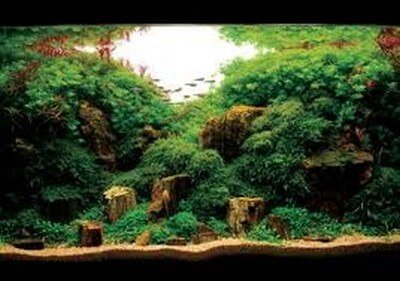 Aanmaken van zuurstof[
Dienen als onderliggende laag voor kuit van vissen
In stand houden van een gezonde bodemklimaat, tegengaan van rotting
Opnemen van nitraten
Ontgiften van je aquariumwater (sommige planten geven zelfs antibiotica af)
Beschutting voor je vissen en garnalen
En natuurlijk een decoratieve functie
Deze functies laten zien dat het belangrijk is aquariumplanten te begrijpen. Met ander woorden, een gezond platenbestand zorgt voor een beter functionerend aquarium met minder ziektes en schadelijke stoffen. Bovendien is een gezond plantenbestand gewoonweg een lust voor het oog. Kijk ook eens op de algemene pagina over aquariumplanten.
Hoe je met succes aquariumplanten houdt
Een constante strijdt tegen algen of slecht groeiende aquariumplanten is het gevolg van het maken van fouten. Daarom is het goed de vereisten voor een gezond plantenbestand op een rijtje te zetten. Oftewel op naar een decoratief element in je woonkamer, in plaats van een treurige aanblik.
Vereisten:

De juiste plantenkeuze

Een veelvoorkomende fout is dat er geen rekening wordt gehouden met de licht en voedselbehoeften van de aquariumplanten. Weinig CO2? Probeer de Vallisneria of de Cabomba, maar koop geen Lotus. Meten is dus wel degelijk weten. Koop daar je planten op. Geen kaartje bij de plant? Vraag aan de verkoper de vereisten van de aquariumplant.

Aangename temperatuur

Aquariumplanten zijn vaak subtropisch en vragen om eenzelfde klimaat. Normaal gesproken tussen de 24 en 27 graden. Maar let op, hoe hoger de temperatuur van het water, hoe sneller de stofwisseling van de planten plaats vindt en des te sneller voedingsstoffen worden gebruikt (en tekorten kunnen optreden). Zelf houd ik 25 graden aan.

Ideale waterwaarden

Het aquarium water bestaat uit een aantal belangrijk waarden die je informatie geven of je simpel weg goed bezig bent (of slecht). Planten groeien over het algemeen beter in zuur dan in alkalisch- water. Zo zorgt een hoge PH-waarde (zuurgraad van je water) voor minder CO2. Tenzij je zelf CO2 toevoegt natuurlijk. Op teststripjes staan vaak de goede waarden, houdt deze ook aan. Waarden kunnen zijn: nitriet, nitraat (goed op letten), KH, PH, GH etc.

Goede verlichting

Zonder licht, geen planten. Nogal logisch maar in het verlengde daarvan heeft de lichtintensiteit van je lampen grote invloed op de fotosynthese van je aquariumplanten. Sommige planten hebben meer, andere planten hebben minder licht nodig. Ook kom je vaak aquariumverlichting tegen die allang versleten en vervangen hadden moeten worden. Zelf houd ik de lampen 8 uur aan één stuk door aan.

Genoeg voedsel

Waterleiding bevat geen belangrijke voedselstoffen zoals bijvoorbeeld ijzer. Daarom is het belangrijk dat er voedsel wordt toegevoegd aan het water. Anders zullen je aquariumplanten het niet goed doen. Zelf ben ik fan van FloraCarbo van HS Aqua, dat werkt uitstekend.
Het succes van gezonde aquariumplanten ligt hem dus in het begrijpen van aquarium planten en het voldoen van de gewenste vereisten. Met een beetje kennis en een beetje tijd is het mogelijk om een verbluffend ingericht aquarium te hebben.
Lees ook
Wil je zeker weten dat jouw aquarium het aanzien waard is? Lees dan vooral de onderstaande blogs:
Aquariumplanten: wat moet je weten? (=dit artikel)
Aquariumplanten: voedingsstoffen en CO2 tekort
Aquariumplanten: kiezen en planten
Een vraag aan jou…
Heb jij nog aanvullingen, vragen of opmerkingen? Laat dan een reactie achter!