CO2 in je aquarium is een moetje!
Veel aquarialiefhebbers vragen zich af wat er nodig is om het perfecte aquarium te krijgen. Achterwanden, filters, aquariumplanten, tropische aquariumvissen, alles wordt uit de kast getrokken om inrichting, biologisch evenwicht en samenstelling zo optimaal mogelijk te maken. Maar wat gebeurt er helaas vaak? Verschillende algen ontstaan of aquariumplanten groeien traag of niet. Herkenbaar? Grote kans dat het toevoegen van CO2 in je aquarium dé oplossing is.
Ik wil CO2 toevoegen kopen maar ik weet niet met welke set
Je aquariumplanten groeien niet goed genoeg en je bent het zat. CO2 toevoegen is de oplossing maar een dure aanschaf. Wat moet ik doen? Deze vraag krijg ik heel erg veel. Het antwoord: koop vloeibare koolstof in combinatie met de juiste plantenvoeding. Daar gaan planten keihard van groeien.Wil je laagdrempelig met een CO2 set beginnen, begin dan eens met een goedkope CO2 toevoer beginnersset. Daar heb ik geweldige ervaringen mee. Je aquariumplanten zullen groeien als kool en veel type algen zullen verdwijnen!
Waarom is CO2 in je aquarium zo belangrijk?
CO2 in een aquarium is een noodzaak want het stimuleert je aquariumplanten te groeien. Koolstof is een voorwaarde voor al het leven in je aquarium. Ongeveer de helft van alle (droge) stoffen van de planten bestaat uit koolstof. We praten over dé belangrijkste bouwsteen van je aquariumplanten en die kunnen koolstof alleen vanuit het aquariumwater opnemen door CO2.
Weetje: problemen met algen en geen CO2 of CO2 tekort in je aquarium? Algen hebben een hekel aan CO2, dus CO2 in je aquarium toevoegen is het proberen waard. Lees er meer over op de pagina over algen bestrijden
Gevolgen van CO2 tekort in het aquarium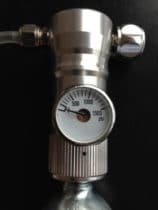 Gezien de fundamentele functie van CO2 in je aquarium kun je je voorstellen wat er gebeurt bij CO2 tekort in je aquarium. Een CO2 tekort kan grote gevolgen hebben voor het aquarium. Om dat te herkennen heb je echt geen geavanceerde apparatuur nodig. CO2 tekort in je aquarium ontdek je gewoon door het gebruik van je ogen.
Vervormde of slecht groeiende bladeren van je aquariumplanten
De aquariumplanten krijgen lange stelen en kleinere bladeren
De kleur van de aquariumplant bladeren zijn matter dan normaal
Bladeren van aquariumplanten krijgen gaten
Lees alles over wat aquariumplanten jou te vertellen hebben in de blog over plantenvoeding in je aquarium.
Hoeveel CO2 heb je nodig in je aquarium
De hoeveelheid CO2 in je aquarium hangt af van veel factoren. Zoals de hoeveelheid tropische vissen (die geven iets aan CO2 aan je aquariumwater af), de aquariumplanten (die onttrekken CO2 aan het aquariumwater) en hoe lang je aquariumlicht aanstaat (langer licht betekent langer groeien). Maar ook zaken als stroming (door sterke stroming verdwijnt meer CO2 aan het oppervlakte). Eigenlijk is de basis heel simpel. Bovendien is er een standaardformule voor het aantal CO2 bubbels per minuut
Aantal bubbels per minuut = (aantal liter water x carbonaathardheid (dH) /50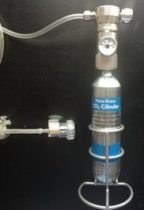 Als je veel aquariumplanten hebt, en je aquariumverlichting staat lang aan, dan willen de planten hard groeien. Daar hebben ze wel toevoer zoals CO2 en voedingsmiddelen voor nodig. Andersom geldt hetzelfde. Heb je een korte verlichtingsduur en minder voedingsstoffen, dan zullen de planten minder hard willen groeien. Dat betekent dat de opname van de hoeveelheid CO2 in je aquarium kan verschillen.
Carbonaat hardheid is het gehalte aan carbonaat (dH meeteenheid) in het aquarium en voor de meeste aquariumvissen moet dit tussen de 5 en de 10 liggen. Je kunt dit eenvoudig meten door middel van teststripjes. Weet je het aantal liter water en de hardheid die je wilt hebben, dan kun je de rest van de formule gemakkelijk invullen en berekenen.
Hoe werkt een CO2 aquarium systeem en welke varianten zijn er?
Okee, nu je weet hoeveel CO2 je aquarium nodig heeft is het tijd om over een CO2 aquarium systeem te praten. Nu zijn er verschillende systemen op de markt en elk systeem heeft specifieke voor-en nadelen. We hebben de belangrijkste voor-en nadelen per type CO2 toevoer systeem voor je in een tabel gezet.
| | | |
| --- | --- | --- |
| Type | Voordelen | Nadelen |
| Drukregelaar met één trap | Compact en goedkoop | Minder veilig dan andere modellen |
| Drugregelaar met twee trappen | Veilig en compact | Behoorlijk prijzig CO2 systeem |
| CO2 ladder | Goedkoop en gemakkelijk te installeren | De toevoer is niet heel accuraat, er is verspilling en het wordt snel vies |
| CO2 diffusor | Gemakkelijk te installeren, fraai en zeer functioneel | Niet geschikt voor grote bakken, daarnaast is het vaak van glas dus breekbaar, moet vaak schoongemaakt worden |
| CO2 atomizer | Onzichtbaar, zeer kleine bubbels en duurzaam | Lastig schoon te maken. Daarnaast is niet iedereen voorstander van de mist van kleine bubbels |
| CO2 reactor | Efficiënt, zelf te maken en daarnaast zit het in de aquariumbak (niet zichtbaar) en zo goed als onderhoudsvrij | Duurder dan andere opties, lastig in te bouwen en daarnaast is er een sterk filter nodig |
Welk CO2 aquarium systeem is het beste?
Verschillende mogelijkheden, maar welk systeem is het beste voor jou? Dat is afhankelijk van de inhoud en grootte van je aquarium. Bij een kleine of middelgrote bak met aquariumplanten zou ik kiezen voor een ladder, diffusor of atomizer. Een middelgrote of grote bak met aquariumplanten kan prima voorzien worden van CO2 met een atomizer of een reactor.
Weetje: Rode aquariumplanten zijn extra gevoelig voor CO2 in je aquarium. Lees het in de blog over rode aquariumplanten.
Hoe zit het dan met vloeibare CO2 in je aquarium?
Je kunt ook kiezen voor vloeibare CO2. Het is immers niet zo dat de planten kunnen zien hoe de CO2 in je aquarium gekomen is. Dit is in eerste instantie goedkoper omdat er geen systeem nodig is. Wel moet je consequent de goede hoeveelheid toevoegen. Stabiliteit is fundamenteel voor het aquarium. Het heeft ook met persoonlijke voorkeur te maken: de één zweert bij techniek, de ander bij een flesje en weer een ander wil een CO2 arme bak. Belangrijk is vooral: weet wat je doet. Het gaat altijd om het vinden van de juiste balans.
Tot slot
Wat zijn jouw ervaringen met CO2 gebrek, CO2 toevoegen of gewoon met CO2 in je aquarium? Laat je opmerkingen of vragen achter in de comments. Andere bezoekers lezen het graag!