Cabomba is goed voor je aquarium en vijver!
Cabomba is een verzamelnaam van een aantal soorten. De verschillende Cabomba's komen voornamelijk uit Midden- en Zuid Amerika. In deze soorten zit één van de meest nuttige aquariumplanten (caroliniana) en ook één van de mooiste aquariumplanten (piauhyensis). Vooral de eerst genoemde heeft vele voordelen en zou eigenlijk niet mogen ontbreken in je vijver of aquarium. Als je net met een aquarium of vijver begint, zorg dan dat deze aquariumplanten in je bezit komen. De laatst genoemde kan ook het pronkstuk van je aquarium worden.
Snel de juiste aquariumplanten?
Betover je aquarium met mooie aquariumplanten! Naast de Cabomba zijn er prachtige andere aquariumplanten. Ook met dezelfde eigenschappen zoals snel groeien, relatief gemakkelijk etc. En toch is voor groei plantenvoeding fundamenteel. Zelf ben ik fan van deze tweewekelijkse krachtige plantenvoeding.
Voordelen van de Cabomba
De voordelen komen vooral tot zijn recht bij de Cabomba caroliniana. De grootste voordelen zijn de volgende.
Snelgroeiend maar wel mooie waterplant die niet kan ontbreken bij een net opgestarte vijver of aquarium. Door zijn snelle groei worden algen voorkomen.
Een geweldige zuurstofplant die in een rap tempo de benodigde zuurstof aanmaakt. Je vissen zullen er blij mee zijn. Net als de waterpest overigens. Lees het artikel over de vele voordelen van waterpest maar eens.
Dit soort past zich relatief gemakkelijk aan en is ook vrij sterk. Met andere woorden, deze waterplant legt niet zo snel het loodje. Een ideale beginnersplant.
Aan het substraat van de vijver of aquarium worden geen eisen gesteld. Deze Cabomba haalt zijn voedingsstoffen rechtstreeks uit het water.
Soorten Cabomba
Zoals eerder aangegeven is de Cabomba een verzamelnaam van verschillende soorten. Drie veel voorkomende soorten zijn de Cabomba caroliniana (de meest bekende), Cabomba aquatica (met de fijnste bladeren) en Cabomba piauhyensis (ofwel de prachtige roodkleurige Cabomba).
Cabomba caroliniana
De Cabomba caroliniana is de bekendste van zijn soort. Dit komt vooral om het ook de meest gangbare en sterkste variant is. Dit type heeft weinig moeite met het aanpassen aan je vijver of aquarium.
Wel is het zo dat vooral in hard water ze het beste floreert. Met goede belichting zullen deze aquariumplanten mooier lijken doordat de bladeren dichter begroeien. De Cabomba caroliniana is zeer geschikt voor personen die net beginnen met een aquarium.
De bladerstructuur is het sterkste van de drie benoemde soorten in deze blog. Sterk wil niet zeggen onverwoestbaar, deze plant blijft door zijn bladeren structuur gebaad bij helder water. Ben je op zoek naar sterke bladeren? Dan kun je beter de Javavaren nemen.
| | |
| --- | --- |
| Grootte | Tot wel 50 cm |
| Groeisnelheid | Snel |
| Lichtbehoefte | Redelijk hoog |
| Temperatuur | 23-27 graden |
Cabomba aquatica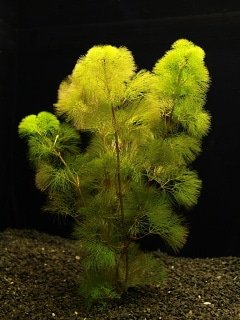 De Cabomba aquatica is werkelijk een prachtig soort. Dit komt omdat de bladeren dicht bij elkaar groeien. De ongebruikelijke lichtgroene kleur maakt dat deze Cabomba aquatica een aanwinst in je aquarium is.
Wel is dit soort gevoelig voor vuil in het water, hierdoor raakt de plant zelfs beschadigd. Dit type Cabomba heeft veel licht nodig om zijn compacte groei te behouden. Houdt er rekening mee dat deze Cabomba niet heel gemakkelijk te houden is.
Dat niet gemakkelijk te houden komst doordat dit type graag een voedingssubstraat wil hebben om daar zijn voedingsstoffen vandaan te halen. In tegenstelling dat zijn sterke collega die voldoende voedingsstoffen uit het aquariumwater haalt.
Daarnaast is het belangrijk dat er voldoende aquariumlicht is zodat de dichtheid van de bladeren aanwezig blijft. Anders wordt de stengel van de waterplant heel lang en groeien de bladeren ver uit elkaar. Dit ziet er niet mooi uit.
| | |
| --- | --- |
| Grootte | Tot 40 cm |
| Groeisnelheid | Gemiddeld |
| Lichtbehoefte | Erg hoog |
| Temperatuur | 25-29 graden |
Cabomba piauhyensis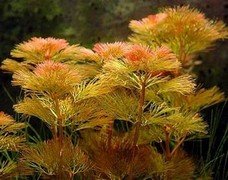 De Cabomba piauhyensis ofwel de rode Cabomba behoort tot de mooiste aquariumplanten. Vooral de rode kleur voegt een unieke dimensie in je aquarium toe. Helaas is dit type een veeleisende plant.
Naast schoonwater is een ijzerrijk substraat, co2 toevoeging en een pH van 6.5 nodig om deze plant in leven te houden. De Cabomba piauhyensis heeft een zeer hoge lichtbehoefte en kan dus niet verscholen groeien onder bijvoorbeeld een stuk kiemhout.
Het is wel echt de moeite waard om aan zijn eisen te voldoen. De rode kleur in combinatie met een grote bos van deze waterplanten bij elkaar geeft een unieke aanblik in je aquarium. De roodheid wordt feller naar mate de aquariumplant zich goed voelt en aan de strenge omgevingseisen wordt voldaan. Grote kans dat als deze waterplant het goed doet, je andere planten het ook goed doen.
| | |
| --- | --- |
| Grootte | 40 cm |
| Groeisnelheid | Gemiddeld |
| Lichtbehoefte | Zeer hoog |
| Temperatuur | 24-28 graden |
Cabomba vermeerderen, stekken en snoeien
Het vermeerderen is echt een fluitje van een cent. Simpelweg door een stuk van de plant af te knippen en deze weer in de grond te stoppen. Je zult zien dat het gestekte stukje vanzelf weer gaat verder groeien. Erg handig dus.
Weetje: je kunt de Cabomba stekken vanaf 5 cm. Dit komt omdat de top jong en sterk is. Via de zijkant van de oude stengel zullen weer nieuwe stengels ontstaan.
Het snoeien gaat op een eenzelfde manier. Met je vingers of een schaar knip je de plant af daar waar dat voor jou wenselijk is. Op een kwart van de stengel is een goed uitgangspunt. Het afgeknipte stuk poot je vervolgens weer in het substraat waar deze weer verder zal groeien. Lees ook eens de blog over het snoeien en planten van aquariumplanten voor meer informatie.
Tot slot
De Cabomba is een aanwinst in je aquarium. Of het nou de nuttige variant caroliniana of de prachtige rode variant, de piauhyensis is, dat maakt niet uit. Houd de eisen goed in de gaten en je krijgt er een prachtig begroeid aquarium voor terug! Wil je meer weten over aquariumplanten in het algemeen? Lees dan de blog over algemene informatie over aquariumplanten eens goed door.
Een vraag aan jou…
Heb jij nog aanvullingen, vragen of opmerkingen? Laat dan een reactie achter!