Waterwaarden goed begrijpen voorkomt veel ellende
Heb je wel eens geprobeerd de achterkant van een aquarium water test te lezen? Of het boekje bij de druppeltest? Daarin staan vaak alleen onmogelijke Latijnse namen of totaal nietszeggende waterwaarden. Daardoor ontstaat de situatie dat wel goed de waterwaarden gemeten worden, maar niet begrepen wordt wát je nou eigen meet, en waarom. Dat is belangrijk want alleen als je begrijpt hoe het werkt, kun je goede vervolgstappen nemen om waterwaarden in de juiste range te krijgen. Slechte kwaliteit water leidt onherroepelijk tot dode aquariumvissen en aquariumplanten die niet of nauwelijks groeien.
Snel je waterkwaliteit checken? Koop wel de juiste aquarium water test!
Kwaliteit van je aquarium water is fundamenteel voor een succesvol aquarium. Daarom meet ik altijd eens per maand mijn aquarium water met deze teststroken.

Wil je echt diep testen, dan moet je werken met vloeistoffen. Best kostbaar maar eigenlijk onmisbaar voor elke aquariaan. Uiteindelijk scheelt het je gegarandeerd geld, bovendien gaan de testen lang mee. Ik gebruik altijd een kwaliteit aquarium water test set, dan weet je zeker dat je goed zit. Meten is namelijk echt weten!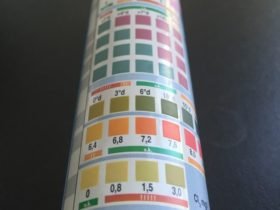 Gelukkig is de basis niet eens zo enorm moeilijk en de ingreep tot betere waterwaarden te komen eigenlijk ook niet. Het is alleen wel belangrijk ervoor te zorgen dat je waterwaarden in balans zijn. Dit voorkomt ongewenste algengroei, verlengt de levensduur van je aquariumvissen en scheelt geld omdat weer nieuwe aquariumplanten gekocht moeten worden.
Tip: Wil je meer weten over aquarium testen? Lees dan de blog over de aquarium water test eens!
Bekijk je aquarium goed, valt er iets op dat je niet bevalt? Schaf die druppels aan, of koop een aquarium water test en ga aan de slag met je waterwaarden. Om dat goed te doen hebben we ze voor jou in normale mensentaal op een rijtje gezet. De volgende waterwaarden komen aan bod.
| | | | |
| --- | --- | --- | --- |
| Afkorting | Naam | Afkorting | Naam |
| O2 | Zuurstof | kH | Carbonaathardheid |
| pH | Zuurgraad | PO4 | Fosfaat |
| gH | Hardheid | NO3 | Nitraat |
| NO2 | Nitriet | NH3 & NH4 | Ammoniak en Ammonium |
| CO2 | Koolstofdioxide | Cl | Chloor |
| Fe | IJzer | Cu | Koper |
De onderstaande waterwaarden zijn ingedeeld op wat belangrijk is voor je aquariumvissen, aquariumplanten, en voor algen bestrijden. Het is een grove indeling want waterwaarden hebben vaak invloed op elkaar en op je gehele aquarium.
Waarden die invloed hebben op tropische aquariumvissen
| | | |
| --- | --- | --- |
| Afkorting | Naam | Waarde |
| O2 | Zuurstof | Minimum van 4mg/l |
Verhogen: voeg zuurstofplanten toe zoals Cabomba of Waterpest, of installeer een beluchtingspomp.
Waterwaarden zoals O2 is bij veel mensen wel bekend, hetzij van een zekere telefoonmaatschappij, hetzij van biologie lessen. Niet zo gek natuurlijk want O2 staat voor zuurstof. Een stof die wij boven water nodig hebben, maar aquariumvissen onder water nodig hebben. O2 komt in het water door bijvoorbeeld sterke zuurstofplanten zoals Cabomba en Waterpest. Heb je wel eens gezien dat aquariumvissen of goudvissen naar zuurstof happen? Dan heb je dus te weinig zuurstofplanten in je aquarium.
| | | |
| --- | --- | --- |
| Afkorting | Naam | Waarde |
| pH | Zuurgraad | Afhankelijk van vissen, tussen 6,5 en 7,5 |
Verlagen: CO2 toevoegen, filteren met turf, of deels verversen met zuurder water. Verhogen met basisch water of pH plus
Als er is je aquarium water test iets opvalt dat te maken heeft met de pH waarde van je water dan praten we eigenlijk over de zuurtegraad van het aquariumwater. Een pH waarde van 0 is zeer zuur, 14 is het tegenovergestelde. Meet je pH waarde met de aquarium water test op meerdere momenten van de dag, de pH waarde schommelt namelijk gedurende de dag. Overdag zal je pH waarde stijgen doordat de aquariumplanten CO2 gebruiken. In de nacht daalt de pH waarde doordat er meer CO2 vrij komt.
| | | |
| --- | --- | --- |
| Afkorting | Naam | Waarde |
| gH | Hardheid | Tussen de 6 en 16 |
Verlagen: Osmosewater, verversen met schoon regenwater of afgekoeld gekookt water toevoegen
Als je aquarium water test aangeeft dat er een hoge gH waarde is, dan is de totale hardheid van je water hoog. Met andere woorden, de concentratie van alle opgeloste stoffen in je aquarium bij elkaar (totale hardheid) is te hoog. Een hoge gH waarde betekent zeer hard water, een te lage gH waarde vanzelfsprekend zeer zacht water. Dit is belangrijk want gezonde aquariumvissen hebben een gH waarde nodig die bij hen past.
| | | |
| --- | --- | --- |
| Afkorting | Naam | Waarde |
| NO2 | Nitriet | Lager dan 0,5 mg/l |
Verlagen: één derde van het water verversen. Verhogen: dat wil je niet
NO2 staat voor Nitriet en is een waarde die je goed in de gaten moet houden. Een hoge Nitriet waarde is namelijk erg schadelijk voor je aquariumvissen. Nitrietpieken komen normaal gesproken alleen voor bij net opgestarte aquaria omdat daar de balans totaal uit verhouding is. Een hoge Nitriet waarde kan ook voorkomen door rottende aquariumbewoners. Dat komt omdat Nitriet bijdraagt aan de afbraak van biologische zaken. Is de afbraak heel hoog, dan stijgt de NO2 waarde dus mee.
Waarden die invloed hebben op aquariumplanten
| | | |
| --- | --- | --- |
| Afkorting | Naam | Waarde |
| CO2 | Koolstofdioxide | Tussen 10mg en 40mg/l |
Verlagen: Filter uitstroom boven het wateroppervlak laten uitkomen. Verhogen: CO2 installatie aanschaffen
CO2 is een verhaal apart omdat het één van de belangrijkste bouwstenen voor een aquariumplant is. CO2 toevoegen kan zonder de juiste apparatuur en kennis ook een vreselijk gedoe opleveren. Waarbij je uiteindelijk veel geld en mogelijk ook aquariumvissen verder bent. Daarom hebben we daar een hele blog over CO2 in je aquarium over geschreven.
| | | |
| --- | --- | --- |
| Afkorting | Naam | Waarde |
| Fe | IJzer | Maximaal 0,5 mg/l |
Verlagen: water verversing, veel aquariumplanten toevoegen. Verhogen: aquariumplanten voeding toevoegen.
De Fe waarde staat voor de ijzer waarde in je aquarium. IJzer? Jazeker, je aquariumplanten hebben ijzer nodig om goed te kunnen groeien. Ijzer is namelijk een belangrijke voedingstof voor je aquariumplanten. Ijzer tekort kun je zelf overigens vrij gemakkelijk herkennen doordat de bladeren van je aquariumplanten een gelige kleur krijgen.
| | | |
| --- | --- | --- |
| Afkorting | Naam | Waarde |
| kH | Carbonaathardheid | Tussen 4 en 10 |
Verlagen: Turf toevoegen in het aquariumfilter, voeg zacht water toe.
De kH waarde staat voor Carbonaathardheid. Dat het één van de vele waterwaarden is weten we, maar verder is dit weer zo'n nietszeggend Latijns woord. Eigenlijk het enige dat je van Carbonaathardheid moet weten is dat het verantwoordelijk is voor het verbinden van zuren in je aquariumwater. Een hoge Carbonaathardheid bindt sneller de zuren waardoor je aquariumwater daadwerkelijk minder zuur wordt en daarmee de pH waarde (zuurgraad) stijgt.
Waarden ter voorkoming van algengroei
| | | |
| --- | --- | --- |
| Afkorting | Naam | Waarde |
| PO4 | Fosfaat | Tussen de 0,5 mg/l |
Verlagen: Deels water verversen, minder voeding voor aquariumvissen toevoegen.
De PO4 waarde staat voor de Fosfaat waarde in het aquarium. Fosfaat versterkt de kleuren van je aquariumplanten bladeren en is een belangrijk element in de plantengroei. Nu vind je over Fosfaat altijd een discussie terug of deze wel of niet bijdraagt aan een algenexplosie. Het antwoord: nee. Algengroei heeft te maken met een combinatie van factoren waarbij verschillende waterwaarden uit balans zijn. Te veel Fosfaat is ook niet schadelijk voor je tropische vissen of aquariumplanten, tenzij er grote hoeveelheden in je aquarium voorkomen.
| | | |
| --- | --- | --- |
| Afkorting | Naam | Waarde |
| NO3 | Nitraat | Maximaal rond 20mg/l |
Verlagen: Deels het water verversen, minder voeren en meer aquariumplanten gebruiken.
NO3 is ook een bekende waterwaarde en staat voor Nitraat. Nitriet en Nitraat worden vaak door elkaar gehaald. In de cirkel van het afbreken van de biologische stoffen in je aquarium is Nitriet het een-na-laatste stadium en Nitraat het laatste stadium. Daarna zijn de stoffen afgebroken. Nitraat wordt vervolgens weer door je aquariumplanten opgenomen. Zonder Nitraat krijg je zeker weten algen in je aquarium. Te veel nitraat is echter zeer schadelijk voor je aquariumvissen en aquariumplanten. Daarom is het belangrijk waterwaarden zoals deze goed te meten.
| | | |
| --- | --- | --- |
| Afkorting | Naam | Waarde |
| NH3 & NH4 | Ammoniak en Ammonium | Bij voorkeur 0 |
Verlagen: Deels water verversen en meer aquariumplanten toevoegen, daarnaast minder voeren
NH3 staat voor Ammoniak en NH4 staat voor Ammonium. Beide waterwaarden hebben met elkaar te maken: Ammonium wordt in je aquarium omgezet tot Ammoniak en vooral te veel Ammoniak is dodelijk voor vissen en zorgt geheid voor een algenplaag. Deze waarden geven voornamelijk aan of je aquarium vervuild is doordat er te weinig naar is omgekeken. Het beste kun je dan ook 1/3e van het aquariumwater verversen en eventueel na een week nogmaals 1/3e.
Overige interessante waterwaarden
| | | |
| --- | --- | --- |
| Afkorting | Naam | Waarde |
| Cl | Chloor | onder 0,02mg/l |
Verlagen: Water 24 uur luchten of kool in je aquariumfilter leggen
Cl, ofwel Chloor, is één van die waterwaarden die je vooral zo min mogelijk in je aquarium wilt hebben. Dit komt omdat Chloor de slijmlaag van je vissen beschadigt. Deze slijmlaag is voor aquariumvissen een beschermlaag tegen beschadigingen en ziekten en is daarom erg belangrijk. Ook maakt Chloor veel goede bacteriën kapot waardoor de balans in je water wordt verstoord. Vroeger kwam Chloor nog wel eens voor in leidingwater, vandaar dat er goed op getest moest worden. Vandaag de dag mag er in het Nederlandse leidingstelsel geen Chloor meer voorkomen dus de kans dat er Chloor in je aquarium voorkomt is daarmee aanzienlijk verlaagd.
| | | |
| --- | --- | --- |
| Afkorting | Naam | Waarde |
| Cu | Koper | Mag niet voorkomen |
Verlagen: Water volledig verversen
De Cu waarde, ofwel de Koperwaarde. Koper is nou zo'n stof die gewoon helemaal niet in je aquarium mag voorkomen. Simpelweg omdat het een erg giftige, en daarmee zeer schadelijke, stof is. Toch wil het wel eens voorkomen dat Koper toch in het aquarium terechtkomt en vervolgens massaal de tropische vissen het loodje leggen. Bijvoorbeeld na verkeerd gebruik van medicatie tegen algen of door verkeerde aquariumdecoratie.
Conclusie: neem je waterwaarden serieus!
Hoewel het meten van waterwaarden enige inspanning en kosten met zich meebrengt, is het wel erg belangrijk. Het belangrijkste is dat je waterwaarden je vertellen wat de balans in het aquarium water is. Dit is weer erg belangrijk om te zorgen dat het aquarium prachtig blijft, tropische vissen gezond zijn en algen minder kans maken. Zet elke maand in je agenda dat er getest moet worden en zie niets meer over het hoofd. Je aquarium zal er blij mee zijn!
Tot slot
Heb jij ervaringen met waterwaarden? Deel ze dan bij de opmerkingen en help collega aquarianen met jouw kennis en inzichten.