Waterpest is goed voor je aquarium en vijver!
Waterpest is één van de meest bekende vijver -en aquariumplanten. Niet voor niets want er is geen waterplant die zoveel zuurstof produceert en zo snel groeit. Bovendien is deze plant relatief sterk en gemakkelijk te houden. Voor beginners dus goede redenen om waterpest te kopen.
Mooie waterpest? Kennis, kennis, kennis 
Aquariumplanten zorgen voor balans in je aquarium. Zonder balans heb je een garantie op algen. Waterpest en vele andere aquariumplanten zijn goede groeiers en helpen je aquarium op weg. Aquariumplanten moeten goed groeien! Zorg dus voor voldoende plantenvoeding. Veel resultaat heb ik gehaald met vloeibare CO2 vervanger en goede plantenvoeding. Was ik gelijk ook van mijn algen af. Ideaal!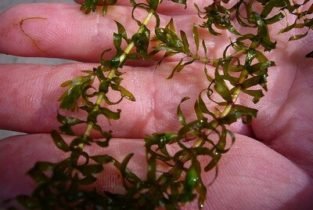 Waterpest is overigens een goede benaming want in warme gebieden kan deze plant hele rivieren overwoekeren. Deze waterplant kan zo hardnekkig zijn dat er met een boot nauwelijks doorheen te komen is.Vervelender is nog dat de oorspronkelijke inheemse waterplanten tegen dit snelgroeiende geweld geen schijn van kans maken.
Maargoed, daar staat dan weer tegenover dat je hier te maken hebt een een zeer nuttige aquariumplant die bij voldoende aanwezigheid een geduchte tegenstander voor algen is. Zeker de moeite waard om te overwegen!
Eisen van Waterpest
Een groot voordeel van de Egeria densa, ofwel Waterpest, is dat het een waterplant is die zich gemakkelijk aan zijn omgeving aanpast. Bovendien is het een snelle groeier en zeer gemakkelijk te houden. Toch heeft deze waterplant wel een voorkeur. In hoofdlijnen iets wat harder water en goede verlichting. Lees ook eens het blogartikel over algemene informatie over aquariumplanten.
| | |
| --- | --- |
| Herkomst | Wereldwijd |
| Lichtbehoefte | Gemiddeld |
| Temperatuur | Tussen de 15 en 26 graden |
| Maximale hoogte | Zeker 50-60 cm |
| Bijzonderheden? | Groeit als drijfplant net zo gemakkelijk als dat het in grind staat |
Weetje: vissen die leiden aan een vorm van verstopping, eten jonge Waterpest blaadjes. Dit doen ze omdat deze een laxerende werking hebben.
Voordelen van waterpest
Waterpest…
…is een goede schuilplaats voor jonge vissen en watervlooien
…maakt als geen andere waterplant zuurstof aan
…neemt (overtollige) voedingsstoffen in het water op
…reinigt het water en daardoor een goede concurrent tegen algen
…gaat in grote hoeveelheden verzuring van het water tegen
Waterpest planten en waterpest snoeien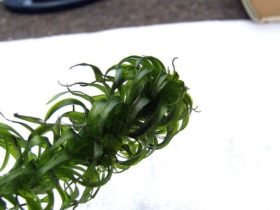 Waterpest hoeft niet per ce in de bodem van je aquarium of vijver te staan. Hij zal zich wel wortelen in de bodem maar van een echte wortelstok is geen sprake. Je ziet eerder kleine en korte worteltjes.
Laat je Waterpest drijven, dan zullen er wel langere wortels ontstaan die voedingsstoffen uit het water onttrekken. Omdat deze plant zo snel groeit, zal je met regelmaat de plant moeten snoeien.
Het gemakkelijkste is de minst mooie stukken -soms ontstaan er gele blaadjes of kale stukken- weg te halen en de volle aquariumplanten te laten staan. Lees ook eens het blogartikel over het snoeien en planten van aquariumplanten voor meer informatie.
Waterpest vermeerderen
Het vermeerderen van Waterpest is erg simpel. Deze waterplant groeit zo snel dat het ook niet uitmaakt of er wat ruwer mee om wordt gegaan. Breek simpelweg een stuk van 10-15 cm af en stop deze in combinatie met vijf tot acht andere stekken in het grind. Heb je een vijver? Bindt de afgebroken stukken met elastiek of een touw aan een steen en gooi deze in het water. De Waterpest hecht zich vanzelf in de bodem en zal hard beginnen te groeien.
Weetje: in de zomer vormt Waterpest kleine witte bloemen, deze groeien tot op het wateroppervlakte.
Twee soorten Waterpest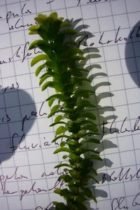 Waterpest zijn in verschillende soorten te verkrijgen. Twee veel voorkomende soorten zijn de Fijne Waterpest (Elodea canadensis) en de Gekrulde Waterpest.
De Elodea canadensis ofwel de Fijne Waterpest komt oorspronkelijk uit Noord Amerika. Hij lijkt op de 'gewone' variant maar groeit minder snel en minder goed dan zijn sterke broer. De fijne Waterpest gedijt een stuk beter in de vijver dan in het aquarium. In het aquarium zal hij op den duur steeds dunner worden en ziet er dan eigenlijk niet meer zo mooi uit.
De Lagarosiphon major, ofwel de Gekrulde Waterpest is lastiger op de markt te vinden. Deze waterplant komt oorspronkelijk uit Zuid Afrika. Ook dit is een snelgroeiende Waterplant en groeit hij minder goed in aquaria. Met zijn gekrulde bladeren is het wel een mooie variant. Goede verlichting en koel tot normaal water zijn belangrijke eisen bij deze waterplant.
Een vraag aan jou…!
Heb jij nog ervaringen, vragen of opmerkingen over deze nuttige aquariumplant? Laat dan een reactie achter!