Witte stip herkennen en genezen doe je zo!
Een van de meest voorkomende visziekten in een aquarium heet Witte Stip. Deze ontstaat vaak na toevoegen van nieuwe aquariumvissen. Vooral vissen met een verminderde weerstand door bijvoorbeeld stress, verkeerde vissamenstelling of door slechte waterwaarden, zijn er vatbaar voor. Helaas is Witte Stip zeer besmettelijk maar gelukkig ook te behandelen. Lees ook eens de blog met de top 7 visziekten.
Snelle oplossing tegen Witte Stip?
Denk jij dat je aquariumvissen Stip of Witte Stip hebben? Wacht dan niet langer en grijp in! Toen een aantal van mijn vissen witte stip kregen gebruikte ik een effectief medicijn. Die kun je hier via het Aquariumwarenhuis vinden. Gelukkig was ik er nog op tijd bij (op één na helaas) en na de kuur kom ik weer opgelucht adem halen. Weet je niet precies welke ziekte er heerst? Probeer dan dit universele visgeneesmiddel. Wees er in ieder geval op tijd bij!
Wordt je vraag niet beantwoord in deze blog? Laat je vraag dan achter bij reacties onderaan deze blog!
In deze blog vind je onder meer antwoorden op:
Goed, je kijkt dus in het aquarium en je ziet één of meerdere aquariumvissen met Witte Stippen. Misschien heb je ooit de term Witte Stip ergens opgevangen. Logisch dus dat je gelijk het verband met Witte Stip legt. Het is echter zo dat Witte Stip wel eens wordt verward met andere visziekten. Even goed kijken dus. Er zit namelijk daadwerkelijk een verschil tussen witte pluisjes en Witte Stippen (jaja). Op het oog bijna hetzelfde maar er is toch sprake van verschillende visziekten.
Weetje: vissen die ziek zijn geweest door Witte Stip en daarvan genezen zijn, hebben er een resistentie tegen opgebouwd.
Witte Stip, hoe herken je het?
Onderstaand de vier meest voorkomende symptomen bij Witte Stip. Hebben je vissen (één van) onderstaande symptomen? Handel dan direct of houdt je vissen de komende dagen goed in de gaten.
Je vis heeft Witte Stippen, vooral bij de vinnen en/of kieuwen en/of de staart. Zeer grote kans dat je vis Witte Stip heeft. Handel direct (zie verderop in deze blog) en voeg medicatie toe aan het aquariumwater.
De vis ziet er gewoonweg ongezond uit, bijvoorbeeld door vermagering. Er is een kans dat je vis Witte Stip heeft of binnenkort krijgt. Handel preventief met vismedicatie en houdt je vissen goed in de gaten.
De vis schuurt tegen objecten of de bodem van je aquarium. Grote kans dat je vis Witte Stip heeft. Houd je vis de komende vis in de gaten. Indien je vis de komende dagen één van de andere symptomen krijgt handel dan direct.
De vis heeft een loskomende opperhuid. Dat kan een teken zijn van beginnende Witte Stip als je nog geen witte puntjes ziet. Het kan op dit moment ook nog een andere visziekte zijn. Goed blijven kijken. Zie je nog andere symptomen, handel dan preventief.
Hoe genees je Witte Stip zo snel mogelijk?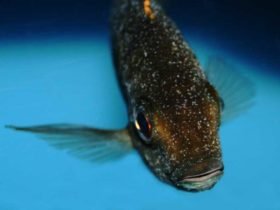 Okee je bent geen dierenarts maar als amateur dierenarts heb je geconstateerd dat je vis inderdaad Witte Stip heeft. En dat is dus een probleem waar je zo snel mogelijk van af wilt. Gelukkig is Witte Stip te behandelen. Dat kun je via een natuurlijke manier doen, of via het toedienen van medicatie. Overigens raad ik in dit geval een chemische manier aan omdat dit minder impact heeft op de biologische balans in je aquarium.
Tip: bij het gebruik van medicijnen moet je wel de koolstof uit je filter halen want koolstof en geneesmiddelen gaan niet goed samen.
Witte Stip behandelen met medicijnen
Chemische behandeling van Witte Stip heeft minder impact op de biologische balans in je aquarium, maar is zeker niet ongevaarlijk. Doorloop daarom de volgende stappen voor een efficiënte behandelwijze.
Stap 1: Bestel medicatie. Eerder raadden we het medicijn Ichtocell van HS Aqua aan Er zijn ook alternatieven zoals Unicell Daar hebben we goede reacties over ontvangen.
Stap 2: Zet de aangetaste vissen bij voorkeur in een apart aquarium in quarantaine. Hoe sneller, hoe beter. Let op dat je quarantaine bak op een rustige plek staat en dat de waterwaarden en de temperatuur gelijk zijn aan het originele aquarium. Voeg wat waterplanten toe. Hierdoor voelt de quarantaine bak natuurlijker aan voor je zieke vis(sen).
Stap 3: Haal alle absorberende filtermaterialen uit je aquarium. Koolstof verwijdert micro verontreinigingen uit water maar Koolstof absorbeert dus ook medicatie, iets wat je nu juist niet wil. Verwijder ook je biologisch filtersubstraat zoals argrex korrels en of biopijpjes. Heb je een diffuser op de uitstroombuis, zorg er dan voor dat er maximum zuurstof toegevoegd wordt. Zorg anders voor een luchtpomp of bruissteen voor de gehele behandeltijd. Sommige stoffen in het medicijn nemen namelijk veel zuurstof op uit het aquariumwater. De volgende stap is het verhogen van de temperatuur en ook dat zorgt voor een vermindering van het zuurstofgehalte in je aquarium.
Stap 4: Controleer je waterwaarden en pH-waarde in het bijzonder (wat zijn waterwaarden ook alweer?). Een mogelijke oorzaak van Witte Stip is dat de waterwaarden niet in orde zijn. Test daarom deze waarden vooraf en na de behandeling. Als na de behandeling de Witte Stip weg is, maar de waarden zijn nog steeds niet goed, dan is er nog even wat werk aan de winkel. De pH- waarden belangrijk als je het FMC medicijn gebruikt. Dit is nogal een krachtig middel en vraagt een speciale aanpak. Is je Ph-waarde 7 of meer, gebruik dan per 100 liter 1 milliliter FMC. Een pH-waarde onder 7 maximaal 0,75 milliliter per 100 liter.
Stap 5: Verhoog de temperatuur langzaam naar 28-30 graden. Controleer de temperatuur regelmatig, zodat het water niet te heet wordt. Vertrouw niet zomaar op je verwarming, blijf controleren.
Stap 6: Voed de vissen weinig de eerste dagen. Zieke vissen hebben weinig honger. Daarnaast is vervuiling in de vorm van overtallig eten een belasting voor je aquarium. Dat kun je nu niet gebruiken. Haal overleden aquariumvissen daarom direct uit het aquarium.
Stap 7: Ververs na vier dagen 50% van je aquariumwater. Nadat het medicijn een aantal dagen heeft kunnen inwerken is het belangrijk om een waterwissel toe te passen. Je vissen zullen er erg blij mee zijn omdat stoffen vanuit het medicijn nog steeds in het water aanwezig zijn.
Stap 8: Na vier dagen geen stippen meer? Toch nadoseren! De parasiet op de vissen zijn misschien dood, de cysten (de parasiet in een vroegtijdig stadium) kunnen altijd nog in het water aanwezig zijn. Voorkomen is genezen, dus preventief wil je die cysten tegengaan.
Stap 9: Hoe is de situatie na 8 dagen? Na 8 dagen zou normaal gesproken de ellende voorbij moeten zijn. Het effect van de behandeling heeft te maken met hoe snel Witte Stip aangepakt wordt. Het kan helaas zo zijn dat je al telaat bent.
Stap 10: Indien je vissen niet reageren op de (na)behandeling. Probeer dan nogmaals een kuur uit te voeren waarbij bovenstaande stappen herhaald worden. Heb je dan nog steeds Witte Stip, ga dan naar een dierenarts met specialistische kennis over vissen.
Weetje: enkele zoetwatervissen, zoals Clownbotia's en Schubloze meervallen, zijn extra gevoelig voor Witte Stip.
Witte Stip behandelen via een natuurlijke manier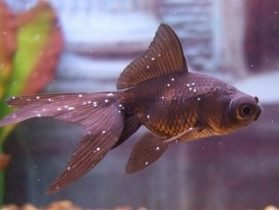 Naast een medicijn, kun je ook proberen om Witte Stip zonder medicijn op te lossen. Zelf ben ik een voorstander van medicijnen omdat deze effectiever is en niet meteen het huishouden van je aquarium overhoop haalt. Aan de andere kant, medicatie kan ook grote gevolgen hebben voor je aquariumvissen. Doorloop de volgende stappen voor een natuurlijk manier om Witte Stip tegen te gaan.
Verhoog de temperatuur in je aquarium een week lang tot 28-30 graden. Let op! Dit moet geleidelijk aan gebeuren en met aandacht, houd de reactie van de vissen goed in de gaten. Zoek vooraf op of al je vissen een temperatuur van 28-30 graden kunnen verdragen.
Ververs gedurende deze week in totaal 75% van het aquarium water. Doe dit wel in etappes. Witte Stip maakt gebruik van cysten (lees: parasiet baby's) die open zullen gaan. Om deze minder kans te geven zich aan een vis te hechten moeten moet deze grote hoeveelheid water worden ververst.
Na 8 dagen nog geen resultaat? Begin dan alsnog met medicatie zoals in de vorige hoofdstukken staat beschreven. Het is namelijk belangrijk om op tijd met de behandeling te beginnen.
Tip:
test bij Witte Stip voor de zekerheid je waterwaarden. Dit vertelt je niets over Stip, maar wel of je waterwaarden in balans zijn. Het goed monitoren van je waterwaarden bespaart je in de toekomst veel ellende, waaronder zieke vissen. Wat zijn ook alweer
waterwaarden
?
Wat is Witte Stip eigenlijk?
Voor de geeks onder ons is het goed te weten waar we nou eigenlijk over praten. Witte Stip.., die naam zegt ons visueel wel wat, maar wat is het nou specifiek? Een goede vraag want Witte Stip is niet zozeer een ziekte maar een parasiet die je vissen ziek maakt. De eencellige parasiet Ichthyophtirius Multiliis veroorzaakt Witte Stip.
Voordat deze parasiet zich vastklemt aan je vissen, doorloopt het een stadium. Dat stadium begin met zogeheten cysten. Zeg maar gerust, een baby parasiet. Die cysten ontwikkelen zich in je aquarium totdat ze bijna volwassen zijn, dan verspreiden ze zich in je aquariumwater. Je vissen zwemmen er doorheen en dan gaat het parasietfeest verder. Aquariumvissen die besmet zijn krijgen op den duur zandachtige stippen. Zonder behandeling zal de infectie zich uitbreiden en ziet de vis eruit alsof iemand poedersuiker erover heeft gegooid.
Je aquariumvissen hebben last van Witte Stip en proberen deze vervelende parasiet kwijt te raken door te gaan schuren tegen objecten in je aquarium. Uiteindelijk zal de vis onlogisch gedrag vertonen door bijvoorbeeld nauwelijks te bewegen of juist vreemd door het aquarium heen te zwemmen. Op den duur zal je vis overlijden.
Voorkomen van Witte Stip is beter dan het genezen ervan
Je kunt er zelf veel aan doen om er voor te zorgen dat je vissen gezond blijven. Witte Stip is een parasitaire ziekte. Tegen parasitaire ziekten zijn een aantal goede tips beschikbaar. Wat je eigenlijk wilt is het verkleinen van de mogelijkheid op een parasitaire besmetting.
Tip 1: houd je vissen in de gaten. Vrij basis maar hoe eerder Witte Stip geconstateerd wordt, hoe sneller de behandeling plaats kan vinden. Dit zorgt ervoor dat Witte Stip zich niet in je aquarium gaat verspreiden.
Tip 2: zorg dat je nieuwe vissen blaken van gezondheid. Alleen de best ogende vissen zijn goed genoeg voor je aquarium. Zijn de kleuren helder? Zien ze er fit uit? Afhankelijk van de vissoort: zwemmen ze actief? Allemaal goede vragen om vooraf te beantwoorden.
Tip 3: Ververs met enige regelmaat en geleidelijk je aquariumwater en zorg voor een constante watertemperatuur. Staat je aquarium in direct zonlicht? Gelijk verplaatsen naar een plek waar dat niet het geval is. Lees ook eens de blog over aquarium schoonmaken voor meer info.
Tip 4: Voorkom stress. Net als bij mensen is stress een voorbode van een lage weerstand. Zorg voor voldoende schuilplekken, de juiste vissoorten bij elkaar. Lijkt je aquarium op hun natuurlijke omgeving? Dan ben je goed bezig.
Witte Stip voorkomen door Witte Stip te begrijpen
Om Witte Stip goed te behandelen moet je zo vroeg mogelijk in het ziekteproces ingrijpen. Belangrijk is om dus inzicht te hebben in het proces bij het ontstaan van Stip en wat jij al kunt doen om dit te voorkomen. Witte Stip verspreid zich doormiddel van de volgende ontwikkelingen:
Fase 1: Witte Stip wordt veroorzaakt door een nare parasiet die vaak door nieuwe vissen of temperatuurschommelingen in je aquarium actief wordt. Wat kun jij doen: check regelmatig je waterwaarden, watertemperatuur en let op bij het toevoegen van nieuwe vissen aan je aquarium. Twijfel je? Zet de nieuwe vissen eerst een aantal dagen in een quarantaine bak.
Fase 2: Nadat de parasiet je aquariumvis te pakken heeft zal hij zich vestigen op zijn gastheer en jij ziet vervolgens de Witte Stippen verschijnen. Wat kun jij doen: handel bij het zien van Witte Stippen direct. Bestel medicatie en verhoog langzaam je aquariumwater tot 28 graden gedurende een week.
Fase 3: Witte Stippen blijven actief en groeien ze door tot ze volwassen zijn. Daarna laat de Witte Stip de vis achter en vallen ze in het water. Daar ontstaat een cyste die doorgroeit tot een brandhaard waar duizenden infectiehaartjes zich ontwikkelen. Deze zullen op een bepaald moment zich verspreiden in je aquarium en op zoek gaan naar een nieuwe vis. Wat kun jij doen: zorg dat je aquarium schoon blijft. Ververs regelmatig (een deel) van het aquariumwater om de waterbalans gezond te houden en slechte bacteriën geen kans te geven.
Fase 4: hebben de infectiehaartjes weer een nieuwe vis gevonden? Dan begint de cyclus weer overnieuw. Erg vervelend! Wat kun jij doen: nu begrijp je waarom waterverversing (tegen die haartjes) en temperatuur verhoging (tegen de groei) zo belangrijk zijn.
Weetje: wanneer de Witte Stip zijn zwermstadium bereikt, kan het 48 uur zonder vis leven.
Tot slot
Witte Stip kan een hardnekkig fenomeen zijn bij aquariumvissen. Het liefst wil je Stip voorkomen maar het kan nou eenmaal gebeuren in de wondere wereld van aquaria. Goed opletten en de infectie aanpakken in de beginfase is de sleutel tot succes. Bekijk ook eens de meest voorkomende klachten bij vissen op www.zoekdierenarts.nl. Met andere woorden, tijd om te gaan turen in je aquarium. Dat mag geen straf zijn!
Een vraag aan jou…
Heb jij nog aanvullingen, vragen of opmerkingen over Witte Stip? Laat dan een reactie achter!