Discusvissen ofwel de Symphysodon discus
Discusvissen zijn prachtige tropische vissen die inmiddels in vele kleuren en in een grote verscheidenheid van patronen in de handel te koop zijn. De oorspronkelijke discus leeft in de landen van herkomst (Brazilië, Colombia en Peru) in zacht, lichtzuur tot neutraal fosfaat- en nitraatvrij water.
Zorg voor de juiste voeding voor Discusvissen. Koop bijvoorbeeld altijd de juiste voeding voor Discusvissen. Ik gebruik zelf deze Discusvissen voeding om de weerstand van de vissen goed te houden, waardoor de kleuren extra mooi naar voren komen. Voorkomt ook het onnodig overlijden van je Discusvissen.
Lees ook eens onze aquariumblogs over andere aquariumvissen.
Zij voelen zich het beste thuis in grote groepen, alwaar ze met zijn allen een bont en sierlijke schouwspel opleveren. Discusvissen stellen hoge eisen aan hun zwemwater een echte uitdaging dus voor wie geïnteresseerd is in aquariumtechniek.
In deze blog lees je de belangrijkste achtergronden van Discusvissen, schrijven we over de kweek van Discusvissen, hoeveel Discusvissen je kunt houden, over de voeding en over het juiste filtersysteem
Wildvang Discusvissen
Om maar gelijk met de moeilijkste opdracht voor een aquariaan te beginnen: De eerste discusvissen die men in een aquarium kon houden kwamen gewoon uit de natuur, vandaar de naam wildvang. Wij kunnen de wildvang discusvissen in de volgende twee hoofd categorieën verdelen: de Heckel Discus, deze heeft een zwarte streep in het midden van het lichaam.
Daarnaast hebben we de bruine, blauwe of groene Discus. Deze drie varianten vallen in de tweede categorie.
De vraag naar wildvang discusvissen is niet heel erg groot omdat ze lastiger te houden zijn en omdat de kleurschakeringen te beperkt zijn.
Daarnaast is het best moeilijk om aan goede wildvang exemplaren te komen. Tel alle nadelen bij elkaar op, dan kom je snel tot de conclusie dat dit echt alleen voor de echte experts en wildvang discusliefhebbers is weggelegd. Nu is het houden van deze wildvang exemplaren al een zeer specialistische aangelegenheid maar het kweken met deze vissen is nog lastiger.
Daarom gaan we in de volgende alinea wat dieper in op het kweken van Discusvissen. Alvast een tip van de sluier: zorg ervoor dat je bij het kweken de juiste tools gebruikt.
Kweek Discusvissen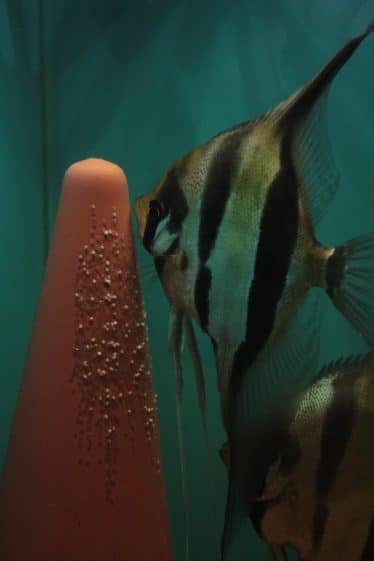 Omdat het houden van wildvang discusvissen voor de meeste aquarianen te lastig was, en nakomelingen niet meer als wildvang gekwalificeerd mochten worden, ontstonden steeds meer verschillende variaties. Voor de aquariumliefhebber werd het houden van discusvissen steeds gemakkelijker en men kon over een veel groter aanbod beschikken.
De meeste nakweek variaties hebben de typische wildvang kenmerken inmiddels wel verloren, maar dit gaf over het algemeen alleen maar voordelen voor de consument. Meer informatie over Discusvissen vind je hier.
Maar welke soort Discusvissen moet je nu kopen
Dat is eigenlijk een kwestie van smaak. Wil je terug naar de bron dan zijn de wildvang discussen de beste keuze. Deze vissen hebben ook het natuurlijkste gedrag maar ze zijn eigenlijk voor een beginner niet de ideale vis om mee te starten. De Duitse kweekvormen kun je zien als de eerste nakweekvissen met een relatief beperkte keuze.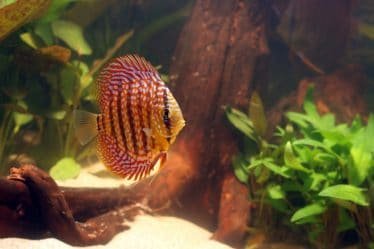 Nu is een keuze van 22 variaties niet echt heel beperkt te noemen maar de Aziaten kunnen een veelvoud aan variaties leveren. Het is wel zo dat deze Duitse vissen een langere kweekgeschiedenis hebben  en de meeste nare eigenschappen zijn hier wel uit gekweekt. Eigenlijk kun je best zeggen dat de Duitse discusvissen een Duitse kwaliteitsnormen hebben.
De Aziaten zijn meesters in het verzinnen van nieuwe kweekvormen en hebben het kweken tot een ware kunst verheven. Dat geeft over het algemeen ook wel kans op andere problemen, omdat nog niet alle 'slechte' kenmerken bij deze nieuwe variaties eruit gekweekt zijn.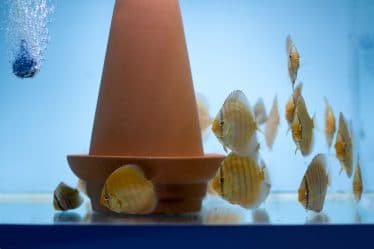 Een stabiele kweekvorm neerzetten kost al gauw 10 jaar en de meeste variaties zijn nog niet zo oud. Ook hier geldt dat de beste vissen van de beste kwekers komen. De strijd tussen de kwekers is beslist nog lang niet afgelopen.
De juiste soort Discusvissen kopen is dus nog niet zo gemakkelijk. Zorg er in ieder geval voor dat je de Discusvissen bij gespecialiseerde aquariumwinkels koopt. Goedkoop is in dit geval ook echt duurkoop.
Hieronder hebben we nog een weetje toegevoegd. Als je toch gaat kopen, dan moet je wel weten wat je wilt!
Hoeveel Discusvissen moeten er bij elkaar?
Discusvissen zijn groepsdieren en moeten dus in een groep gehouden worden. Het gevolg is dat er voldoende zwemruimte overblijven om problemen te voorkomen. Over het algemeen wordt de 50 liter water richtlijn per discusvis aanbevolen.
Als wij het over een groep hebben dan heb ik het minimaal over acht (volwassen) discusvissen. Let op: kleine discusvissen worden groot! Dus je moet rekening houden met de toekomst.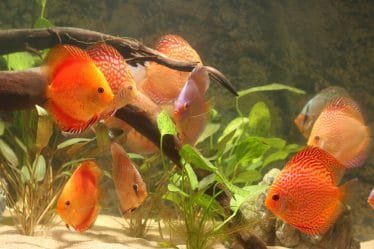 Als je met discusvissen wilt beginnen dan moeten de discusvissen tussen 10 á 12cm groot zijn.
Kleinere discusvissen kopen wordt sterk afgeraden, omdat minimaal vijf keer per dag moet voeren en de waterwaarden optimaal moeten zijn! (dagelijks 50% water verversen is tijdens de groeifase geen overbodige luxe.
Discusvissen tussen 10 á 12 cm nemen genoegen met driekeer per dag voeren en twee keer per week 50% water verversen is echt het minimum (mits de waterwaarden binnen de normen blijven!).
Wat kan ik mijn Discusvissen te eten geven en hoe vaak moet ik voeren?
Het is echt een feest om de discusvissen te mogen voeren. Als je goed op let, kom je snel tot de conclusie dat er een pikorde is bij deze vissen. De dominantste vissen zijn uiteraard de eerste die het voer opeisen, voor het overige voer moet uiteraard nog gestreden worden, maar als je goed voert is er is genoeg voor iedereen.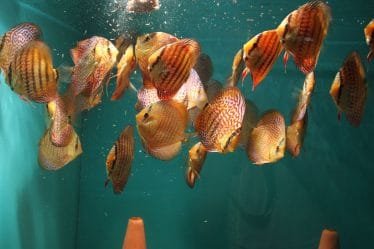 Jonge discusvissen voeren is echt een taak die het nodige discipline vergt. De aller kleinste discusvissen moet je om de twee uur voeren en dat is van zonsopkomst tot ondergang. Het hoofvoedsel bestaat uit: levende Artemia, Cyclops, Bosmiden, Daphnia, Mysis en als gewoonlijk is dit afhankelijk van de grote van de jongen.
Oudere discusvissen eten, Mosselen, Krill, Rode Muggelarven, Witte Muggelarven, Zwarte Muggelarven, Spirulina en discusmix op basis van runderhart of kalkoenhart en diepvriesvoer op vis basis is ook mogelijk.
Natuurlijk kan je de oudere discusvissen ook vlokenvoer of granualaat geven, als het maar geschikt is voor discusvissen. Eigenlijk is een combinatie van diepvriesvoer en droogvoer de beste optie. Wat wel belangrijk is dat je dagelijks zo gevarieerd mogelijk voert.
Het aquarium en filtersysteem
Als eerste moet je een aquarium hebben die groot genoeg is voor het minimum aantal aanbevolen discusvissen. En dan hebben we het over een flink aantal liters.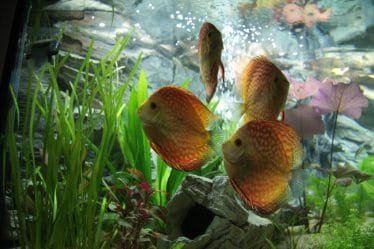 Een 350 liter aquarium is geen overbodige luxe als je geen problemen wenst met de opgroeiende discusvissen. Door het velen voeren en de grote van de discusvissen c.q. en het aantal bijvissen is een goed werkend filtersysteem een must.
Een grote potfilter is in theorie voldoende als je veel water ververst.  De meeste discusliefhebbers hebben twee grote potfilter of een grote bioloog onder hun aquarium.
Met twee potfilter kan je de onderhoudsfrequentie binnen de perken houden als een bioloog niet onder je aquariumkast past.
Tot slot, een vraag aan jou!
Heb je vragen over Discusvissen? Of heb je ervaringen met deze prachtige vissen? Laat dan hieronder een reactie achter!