Top 5 anemonen voor in je zeeaquarium
In een zeeaquarium horen natuurlijk niet alleen vissen of koralen. Ook anemonen horen daarbij! Helemaal als je anemoonvissen wil houden. Anemonen en anemoonvissen leven namelijk in symbiose met elkaar. Dat betekent dat de anemoonvis immuun is voor het gif van de anemoon en dus bescherming kan zoeken in de anemoon.
Daarnaast is de afscheiding van de vis een bron van eiwitten voor de anemoon en andersom. Anemonen zien er daarnaast prachtig uit en doen echt wat voor je aquarium. Maar welke anemonen moet je kiezen? Waar moet je op letten bij het kiezen van anemonen en hoe verzorg je ze eigenlijk? Wij vertellen je er graag alles over. Daarom brengen wij je de top 5 anemonen voor in je zeeaquarium!
1. Rode tepelanemoon – Entacmaea Quadricolor
De Entacmaea Quadricolor, in de volksmond ook wel de tepelanemoon, is een van de meest populaire anemonen voor in een zeeaquarium. Dit komt door de mooie kleuren en door de opvallende vorm van de tentakels.
Deze anemoon heet natuurlijk niet voor niets de tepelanemoon; de tentakels hebben wat weg van tepels. Oorspronkelijk komt de Entacmaea Quadricolor uit tropische wateren zoals de Stille en Indische Oceaan. Grotere tepelanemonen leven vaak solitair en in donkerdere delen van de oceaan, waar kleinere tepelanemonen in groepjes leven en kiezen voor beter verlichte delen van het water.
Voeding van de rode tepelanemoon
De rode tepelanemoon haalt zijn energie uit licht en uit voedsel wat via de tentakels naar binnen gehaald wordt. De tentakels filteren zeer klein voedsel uit de waterkolom en als ze in symbiose met een anemoonvis dan brengt deze ook restjes voedsel en uitwerpselen naar de anemoon. Je kunt de anemoon bijvoeren, maar dit is niet noodzakelijk.
| | |
| --- | --- |
| Moeilijkheidsgraad | Beginners |
| Lichtsterkte | Veel |
| Waterstroming | Matig |
| Bijvoeren | Mogelijk maar niet noodzakelijk |
2. Symbiose anemoon – Heteractis Crispa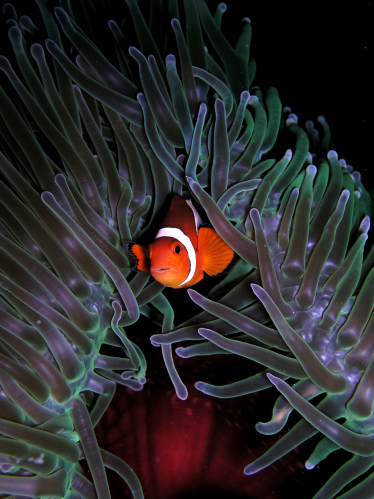 De Heteractis Crispa is een symbiose anemoon van groot formaat. Deze anemoon kan namelijk wel 50 centimeter groot worden met tentakels van 15 centimeter. Wil je graag een Heteractis Crispa anemoon dan heb je dus een aquarium met een inhoud van minimaal 500 liter nodig.
Deze anemoon komt in verschillende kleuren zoals wit, groen, bruin, roze en licht paars. De kleur is afhankelijk van het aantal zoöxanthellen. Oorspronkelijk leeft deze anemoon rond Australië, in de Rode Zee, rond de Malediven en rond de Tuamotu Eilanden.
Voeding van de Heteractis Crispa
De Heteractis Crispa haalt zijn voeding voornamelijk uit de symbiose met zoöxanthellen. Zoöxanthellen zijn algen in de anemoon. Door middel van fotosynthese worden licht en afvalstoffen van de anemoon omgezet in suiker en voedingsstoffen.
Deze anemoon kan echter niet alleen leven van de voedingsstoffen vanuit fotosynthese en moet ook bijgevoerd worden. Het is een echte vleeseter en gaat met zijn tentakels altijd op zoek naar kleinere vissen. Je kunt ze bijvoeren met bijvoorbeeld mosselvlees en artemia.
| | |
| --- | --- |
| Moeilijkheidsgraad | Gevorderden |
| Lichtsterkte | Veel |
| Waterstroming | Matig |
| Bijvoeren | Met mosselvlees, artemia en ander vleesachtig voer |
3. Pink tip anemoon – Condylactis Gigantea
De Condylactis Gigantea, ook wel de pink tip anemoon, komt veel voor in het Caribisch gebied tot aan Florida. Ze leven graag in laag water met een flinke stroming. Ze komen niet veel voor op het rif en het zijn redelijk solitaire dieren. Zijn favoriete plekje is op de bodem of ergens tussen de stenen waaraan hij zich vasthecht, maar hij gaat graag op zoek naar een nieuw plekje.
De Condylactis Gigantea staat ook wel bekend als de pink tip anemoon doordat de punten van de tentakels, die zelf meestal groen zijn, roze of paars zijn. Andere benamingen voor deze unieke anemoon zijn reuze Caraïbische zeeanemoon, reusachtige gouden anemoon, Haïtiaanse anemoon en Florida Condy.
De Condylactis Gigantea in het aquarium
Wil je de Condylactis Gigantea graag in je aquarium houden, dan moet je natuurlijk weten met welke medebewoners de anemoon samen kan en met welke medebewoners niet. Deze anemoon leeft vaak in symbiose met bijvoorbeeld de Stenorhynchus Seticornis, poetsgarnalen en verschillende jonge lipvissoorten.
De anemoon leeft dan ook van kleine visjes en garnalen, die dus niet in het aquarium gehouden kunnen worden als je ook graag deze anemoon in je aquarium hebt. Deze anemoon vangt de prooi namelijk door middel van nematocysts; kleine cellen met gif die de prooi verlammen.
Daarna eet de anemoon zijn prooi op. Je kunt de Condylactis Gigantea in het aquarium bijvoeren met bijvoorbeeld mosselvlees of spiering. Nog een handig feitje over deze anemoon: in tegenstelling tot de tepelanemoon kan deze zichzelf niet delen, hij plant zich voort door middel van eitjes.
| | |
| --- | --- |
| Moeilijkheidsgraad | Gevorderden |
| Lichtsterkte | Matig |
| Waterstroming | Veel |
| Bijvoeren | Met mosselvlees en spiering |
4. Tapijtanemoon – Stichodactyla Haddoni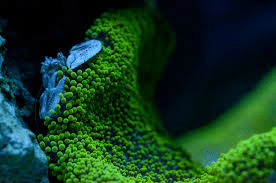 Tapijtanemonen behoren tot het geslacht Stickodactyla en leven voornamelijk in het westelijk deel van de Stille Oceaan, de Indische Oceaan en in de Rode Zee. De tapijtanemonen hebben talrijke eenvormige, korte tentakels. Deze zijn niet langer dan 30 millimeter en ziet er daardoor dus uit als een "tapijt". Deze anemonen kunnen sterk netelen en bezitten dan ook talrijke netcellen met netelgif.
Ze zetten zich vast op steen of zand en kunnen uitvleien tegen dode koralen. Ook deze anemoon leeft in symbiose met zoöxanthellen en haalt daar voornamelijk zijn voedsel vandaan. Je kunt de tapijtanemoon ook bijvoeren met vleesachtig voor; het zijn echte carnivoren.
Daarnaast kan deze anemoon ook in symbiose leven met garnaaltjes, anemoonvissen en krabbetjes.
| | |
| --- | --- |
| Moeilijkheidsgraad | Gevorderden |
| Lichtsterkte | Veel |
| Waterstroming | Matig |
| Bijvoeren | Niet noodzakelijk, eventueel met vleesvoer |
5. Rotsanemoon – Phymanthus Crucifer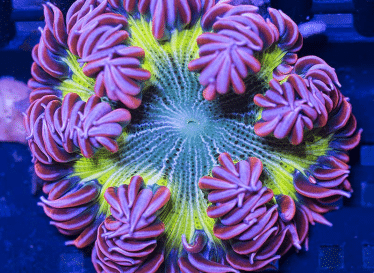 De Phymanthus Crucifer, ook wel rots- of floweranamoon genoemd, komt voornamelijk voor in het Caribisch gebied. De anemoon komt voor in vrijwel alle kleuren van de regenboog. Het is een anemoon die zeer klein blijft en daarom ook ideaal is voor kleinere aquaria. De rotsanemoon heet niet voor niets zo; hij ligt het liefst verticaal op een rots of in het zand. Het is geen wandelaar en blijft dus voornamelijk op zijn plek zitten. Hij leeft in symbiose met de Thor Amboinensis, porseleinkrabben en anemoongarnaaltjes.
De rots- of floweranemoon in een aquarium
De Phymanthus Crucifer kan dus makkelijk in een wat kleiner aquarium, omdat deze anemoon zelf ook aan de kleine kant is. Daarnaast moet de verlichting in het aquarium niet te fel zijn. De anemoon zit het liefst op een schaduwrijke plek. Echter heeft hij wel zonlicht nodig, want dit is een deel van zijn voeding.
De zoöxanthellen zetten dit namelijk om in energie. In de oceaan leeft de anemoon voornamelijk van kleine garnaaltjes en visjes, maar zijn tentakels zijn lang niet zo giftig als die van andere anemonen.
Deze anemoon is sowieso anders dan de eerdergenoemde anemonen, omdat deze zeer kleine tentakels heeft in de vorm van een schijf.
Heb je deze anemoon in je aquarium, dan kun je hem bijvoeren met mosselvlees. Daarnaast is het ook zeer belangrijk om jodium en sporenelementen toe te voegen aan het water, zo blijven de anemonen gezond. Met een gemiddelde stroming, die vooral niet te hard is, is deze anemoon het gelukkigst.
| | |
| --- | --- |
| Moeilijkheidsgraad | Gevorderden |
| Lichtsterkte | Matig |
| Waterstroming | Matig |
| Bijvoeren | Met mosselvlees, ook jodium en sporenelementen toevoegen aan het water |
Anemonen voor in je aquarium kopen
Wil je graag anemonen voor in je aquarium kopen? Dan weet je nu een beetje waar je op moet letten. Er zijn natuurlijk nog veel meer anemonen voor in je aquarium, en het is altijd afhankelijk van jouw specifieke aquarium en de bewoners of het mogelijk is om bepaalde anemonen toe te voegen. Laat je hierover altijd adviseren, zodat je fiasco's kunt voorkomen. Anemonen kun je bijvoorbeeld kopen bij Coral and Fish Store, een echte specialist op het gebied van zeewateraquaria. Zij kunnen je ook adviseren over de meest geschikte anemonen voor in jouw aquarium
Een vraag over anemonen aan jou
Heb jij een zeewateraquarium en heb je ervaring met bepaalde anemonen? Of heb je nog vragen over de verzorging ervan? Stel ze hieronder in de reacties, dan komen we er zo snel mogelijk op terug. Veel plezier en succes met het houden van je anemonen!