Siamese algeneter, de koning van de algeneters
De Siamese algeneter (Crossocheilus oblongus) doet zijn naam eer aan: in mum van tijd worden de algen uit je aquarium weg gegeten. Toch is het goed je te verdiepen in deze tropische aquariumvissen. Voorbeeldje? Ze eten bijvoorbeeld niet alle type alg. Bovendien zijn er meerdere soorten Siamese algeneters en verandert hun karakter naar mate ze volwassen worden. Deze blog behandelt onder andere deze onderwerpen. Meer weten over andere algeneters? Lees dan de blog over algeneters eens.
Snelle oplossing tegen algen?
Bestaat er een middel tegen alle type algen? Nee, waarschijnlijk niet. Ook de Siamese Algeneter niet. Maar toen ik niet wist welk type algen mijn aquarium overwoekerde, gebruikte ik een algemeen algen bestrijdingsmiddel. Die kun je hier via Aquariumwarenhuis vinden. En dat werkte perfect!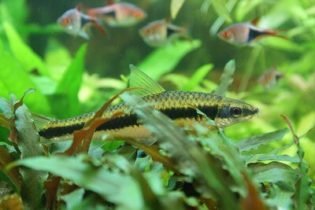 De Siamese algeneter behoort tot één van de bekendere en ook populaire aquariumvissen. Natuurlijk omdat hij met zijn verticale zwarte streep over zijn lichaam er mooi uit ziet, maar voornamelijk omdat de Siamese algeneter bekend staat als de koning onder de algeneters. Een prachtige benaming die deels recht doet aan zijn naam. Toch ligt het iets genuanceerder.
Het zal je niet verbazen dat de Siamese algeneter, overigens in tegenstelling tot vele andere algeneters, daadwerkelijk algen eet. Daarbij zijn een aantal feitjes belangrijk en handig om te weten.
Siamese algeneter en algen
De Siamese algeneter eet niet alle type alg, maar voornamelijk Puntalg, Baardalg en Draadalg. Heb je Blauwalg in je aquarium? Haal dit er dan meteen uit want deze alg (of eigenlijk een kolonie bacteriën) is giftig voor de Siamese algeneter.
Ten opzichte van soortgenoten is deze vis tamelijk onverdraagzaam, maar ten opzichte van andere medebewoners valt het meestal wel mee, alhoewel de ervaring is dat bijvoorbeeld maanvissen niet met rust worden gelaten. Een groot aquarium van minimaal 200-300 liter (min. lente > 120cm)  is daarom noodzakelijk.
De Siamese algeneter wordt tot wel 14 cm lang. Dat is een flinke aquariumvis. Houdt daarmee vooraf rekening.
Koop nooit een Siamese algeneter uitsluitend om een explosie van algen in je aquarium te bestrijden. Een grote en snelle toename van algen betekent dat de balans van je aquariumwater niet goed is (zeg maar gewoon heel slecht). De symptomen moeten daarbij niet worden bestreden, maar de oorzaak. Ook met de Siamese algeneter blijven de algen gewoon groeien. Last van algen? Lees dan de blog over algen bestrijden eens.
Net als veel andere algeneters moet de Siamese algeneter worden bijgevoerd. Algen alleen zijn niet voldoende als voedselbron. Voor ze bij met wat sla of voedertabletten maar let op, niet te veel! De Siamese algeneter zal dik worden en vooral stoppen met het eten van algen. Dat dat moeten we nou net niet hebben.
| | |
| --- | --- |
| Familie | Cyprinidae |
| Herkomst | Thailand, India |
| Lengte | Tot 14cm |
| Karakter | Tov soortgenoten onverdraagzaam, tov andere medebewoners valt het mee |
| Temperatuur | 24-26 graden |
| pH-waarde | 6,5-7 |
| Algen | Baardalg, Puntalg, Draadalg |
Siamese algeneter goud
Naast de 'normale' Siamese algeneter bestaat er ook de Siamese algeneter goud, ofwel de gyrinocheilus aymonieri gold. In de zin van eigenschappen, lente en waarden, kun je bovenstaande tabel aanhouden. Het leuke van deze aquariumvissen is de oranje/gouden kleur. Deze redelijk unieke kleur valt meteen op in je aquarium.  De Siamese algeneter goud wordt ook wel de Albino Siamese algeneter genoemd.
Net als zijn 'broer' is het goed te benadrukken dat wanneer deze Siamese algeneter volwassen wordt, hij een territorium gaat ontwikkelen en deze ook zal verdedigen. Daarbij kan het goed zijn dat hij je andere aquariumvissen opjaagt. Ook hierbij geldt, een aquarium van ruim 200-300 liter is noodzakelijk.
De Siamese algeneter en andere vissen
Wanneer je jonge exemplaren Siamese algeneters bij een dierenspeciaalzaak koopt is er niet veel aan de hand. Geleidelijk aan worden deze exemplaren groter en ook dominanter. In het bijzonder onderling, maar ook ten opzichte van tropische vissen zoals discusvissen en maanvissen. Ook Goerami worden niet gewaardeerd. Het gevolg is een onrustige bak en in enkele gevallen zuigt de Siamese algeneter zich zelfs op de huid van deze vissen vast. Verder gaat de Siamese algeneter goed samen in een gezelschapsbak.
De juiste inrichting van je aquarium
De ideale inrichting voor de Siamese algeneter is een aquarium met een zanderige bodem. Ze vinden het heerlijk om de bodem af te schuimen opzoek naar lekkere hapjes. In hun natuurlijke omgeving komen de Siamese algeneters voor in stromende gebieden, dus zorg er voor dat er een stroming in je aquarium is. Ook bijzonder belangrijk zijn voldoende schuilmogelijkheden in de vorm van kiemhout en planten met grotere bladeren.
Siamese algeneter kweken
Helaas is het kweken van de Siamese algeneter geen succes in hobbyisten aquaria. Dat heeft er voornamelijk mee te maken dat deze tropische vis veel ruimte en identieke leefomstandigheden nodig heeft. Meestal meer dan een aquarium kan bieden. Als je opzoek bent naar aquariumvissen om te kweken dan kun je deze daarmee van je lijstje halen.
Tot slot
De Siamese algeneters zijn hele nuttige aquariumvissen en kunnen bovendien vrij oud worden (>10 jaar). Het is daarmee een investering voor een hele lange tijd. De Siamese algeneter scharrelt lekker door je aquarium heen dat is leuk om te zien. Met zijn gave om algjes op te ruimen dus een welkome aanwinst in het aquarium. Wel bijvoeren want alleen algen zijn niet voldoende om te overleven.
Een vraag aan jou…
Heb jij nog aanvullingen, vragen of opmerkingen over de Siamese algeneter? Laat dan een reactie achter!