Aquarium thuis? Alles wat je MOET weten lees je hier!
Bij het kopen van een aquarium, of het onderhouden ervan, komt heel veel kijken. De grootste fout die gemaakt kan worden is een aquarium aan te schaffen zonder over zeer belangrijke onderwerpen na te denken. Gevolg? Vissen die overlijden, een bak vol algen, aquariumplanten die niet vooruit te branden zijn en vooral veel frustratie. En dan te bedenken dat je 100% minder frustratie en 100% meer plezier kan hebben door vooraf na te denken over wat je achteraf gaat doen. Dit artikel gaat je ermee helpen!
Wil je een aquarium kopen maar je twijfelt nog? Helemaal niet slecht, zorg er in ieder geval voor dat je voldoende kennis hebt en dat je een aquarium opstart product gebruikt. Zelf heb ik hele goede ervaringen met een specifieke opstarter. Die kun je hier via het Aquariumwarenhuis eens bekijken. Dan moet het goed gaan!
In deze blog krijg je een overzicht van de belangrijkste onderwerpen en word je gelijk doorverwezen naar de juiste blog met de juiste oplossingen. Al die gratis kennis is er al, nu moet deze nog gevonden worden! We beginnen met drie vragen, elk van deze vragen gaat in op de belangrijkste thema's. Daarmee krijg je het volgende overzicht:
Welke onderdelen heb je 100% nodig voor je aquarium?
Naast aquariumwater ontkom je niet aan de volgende essentiële attributen:
Wat is de overweging waard voor je aquarium?
Naast de essentiele onderdelen van je aquarium, zijn er veel elementen die het overwegen waard zijn: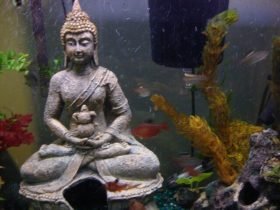 Wat zijn de grootste aquarium uitdagingen?
Wat moet je weten voordat je een aquarium koopt?
Goed, daar sta je dan met alle aquariumkennis. Nu is het tijd voor actie, nu is het tijd voor de aanschaf! En toch… toch slaat die twijfel nog een keer toe. En dat stemmetje dat nu vragen begint te stellen, doet dat zeer terecht. Laat me je meenemen naar de laatste overwegingen die gemaakt moeten worden, vóór aanschaf van een aquarium.
Wil je een klein of groot aquarium?
Deze vraag wordt me vaak gesteld. En dan in het bijzonder of een kleine variant een betere keuze is dan een groot aquarium. Zelf ben ik fan van grote aquaria om de simpele reden dat als het puntje bij paaltje komt, deze minder onderhoud nodig hebben. Veel aquariumwater met veel aquariumplanten en niet teveel aquariumvissen zorgen er voor dat er een zekere mate van stabiliteit in het water komt. En dat scheelt algen, verversen, frustratie en ga zo maar door. Maar goed, dan hebben we het over een bak van 300 liter. Waar met de inrichting van aquariumplanten (planten die weinig CO2 vragen) en aquariumvissen (vooral niet te veel) rekening is gehouden. Gaat het fout, dan gaat het ook goed fout.
Aan onderhoud ontkom je sowieso niet en als het dan zover is, dan gaat dat bij kleinere aquaria een stuk sneller. In plaatst van tig 20 liter emmers water sjouwen ben je met een emmertje klaar. Dat is ook wel lekker, alleen zul je dat wel vaker moeten doen. Zelf verschoon ik mijn bak slechts één keer per drie maanden, en dan nog maar 1/3e van het water.
Locatie van het aquarium?
Heb je jezelf wel eens afgevraagd waar het aquarium neergezet gaat worden? Als je nou veel ellende wilt voorkomen, zet aquaria dan niet in de buurt van een raam. Om verschillende redenen is dat weliswaar mogelijk, maar zeker voor een beginner geen goed plan. Direct zonlicht zorgt namelijk spontaan voor enorme algenplagen. Bovendien is de temperatuurschommeling naast een raam altijd groter. Dat is op zich geen probleem, maar hoe stabieler de omgeving, des te beter dat voor je aquariumbak is.
Ook een aquarium naast je geluidsinstallatie of televisie is door al dat geluid, mogelijke bas en flitsende beelden geen goed idee. Daar raken de aquariumvissen namelijk wat gestrest van, en dat kan leiden tot allerlei vervelende visziekten.
Stijl van je aquarium
Een veelgemaakte fout is het lukraak aankopen van aquariumplanten en aquariumvissen. Net als in de natuur groeien niet alle aquariumplanten bij elkaar. En leven ook niet alle soorten aquariumvissen met elkaar. Dat is een delicate balans, ontstaan door miljoenen jaren evolutie. Voor zowel aquariumplanten als aquariumvissen geldt: hoe dichter je aquarium ingericht is als in de authentieke natuurlijk omgeving, des te gelukkiger zullen je planten en vissen zijn. En dus groeien je aquariumplanten wel, en krijgen je aquariumvissen wel jonkies. Om maar eens wat te noemen.
Ben je nou echt helemaal een aquarium beginner?
Dan kun je het beste eens kijken in de categorie… juist… aquarium beginners. Daar lees je alle belangrijke informatie over aquaria en word jij in mum van tijd een echte expert!
Tot slot een vraag aan jou!
Zo, nu ben je op de hoogte van de belangrijkste aquaria onderwerpen. Grote kans dat je het niet eens haalt tot dit stuk van de blog, want er wordt flink verwezen naar de juiste informatie. Mis je toch nog wat, deel dat met ons! Dan passen we de blog graag aan. Vragen? Ook gewoon hieronder stellen!