Algeneters top drie, waarom jij er één moet hebben!
Algeneters komen voor in verschillende soorten en maten. De één is een echte algen vernietiger, de andere pikt een algje onderweg mee. Voor aanschaf van algeneters is het belangrijk dat je bedenkt wat je met de algeneter gaat doen nadat de algen uit je aquarium zijn verdwenen. Daarmee is namelijk een groot deel van zijn voedsel verdwenen. Heb je daar goed over nagedacht? Dan is het tijd om een keuze maken. Deze blog gaat in op de top drie populaire algeneters.
Snelle oplossing tegen algen?
Bestaat er een middel tegen alle type algen? Nee, waarschijnlijk niet, maar ooit, toen ik niet wist welk type algen mijn aquarium veroverde gebruikte ik een algemeen algen bestrijdingsmiddel. En dat werkte perfect! Die kun je hier via Aquariumwarenhuis vinden. Wel zo gemakkelijk!
Algeneters in je aquarium
Algeneters in je aquarium is zonder meer een meerwaarde. Als je denkt dat een algeneter de oplossing is voor je algenexplosie, dan word je daarin teleurgesteld. Het probleem bij een algenexplosie is een aquarium dat niet in balans is. Algeneters helpen je in de strijd tegen algen maar lossen het probleem niet voor je op.
Wat daarnaast erg belangrijk is om te weten is dat algeneters een behoorlijke lengte kunnen krijgen. Daarbij komt dat enkele soorten algeneters ook nog in scholen behoren te zwemmen. Zijn ze volgroeid ook nog eens fors dan kun je je voorstellen dat een groot aquarium een noodzaak is.
Lees hier meer oplossingen en weetjes over  Algeneter en algen bestrijden
Algeneters soorten, drie bekende!
Nu zijn er verschillende algeneters in dierenspeciaalzaken te koop. Sommige zijn mooi, andere vooral nuttig. Deze top drie probeert daar een combi uit te halen waarbij nuttig voorop staat maar mooi niet wordt vergeten.
Nummer één, de Siamese algeneter (Crossocheilus oblongus)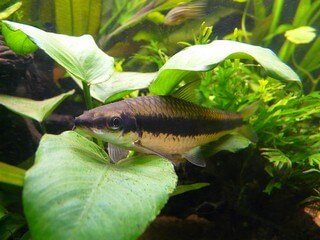 De siamese algeneter is een absolute moordmachine tegen verschillende soorten algen. Zijn lievelingsgerecht is voornamelijk baardalg, puntalg en zelfs draadalg. Overigens eet deze algeneter alle lekkere hapjes die de voedingsbodem raken. Dus ook een garnaaltje, vlokvoer en ander vissen voedsel.
Als je de Siamese algeneter, ook wel de Siamensis genaamd, wilt kopen, koop er dan een stuk of 4-5 in een groepje. Totdat deze zijn volgroeid zijn het namelijk echte groepsvissen. Pas op latere leeftijd worden ze solitair en kunnen ze onderling agressief zijn naar elkaar. Het leuke aan deze tropische vissen is dat ze een vrij actief leven leiden. Waar de meeste algeneters vrij schuw zijn aangelegd zal de Siamese algeneter overdag lekker aan het scharrelen zijn. Voor meer informatie, lees de blog over de Siamese algeneter eens.
| | |
| --- | --- |
| Lengte | 15-25 cm |
| Karakter | Vredelievend, volwassen onderling wat lastig |
| Temperatuur | 25-27 graden |
| pH-waarde | 6,5-7,5 |
| Algen soorten | Baardalg, Puntalg, Draadalg |
Tip: heb je algen in je aquarium? Voer dan niet teveel bij. Niet alleen zullen je algen daardoor harder groeien, ook verliezen de algeneters hun trek in algen. En dat moeten we niet hebben!
Nummer twee, de Borstelneus of Antennemeerval (Ancistrus dolichopterus)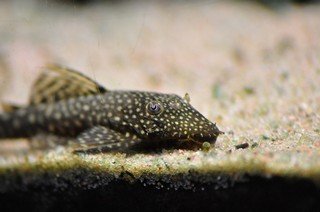 De borstelneus algeneters is een prachtig soort. Vooral de mannetjes zijn indrukwekkend want deze krijgen een gewei op zijn kop. Dit is om de vrouwtjes te imponeren maar het imponeert de gemiddelde aquariumliefhebber ook. Belangrijk bij deze Antennemeerval is dat de bodem niet bestaat uit scherpe stenen maar uit relatief zacht substraat zoals zand.
Zijn favoriete alg is de puntalg die hij met zijn zuigmond naar binnen zal werken. Ook Baardalg behoort tot zijn dieet. Andere algen zoals draadalg wordt niet aangeraakt. Ook zijn deze algeneters dol op voedselresten. Ze zijn overigens vrij schuw aangelegd en worden voornamelijk in de nacht actief. Zorg daarom ook voor voldoende schuilmogelijkheden door bevoordeeld kiemhout neer te leggen. Voor personen die een solitaire algeneter willen, dan is de Borstelneus de beste keuze voor jou!
| | |
| --- | --- |
| Lengte | 12-20 cm |
| Karakter | Vredelievend, volwassen onderling wat lastig |
| Temperatuur | 24-26 graden |
| pH-waarde | 6,5-7,5 |
| Algen soorten | Puntalg, Baardalg |
Nummer drie, de Naaldmeerval (Farlowella acus)
Tot slot is nummer drie de Naaldmeerval. Met zijn afwijkende vorm een aanwinst voor je aquarium. Deze algeneter doet zijn naam eer aan. Het zijn lange dunne algeneters in de vorm van een potlood of een, zoals de naam aangeeft, naald. Zijn voorkeur bij de inrichting van je aquarium zijn grote bladeren van aquariumplanten net als schuilmogelijkheden in de vorm van kiemhout.
Deze algeneters staan niet bekend om het verwerken van grote hoeveelheden algen. Alleen aan de puntalgen wordt lekker geknabbeld. Zorg dus voor voldoende alternatieven vissen voedsel. Op zijn tijd een gekookt komkommertje mag hierbij niet ontbreken. Deze algeneters zijn niet heel erg schuw en zullen dus zichtbaar zijn in je aquarium. En dat is met hun opvallende vorm wel zo leuk.
| | |
| --- | --- |
| Lengte | 15-25 cm |
| Karakter | Vredelievend, ook onderling |
| Temperatuur | 24-26 graden |
| pH-waarde | 6,5-7,0 |
| Algen soorten | Puntalg |
Tot slot
Algeneters eten inderdaad algen maar moeten wel degelijk worden bijgevoerd. Het komt zelden voor dat je aquarium toereikend is. Bovendien is een eenzijdig dieet niet wenselijk want de weerstand van de algeneter keldert daarmee naar beneden. Wees er daarnaast van bewust dat algeneters een groot aquarium nodig hebben om zich prettig in te voelen. Aquariums groter dan 200 liter zijn geen uitzondering voor de meeste algeneters. Ze halen gemakkelijk de 20-25 cm dus een ruime leefomgeving is een must. Voldoet je aquarium aan de voorwaarden? Dan is de algeneter een echte aanwinst!
Een vraag aan jou…
Heb jij nog aanvullingen, vragen of opmerkingen over algeneters? Laat dan een reactie achter!