Kunstmatig gekleurde vissen is dierenmishandeling
Zeg nou zelf, wie houdt er niet van mooi gekleurde en opvallende aquariumvissen? Helaas komt het voor dat mensen niet weten dat gekleurde vissen kunstmatig gekleurd zijn. Bijvoorbeeld door het injecteren van kleurstoffen, het verven of zelfs tatoeëren van de vis. Kunstmatig gekleurde vissen worden daarbij steeds meer verhandeld, vaak zonder dat eigenaren weten wat er met de vis is gebeurd.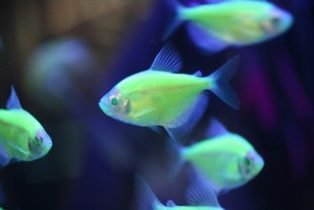 Het zou toch wat zijn, een kunstmatig gekleurde knalrode kat of een hond die licht geeft in het donker. De huisdieren kijken ongelukkig uit hun ogen. Je wenkbrauw fronst bij het horen van dit verhaal. Helaas is dit de werkelijkheid bij de toenemende handel van kunstmatig gekleurde tropische vissen. Met gruwelijke methoden worden aquariumvissen gekleurd, een lijdensweg dat vaak leidt tot een versnelde dood van de vis. Ben jij je daarvan bewust?
Kunstmatig gekleurde vissen worden gekocht omdat ze mooi zijn. Kijk maar eens naar de onderstaande video's, het geeft een bijzonder effect aan het aquarium. Het verhaal erachter is helaas gruwelijk. In de eerste video legt iemand zijn verhaal uit (Engels), in de tweede video zie je het verschil tussen gekleurde en niet gekleurde varianten. Beide de moeite waard om te bekijken.
Feit: Negen van de tien gekleurde vissen verliest na een aantal maanden zijn kleur alweer.
Hoe krijgen vissen kunstmatig een kleur?
Verschillende technieken worden toegepast om kleur aan te brengen bij tropische vissen. Nieuwe technieken duiken daarbij regelmatig en in een rap tempo op. De gevolgen voor deze aquariumvissen zijn niet mis. Niet alleen raken vissen er totaal gestresseerd van, en zijn daarmee zeer gevoelig voor visziekten zoals Witte stip, vaak overlijden vissen enige tijd erna door de gevolgen van de behandeling. We zetten een aantal methoden voor je op een rijtje.
Injecteren van aquariumvissen
Een gruwelijke methode van kunstmatig gekleurde vissen is het injecteren (of laseren) van kleurstoffen direct in de huid van een vis. Net als bij een tattoo wordt per injectie alleen een klein stuk van de huid gekleurd waardoor vele injecties noodzakelijk zijn. Ook hierbij geldt dat vissen vaak overlijden door de gevolgen van infecties van de naalden en de stress die het met zich meebrengt.
Gekleurd voedsel
Vanaf jongs af aan krijgen aquariumvissen voedsel met kleurstoffen toegediend. Hierdoor ontstaan gekleurde vissen, die met een tijdelijke kleurtint rondzwemmen. Op het moment dat deze vissen het voedsel niet meer eten, zal de tint ook verdwijnen. Helaas is het zo dat dit voedsel schadelijke effecten heeft voor hun groei en ontwikkeling.
Onderdompelen
Manieren zoals deze zijn ronduit gruwelijk. Wat hier gebeurd is dat de vis wordt ondergedompeld in een vloeistof waardoor de buitenste slijmlaag oplost. Daarna wordt deze vis ondergedompeld in een ander vloeistof waardoor het een kunstmatige kleur krijgt. Tot slot wordt hij ondergedompeld in een vloeistof dat de huid irriteert waardoor een soort versnelde reactie van het herstel van de slijmlaag plaatsvindt. Een zeer stressvolle en vaak dodelijke behandelmethode.
Feit: Gekleurde vissen sterven meestal na verloop van tijd aan de gevolgen van het kunstmatig toebrengen van kleuren
Hormonen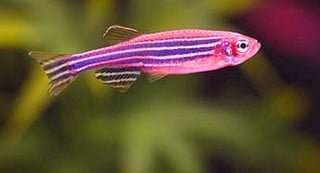 Bij deze methode worden aquariumvissen in water gehouden met grote daarin hoeveelheden kunstmatige hormonen met als gevolg dat kleuren en kleurpatronen sterker zichtbaar worden. In sommige gevallen krijgen vrouwenvissen zelfs mannelijke eigenschappen. En voilà, kunstmatig gekleurde vissen. Het toebrengen van teveel hormonen is helaas wel schadelijk voor de lange termijn gezondheid van de vis.
Genetische manipulatie
Het begon allemaal met het injecteren van een fluoriderende proteïne van een kwal in de gnome van een zebravis. Inmiddels zijn deze experimenten verder ontwikkelt en bestaan er glow-in-the-dark vissen. Hoewel wordt gezegd dat dit de vissen niet schaadt (vissen worden met de kleuren geboren), is er wel veel debat over de ethische gevolgen ervan. Wha'ts next, glow-in-the-dark parkieten?
Waarom zijn kunstmatig gekleurde vissen dierenmishandeling?
Zoals hierboven al kort is aangestipt brengen de behandelmethoden nogal wat schadelijke gevolgen met zich mee. Het kunstmatig kleuren van aquariumvissen is gewoonweg dierenmishandeling. Waarom? Lees de onderstaande opsomming eens.
Bekend is dat bij sommige behandelmethoden 80% van de vissen komt te overlijden. Doordat 20% lang genoeg overleefd blijven de behandelingen helaas commercieel interessant.
Gedurende de behandeling lijden de vissen door stress aan verschillende visziekten en infecties waardoor deze vissen aanzienlijk minder oud worden.
Veel jonge vissen krijgen door de behandeling lichamelijke afwijkingen en groeien niet door tot hun eigenlijke normale lengte.
Een lichamelijk zwakke en gevoelige vis toevoegen in je eigen aquarium is zeer gevaarlijk voor de andere aquariumbewoners. Deze lopen een groot risico op meegebrachte infecties.
Het behandelen van vissen voor cosmetische redenen leidt bij vrijwel elke behandelmethode tot een verhoogde sterftegraad.
Wat jij er aan kan doen om het kopen van gekleurde vissen te voorkomen?
Je kunt het niet elke eigenaar kwalijk nemen dat hij/zij thuis komt met een kunstmatig gekleurde vis. Vaak gebeurt dat uit onwetendheid. Wat je hier aan kunt doen is je verdiepen in de vis die je wilt kopen. Bekijk het internet op zoek naar de tropische aquariumvissen die bij jouw aquarium passen en Google of deze kunstmatig zijn gekleurd. Vraag voor aankoop van de vis of de prachtige kleuren ervan niet toevallig kunstmatig zijn. Een bewuste koper is een goede koper!
Tot slot, een oproep!
De beste manier voor de consument om praktijken zoals het kunstmatig aanbrengen van kleur bij vissen aan te pakken is gewoonweg het niet kopen van deze vissen. Zoals gesteld, koopt niet iedere aquariumhouder bewust kunstmatig gekleurde vissen, dus help aquariumhouders in je omgeving zich bewust te worden van de gevolgen van kleurbehandeling. Voorkomen is beter dan genezen. Kunstmatig toebrengen van kleuren is niets anders dan een gruwelijke vorm van dierenmishandeling.
Een vraag aan jou…
Hoe denk jij over het kunstmatige gekleurde vissen of wat denk jij dat de goede aanpak is om de ontwikkeling van gekleurde vissen te stoppen? Deel mensen in je mening en laat een reactie achter!