Aquarium achterwand? Eerst dit lezen, dan doen!
De achterwand van het aquarium bepaalt de hele uitstraling van je aquarium. Een aquarium zonder een achterwand is niet meer dan een glasbak waar je de kamermuur doorheen kunt zien. Gelukkig zijn er veel aquarium achterwand soorten, zoveel dat het moeilijk kan zijn om een keuze te maken. Of we gaan massaal zelf aan de slag met gips, piepschuim en hars! In feite zijn er drie keuzes die je kunt maken voor een aquarium achterwand.
Snel de juiste aquarium achterwand?
De juiste achterwand maakt of breekt echt je aquarium. Reden genoeg om een juiste beslissing te nemen. Als je niet precies weet welke je moet kopen, dan raad ik je van harte de aquarium achterwand aan die ik zelf gebruik. Vooral omdat ze levensecht lijken, goede kwaliteit zijn en mijn aquarium echt een natuurlijke look geven. Een enorm verschil qua uitstraling nadat ik de achterwand had geplaatst. Deze kun je hier eens beter bekijken.
Optie één: zelf je aquarium achterwand maken;
Optie twee: een aquarium achterwand kopen voor buiten het aquarium;
Optie drie: een aquarium achterwand kopen voor binnenin het aquarium.
Zelf je eigen aquarium achterwand maken? Een aantal tips!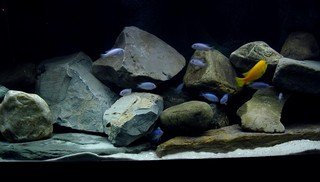 Cichliden aquarium achterwand[/dt_fancy_image]Wanneer je echt iets unieks wilt hebben, en je creatieve kant wilt tonen, dan ga je natuurlijk zelf aan de slag. Bijna alles is mogelijk met de verschillende materialen die je kunt vinden.
Vergeet alleen niet deze materialen te behandelen! De meeste aquarium achterwanden worden afgewerkt met bijvoorbeeld hars om ze tegen water te beschermen.
Behandel de achterwand aquarium met hars in een goed geventileerde ruimte, of buiten. Wanneer de hars eenmaal uitgehard is, beschermt deze het water tegen de achterwand en andersom. Belangrijk te weten:
Tip: Bedenk je goed dat de achterwand de voorgrond bepaalt. Maak je het te licht, dan ziet het er wit uit. Maak je het heel erg donker, dan zie je niets.
Tip: Pas op met gaatjes. Hier kunnen algen in ontstaan. Het schoonmaken van een achterwand in je aquarium is namelijk niet gemakkelijk. Vaak door het onregelmatige oppervlak.
Tip: Wil je je aquarium inrichten? Lees dan de blog over het aquarium inrichten in tien stappen
Zelf een aquarium achterwand maken? Dat is een stuk gemakkelijker wanneer je een heel aantal ideeën en kennis opgedaan hebt. De volgende video's laten zien hoe je een aquarium achterwand kunt bouwen en plaatsen. En dat ziet er goed uit!
Wanneer je niet zelf aan het werk wilt met een aquarium achterwand
Er zijn dagen bij dat je liever niet zelf aan de slag gaat natuurlijk. Gelukkig zijn er andere opties, zoals de aquarium achterwand poster. Dit zijn posters die aan twee zijdes bedrukt zijn en die je aan de buitenkant van het aquarium kunt bevestigen. Een goedkope en simpele oplossing en juist dat is de reden dat de meeste liefhebbers niet kiezen voor de achterwand aquarium poster. Op een gegeven moment ben je er zelf ook op uitgekeken, want het leeft niet met het aquarium mee.
| | |
| --- | --- |
| Voordelen van een achterwand buiten het aquarium | Voordelen van een achterwand in het aquarium |
| Is goedkoper dan een achterwand in het aquarium | Ziet er natuurlijker uit |
| Je hebt er nauwelijks omkijken naar, het wordt niet vies en is niet enorm aanwezig | Kan de stijl en het middelpunt van je aquarium bepalen. En dat kan heel erg mooi zijn. |
| Het neemt geen ruimte in | Geeft het aquarium meer diepte |
| Eenvoudig te vervangen in vergelijking met een achterwand in het aquarium zelf | Biedt soms de vissen een plaats om te schuilen |
Er zijn nog veel meer aquarium achterwand soorten die je kant-en-klaar aan kunt schaffen in de speciaalzaak. Vaak zijn deze rond een bepaald thema opgezet en je kunt zelf het beste inschatten welke van de varianten het beste bij jouw aquarium past. Over het algemeen moet je goed opletten met de ruimte die je beschikbaar hebt en daarnaast is ook de kleur een belangrijke factor. Je wilt immers zorgen dat je het meest kunt genieten van je vissen en planten; tegen een zwart vlak aankijken kan namelijk ook gewoon door je beeldscherm uit te zetten.
Tot slot een vraag aan jou!
Heb je zelf ervaring met het maken van een aquarium achterwand? Of kun je mensen helpen met jouw kennis over je aquarium achterwand? Laat hier een reactie achter!