Aquarium garnalen: voeding, schoonmaken en waterplanten
Aquarium garnalen zijn over het algemeen gevoeliger dan vissen. Dat betekent dat je er verstandig aan doet om het de garnalen zoveel mogelijk naar de zin te maken. Afhankelijk van het soort blijft de populatie in stand en is de kans op voortplanting groter. Daarvoor zijn een aantal onderwerpen belangrijk: goede voeding, schoonmaken en waterplanten.
Zorg dat je garnalen niet dood gaan!
Veel garnalen overlijden zonder goede reden. Zo onnodig! Dat kan veel redenen hebben, soms moeilijk te achterhalen. Zelf gebruik ik voor mijn garnalen alleen de juiste garnalen voeding. Werkt ook anti- bacterieel en als bonus planten ze zich zelfs beter voort. Mooi meegenomen!
Kijk voor meer oplossingen ook eens op de pagina over Garnalen!
Aquarium garnalen planten zich vaak voort na een waterverversing waarbij kouder water mengt met aquariumwater. Garnalen zien deze schommeling als een teken om zich voor te planten. Zorg er wel voor dat er slecht een minimale schommeling in temperatuur is.
Aquarium garnalen: zorg voor de juiste voeding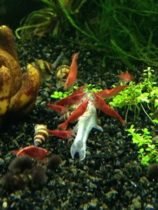 Garnalen zijn de wilde zwijnen van het water: ze eten vrijwel alles wat ze te pakken krijgen. Daarom zijn garnalen nuttige aquariumbewoners. Doordat van alles wordt opgeruimd is de water belasting minder. Hierdoor krijgen algen en ziektes minder kans. Alle beetjes helpen! Toch kunnen garnalen niet zonder meer overleven met het voedsel dat in een aquarium is te vinden.
Het is belangrijk dat er sprake is van een gebalanceerde voeding. In een aquariumwinkel kun je speciale voeding voor garnalen kopen. Naast voeding is het goed om de aquarium garnalen af en toe te verwennen met bijvoorbeeld herfstbladeren. Het blad zelf wordt niet gegeten maar de micro-organismen die erbij zijn betrokken zijn goed voor je garnalen.
Aquarium garnalen moeten een sterke weerstand krijgen want ze kunnen gevoelig zijn voor schommelingen en slechte waterwaardes. Gevarieerd voedsel helpt aquarium garnalen sterk te blijven.
Zelf bladeren toevoegen aan je aquarium
Gewoon in de herfst naar buitenlopen en dan de volgende bladeren zoeken: eikenblad, bladeren van fruitbomen of beukenblad.
Laat de bladeren binnen drogen, zorg dat ze door en door droog zijn. Je kunt gedroogde bladeren langer bewaren.
Voor gebruik even de bladeren koken om insecten of andere onwenselijkheden onschadelijk te maken.
Stop de bladeren in je aquarium en na enkele dagen zakken ze naar de bodem.
Garnalen zijn enorm blij met je!
Aquarium garnalen: schoonmaken met gevoel
Een gezond aquarium herken je aan weeldige, dicht begroeide plantengroei. Dat is de basis voor succes, ook voor het houden van aquarium garnalen. Er zijn alleen wel een paar aandachtspunten:
Verwijder na elke voedselbeurt de overgebleven voedselresten
Haal dode vissen en planten uit het water
Ververs iedere 2 weken 20% aquariumwater (vaak wordt eens per week gezegd, om de water balans niet te veel te verstoren is om de week meer dan voldoende)
Sommige garnalen eten algen, reinig alleen het glas. Een beetje alg in je aquarium is alleen maar goed voor de jongen en extra voedsel
Aquarium garnalen en planten waar ze dol op zijn
Aquarium garnalen zijn gebaad bij een goed groeiende bak met planten. Toch hebben ze de voorkeur voor enkele aquariumplanten. Dit heeft met name te maken omdat sommige planten een goede voedingsbron herbergen, een schuilplaats bieden, of geschikt is jongen in te laten opgroeien. Enkele voorbeelden waar garnalen gelukkig van worden: Mosbal, Javamos (mag niet ontbreken), Ambullia, Anubias op hout.
Tip: geen herfstbladeren? Koop een komkommer, spoel het goed af, snij een paar plakjes, kook ze (dan zinken de schijfjes naar de bodem), en doe de schijfjes in je aquarium. Garnalen zijn er dol op!
Tot slot
Over aquarium garnalen is veel te schrijven en over garnalen in het algemeen al helemaal! Daarom is dit een artikel uit een serie van vier. Als je alle blogs uit deze serie hebt gelezen, sta je niet meer voor verrassingen. De andere blogs zijn: Deel 1: Garnalen bak opstarten en inrichten, waar moet je op letten? Deel 2: Garnalen begrijpen, hoe houd je garnalen? Deel 3: Aquarium garnalen: voeding, schoonmaken en waterplanten (=dit artikel) Deel 4: Garnalen kweken, houden en voortplanten
Een vraag aan jou…
Heb jij nog aanvullingen, vragen of opmerkingen over aquarium garnalen? Laat dan een reactie achter!