Garnalen kweken, houden en voortplanten
Garnalen kweken is een hobby op zich. En nog een verslavende hobby ook want er is niets leukers dan het zien ontwikkelen van een kolonie garnalen. Deze harde werkers vertonen onderling leuk en actief gedrag en scharrelen je hele aquarium door. Maar garnalen kweken, hoe doe je dat nou? Dat is misschien wel gemakkelijker dan je denkt!
Garnalen kweken doe je met de juiste voeding
Willen jouw garnalen zich niet voorplanten? Grote kans dat het aan de omgeving of aan sluipende ziektes ligt. Zelf gebruik ik voor mijn garnalen alleen de juiste garnalen voeding. Werkt supergoed en ze krijgen er nog wat extra erg benodigde weerstand mee. Win-win!
Garnalen kweken is geen hoogdravende kunst maar je moet wel weten hoe dat garnalen kweken nou in zijn werk gaat. En om geen onnodige fouten te maken, geeft dit artikel tips dat het beste te kunnen doen. Om succes te garanderen is het goed om eerst iets te zeggen over de manier waarop garnalen zich voortplanten. Voor een optimaal succes, kijk ook eens op de blog over garnalen begrijpen.
Weetje: Garnalen kweken is bij de volgende soorten is relatief makkelijk: Caridina cantonensis (oftewel: Crystal Red, Bijengarnalen, Red Bee etc), Neocardinia heteropoda (oftewel vuurgarnalen), Caridina babaulti, Caridina Breviata.
Garnalen kweken kan alleen door voortplanting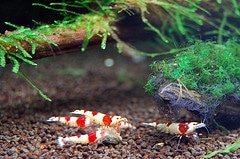 Niet alle garnalen kunnen worden gefokt in een zoetwateraquarium. Simpelweg omdat de larven niet kunnen overleven. Bij waaierhandgarnalen is het onvoldoende bekend hoe zij zich voortplanten. Wat men weet, is dat het vooral niet lukt. Bij de Macrobrachium– garnalen kan het niet omdat de larven zout water nodig hebben om zich te kunnen ontwikkelen.
Een richtlijn om te bepalen of een garnaal zich kan voortplanten is door te zien hoeveel eitjes het vrouwtje met zich mee draagt. Draagt het vrouwtje honderden eitjes, dan hebben de larven brak of zout water nodig om te overleven. Draagt het vrouwtje enkele tientallen eitjes (zoals bij dwerggarnalen het geval is), dan kunnen de garnalen zich dikwijls zelfstandig vermeerderen in je aquarium.
Garnalen kweken begint bij het herkennen van paargedrag
Zoals gezegd is dat bij de waaierhandgarnalen nog onbekend. Bij de dwerggarnalen en de Macrobrachium- garnalen ligt dan anders. De mannetjes van Macrobrachium– garnalen kunnen pas het vrouwtje bevruchten als ze net is verveld zodat ze nog een zacht pantser heeft. Het vrouwtje gaat in de paarhouding zodat het mannetje zijn gang kan gaan.
Dwerggarnalen hebben een zeer vlotte manier van paren. Ze zwemmen opgewonden heen en weer, alsof ze drugs gebruikt hebben. Alleen raken ze elkaar steeds kort met de buik aan. Het vrouwtje wordt daarmee gedekt doordat het een beetje zaad op zich geplakt krijgt. Vervolgens kruipt het mannetje bij de vrouw op de rug en langs haar zijkant. De uiteindelijke bevruchting vindt plaats wanneer de eieren onder het schild van het vrouwtje, bij haar zwempoten hangen.
Weetje: de draagtijd bedraagt ongeveer 3 tot 4 weken. Heb geduld, het kan even duren voordat kleine garnaaltjes groot genoeg zijn zodat ook jij ze kunt zien.
Okee en nu wil ik echt garnalen kweken!
Aan de slag met garnalen kweken. Weet wel dat tussen het fokken van zoetwatergarnalen en zorgen voor voortplanting zit een groot verschil. De één gericht op rassen behoudt, de ander om vermeerdering. Bij gangbare garnalen liefhebber gaat vooral om het in standhouden en vermeerderen van de populatie. Oftewel garnalen kweken. Wat moet je nou doen om ervoor te zorgen dat je garnalen zich gaan voortplanten? Probeer onderstaande checklist eens voor garnalen kweken eens.
Voldoende garnalen? Koop in ieder geval 15 garnalen van hetzelfde soort
Waterwaarden & temperatuur goed? Koop een teststrip en houd ongeveer 25 graden aan
Voldoende voedsel? Koop en voer met mate garnalenvoedsel
Voldoende zit- en schuilplaatsen? Regel houtstukken en voldoende aquariumplanten
Filter garnalen-proof? Zorg dat waar je filter water naar binnen zuigt, gaas zit
Geen garnalen eters? Zorg ervoor dat er geen grote vissen in je aquarium zitten
Tot slot
Over garnalen kweken is veel te schrijven maar over garnalen in het algemeen nog veel meer. Daarom is dit een artikel uit een serie van vier. Als je alle blogs uit deze serie hebt gelezen, sta je niet meer voor verrassingen. De andere blogs zijn:
Deel 1: Garnalen bak opstarten en inrichten, waar moet je op letten?
Deel 2: Garnalen begrijpen, hoe houd je garnalen?
Deel 3: Garnalen gezond houden: voeding, schoonmaken en waterplanten
Deel 4: Garnalen kweken, houden en voortplanten (=dit artikel)
Een vraag aan jou…
Heb jij nog aanvullingen, vragen of opmerkingen over garnalen kweken? Laat dan een reactie achter!