BiOrb aquarium, kopen of niet
Liefhebbers van aquaria hebben er vast al eens van gehoord: een BiOrb aquarium. Design, techniek en aquarium in één. Een aquarium met een slim filtersysteem en prachtig om naar te kijken. Is een BiOrb aquarium iets voor jou? In deze blog lees je wat een BiOrb aquarium precies is en welke aquariumvissen en aquariumplanten geschikt zijn. En belangrijker: wegen de voordelen op tegen de gemiddelde prijzen en de gebruikerservaring?
Twijfel je over een BiOrb aquarium?
Het is lastig om te zeggen of een BiOrb aquarium nou een hype is of niet. Zelf vind ik zo'n aquarium echt helemaal geweldig, maar ik ben dan ook een gadget man en ik houd van mooie designs. Begin je met een aquarium? Schaf eerst een opstart preparaat aan! Anders heb je al schadelijke invloeden voordat je goed en wel begonnen bent. Zelf heb ik goede ervaringen met dit preparaat. Kun je tenminste gelijk beginnen!
Wat maakt een BiOrb aquarium nou anders dan andere aquaria?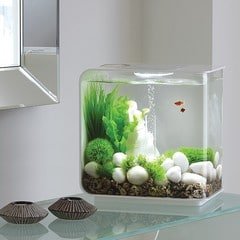 Een BiOrb aquarium is een klein formaat aquarium, vergelijkbaar met een Nano aquarium. Alleen is het BiOrb aquarium gemaakt van acryl, vaak geleverd met een eigen filter en speciale verlichting. BiOrb is een merknaam van Reef-One, een Engels bedrijf dat besloten heeft om 'slimme' design aquaria te maken van acryl in plaats van glas.
Wat een BiOrb aquarium ook bijzonder maakt is de werking van het filter. Het aquariumwater wordt door middel van zuurstof door poreus keramisch gesteente heen gestuwd. Dit gesteente werkt als een biologisch filter waarbij bacteriën die zich hechten in het gesteente, de vervuiling uit het water filteren. Bovendien zorgt de bubbelbuis voor een gezonde stroming in het aquarium. Het resultaat? Een effectieve filter en daarmee een schoner aquarium.
Voordelen en nadelen van een BiOrb aquarium
Een BiOrb aquarium heeft een aantal voordelen en nadelen. Deze kunnen je helpen met de overweging om er zelf één aan te schaffen. Natuurlijk blijft het uiteindelijk een persoonlijke keuze, maar de volgende voor- en nadelen helpen je gedachtegang in ieder geval op weg.
Voordelen
Het BiOrb aquarium is een stuk lichter en sterker door het gebruik van acryl
Er zit een filtercartridge in, een zo goed als onzichtbaar filter dat gemakkelijk eens in de zes weken te vervangen is
Mogelijkheden van de aquariumverlichting. Zo hebben de luxere modellen speciale LED-verlichting. Deze werken met een 24-uurs systeem waarbij de verlichting langzaam donker of lichter wordt. Zodat de aquariumbewoners langzaam kunnen wennen aan de licht overgang. Met een afstandsbediening heb je zelf controle over de kleuren
De wanden lijken dunner, waarmee de afstand tot de vissen kleiner lijkt
Het BiOrb aquarium is een kunstwerk en misstaat in geen enkel huis
Het onderhoud van een BiOrb aquarium valt reuze mee
De Led lamp en luchtpomp gebruiken ieder 3 watt en dat is lekker zuinig
Tip: Denk vooraf na waar je een BiOrb aquarium wilt plaatsen. Let wel op, houdt het aquarium uit direct zonlicht, anders krijg je gegarandeerd algen.
Nadelen
Klein is fijn maar ook lastig als het om aquaria gaat. Voor het schoonmaken bijvoorbeeld. De filter werkt prima maar je ontkomt er niet aan, het is en blijft een priegel klusje
Het is lastig om wat moeilijkere aquariumplanten te houden. Niet alleen door de omvang van de bak, maar ook omdat je goed moet weten hoe je de verlichting afstelt
Het is een heel klein aquarium, dus je bent beperkt met je aquariumbewoners
Welke aquariumbewoners passen in een BiOrb aquarium?
Juist omdat een BiOrb aquarium zo klein is, moet er extra aandacht besteed worden aan haar aquariumbewoners. Te veel of te grote vissen leiden tot algen, ziekten en uiteindelijk tot het overlijden van je aquariumbewoners. Aquariumbewoners die wel geschikt zijn, zijn vooral kleine visjes, garnaaltjes en slakken. Met name de garnalen zoals Crystal Red garnalen en vuurgarnalen zijn erg leuk want die zorgen ook voor hun eigen nageslacht. Net als Gupjes die ook zorgen voor een eigen kweek.
LET OP! Koop niet meer dan drie soorten aquariumvissen. Die mogen in geen geval groter worden dan 4-5 cm. Anders ontstaat er overbelasting met alle horror-gevolgen van dien.
Welke aquariumplanten wil je in een BiOrb aquarium?
Net als bij aquariumdieren zijn niet alle aquariumplanten geschikt voor een BiOrb aquarium. Voor je het weet wordt het aquarium overwoekert door planten en raak je daarmee het mooie design kwijt. Probeer een selectie te maken van kleine planten zoals mossen en middelgrote planten zoals Cryptocoryne. Deze combinatie geeft een prachtige samenstelling in het BiOrb aquarium.
| | |
| --- | --- |
| Aquariumbewoners | Aquariumplanten |
| Slakjes | Vallisneria |
| Vuurgarnalen | Dwerg Cryptocoryne |
| Guppy | Anubias |
| Siamese Kempvis | Cabomba (groeit snel) |
| Black Molly | Javamos |
| Halfsnavelbekje | Waterpest (groeit snel) |
| Borstelneus | Echinodorus |
| Roodneuszalm | Javavaren |
Is een BiOrb aquarium ook daadwerkelijk het geld waard?
Is een BiOrb het geld nou waard? Dat ligt eraan wat je precies wilt. Houd je van niet teveel schoonmaakwerk, design en de laatste trend? Dan is een BiOrb aquarium wat voor jou. Het is lichter, sterker en moderner. Het is een blikvanger en tegelijkertijd een aquarium met een nieuw type en efficiënt ingebouwd filter. Het lijkt alsof je de vissen aan kunt raken. Maar wat staat daar tegenover?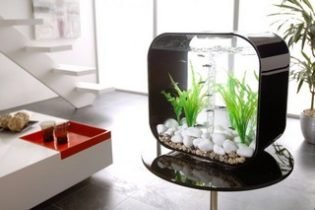 De aanschaf van een aquarium is altijd kostbaar. Een BiOrb aquarium is daar helaas geen uitzondering op. De 30 liter variant gaat rond de 200 euro nieuw van de hand. Gebruikte modellen zijn op Markplaats wel een stuk goedkoper te verkrijgen. Bovendien is het formaat van een BiOrb aquarium klein en dat moet je liggen.
Zou ik zelf een BiOrb aquarium kopen? Als een eerste aquarium niet (te klein), als een tweede aquarium zeker weten! Ik houd van moderne aquaria en daar valt een BiOrb aquarium zeker onder. Het idee van een sterk, klein maar modern en design aquarium spreekt mij enorm aan. Meer dan een normaal aquarium is een BiOrb aquarium een onderdeel van je woonkamer. Een verlenging van je inrichting.
Wat zijn jouw ervaringen en overwegingen bij een BiOrb aquarium?
Heb je een BiOrb aquarium of overweeg je er één te nemen? Laat jouw vragen of reactie achter bij de comments!