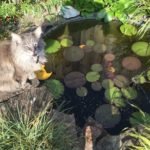 Vijver paradise
Algemeen
| | |
| --- | --- |
| Naam: Vijver paradise | Gebruikersnaam: Aquariumfans |
| Merk: onbekend | Afmeting/inhoud aquarium: 1300 liter |
| Verlichting: Buitenlicht | Aquariumstijl: Vijver |
Achtergrond
Waarom ben je eigenlijk een aquarium begonnen?
Ik ben een vijver vrij spontaan begonnen. We waren bezig met het verbouwen van de tuin en daar wat plannen voor aan het maken. Op dat moment was er een vriend bij ons die fan is van vijvers. Diezelfde avond hebben we meteen een grote vijver besteld, en de volgende dag erin gelegd.
Hoe zou jij je aquarium omschrijven?
Het is echt een beginnersvijver. Op dit moment ligt de vijver er een jaar of 2 in. De planten beginnen nu eindelijk over de randen heen te groeien. We hebben er ook verschillende planten ingezet zoals een waterlelie en wat zuurstoplanten.
Aquariumbewoners
Wie woont er in je aquarium?
4 Goudvissen
3 Zwarte vissen
Wat zijn je mooiste aquarium bewoners en waarom vind je dat?
Ik vind goudvissen echt fantastische vijverbewoners. De sluierstaart vind ik bijvoorbeeld leuk maar die is niet echt geschikt voor deze buiten vijver. Ook Kooikarpers vind ik een echte aanwinst. Daar hebben we alleen niet voor gekozen omdat het nogal een dure aanschaf is en de vijver eigenlijk nog groter zou moeten zijn.
Is er wel eens een aquarium bewoner overleden en waardoor kwam dat?
Ja helaas wel, hoewel je het nooit zeker weet. Afgelopen zomer dacht ik dat alle vissen overleden waren. Ik heb echt goed gekeken maar zag helemaal niets. Nu is het zomer en zie ik gewoon dat alle vissen er nog inzitten. Super raar, maar ik was er wel blij mee.
Welke bewoners zou je in de toekomst nog willen hebben en waarom?
Goede vraag. Ik zou nog wel eens een gave algeneter willen (ook gewoon omdat ik een hekel aan algen heb ;) En misschien nog wat grotere goudvissen. Hoewel die van mij het afgelopen jaar enorm zijn gegroeid. Zeker >10 cm. Van de buurman hebben we nog 1 grotere goudvis gekregen (oranje en wit), die vind ik ook heel erg mooi.
Aquariumplanten
Welke planten heb je in je aquarium?
Waterlelie
Cabomba
Waterpest
Paar onbekende
Wat zijn je ervaringen met de groei van je planten?
Nou dat is een goede vraag. We hebben in het begin onwijs veel problemen gehad. Vooral met de groei. Koop je dure waterplanten, gaan ze vervolgens dood. lekker balen was dat zeg. De lelie doet het nu wel goed, de cabomba minder en de waterpest doet het ook redelijk. We hebben ook van een vriend nog wat zuurstofplanten gekregen maar daarvan weet ik de naam niet.
Gebruik je CO2 of andere supplementen, en wat zijn je ervaringen daarmee?
Nee, alleen af en toe een anti algen tablet. Hoewel dat dit jaar niet nodig lijkt te zijn (yes!)
Wat is je ideale stijl van planten en wat trekt je daar zo aan?
Ik vind kale vijvers totaal niet mooi. Dus ik wil een vijver waar wat leven inzit, ook in de beplanting. Dat geldt overigens ook voor de begroeing omheen. Zodat de vijver er een beetje natuurlijk uitziet. De balans tussen wildgroei en een mooie vijver is overigens nog best lastig. Vooral goed snoeien is belangrijk.
Aquarium ervaringen
Wat zijn je grootste aquarium ergernissen?
Algen! Daar word ik echt helemaal niet goed van. Eerst allemaal draderige alg, daar konden we truien voor de hele buurt van breien. Dat zat ook overal, de planten, randen. Daarna hebben we nog groen water alg gehad. Sinds we een pomp hebben en de planten een beetje beginnen te groeien gaat het gelukkig wel goed.
Wat zijn je wensen verder nog met het aquarium?
Gewoon alles lekker laten groeien. Dan willen we nog eens een plantje of een visje veranderen, maar voorlopig is het meer dan goed zo!
Wat voor aquarium decoratie heb je in je aquarium?
Planten
Drijfvlot met planten
Pompdoos
Waarom maak je gebruik van juist deze decoratie?
Het drijfvlot vooral omdat het leuk is om planten op de vijver te zien dobberen. Ziet er wel rustgevend uit en is gelijk goede beschutting voor de vissen!
Welke tips wil je aan andere mensen meegeven?
Zorg dat je planten zo snel mogelijk groeien
Voer de goudvissen niet teveel, daar wordt de vijver snel vervuild door
Koop wat planten voor over de rand van het aquarium. Dat ziet er meteen goed uit
Koop altijd een groep goudvissen, alleen vinden ze er volgens mij niets aan