Apistogramma aquariumvissen, wat een beauty!
Houd je van tropische aquariumvissen met prachtige kleuren? Dan is de apistogramma een vis voor jou! Binnen dit soort bevinden zich echte siervissen en die hebben een pallet van schitterende kleuren en kleurvormen. Dat maakt dat de apistogramma een gewilde aquariumbewoner is geworden.
Zorg er voor dat je aquariumvissen gezond blijven! Fundamenteel daarvoor is de juiste voeding. Wil jeje Apistogramma mooi en fel gekleurd én gezond? Ik hoor goede verhalen van deze speciale voeding voor tropische vissen. Zeker het proberen waard!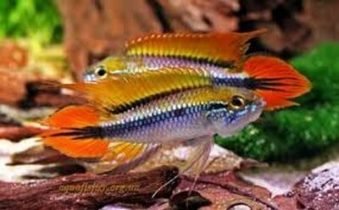 Deze aquariumvissen zijn zogeheten dwergcichliden en komen oorspronkelijk uit de tropische gebieden van de Amazone en Venezuela. Het zijn relatief rustige vissen die aquariumvissen uit een ander geslacht meestal met rust laten.
In de broedperiode kunnen ze echter wel territoriaal worden. Lees ook eens de blogs over cichliden en dwergcichliden eens voor meer informatie. Territoriaal is niet altijd even leuk want dat kan stress opleveren voor de vis zelf, maar vooral voor de andere vissen in het aquarium. En stress leidt tot allerlei vervelende visziekten dus dat willen we vooral voorkomen.
Eisen en wensen
Net zoals bij de meeste tropische aquariumvissen doe je de apistogramma een plezier wanneer je de natuurlijke habitat probeert na te bootsen. In dit geval houdt dat in dat er sprake moet zijn van kalkarm, licht zuur water. Bovendien moeten er veel schuilmogelijkheden zijn, bijvoorbeeld aquariumplanten (vooral drijfplanten), kiemhout zoals grote wortelpartijen, kokosnoten of decoratie.
Weetje: in tegenstelling tot veel andere cichliden laat de apistogramma je aquariumplanten met rust.
Specificaties van de apistogramma
| | |
| --- | --- |
| Aquariumgrootte | Vanaf 100 cm |
| Lengte van de vis | Vrouwtje is grofweg 4-6 cm en het mannetje 5-8 cm |
| Waterkwaliteit | Kalkarm, licht zuur water. pH 5.5-6.5 |
| Leeftijd | Ongeveer een jaar of drie |
| Andere vissen mogelijk? | Zolang ze uit een ander geslacht komen zeker |
| Watertemperatuur | 24-26 graden |
| Moet ik nog iets weten? | Ja, ze zijn bij hun eigen soort territoriaal |
Apistogramma soorten
Wanneer je geen ervaring hebt met vissoorten uit het Amazonegebied, dan is de apistogramma ongeschikt om mee te beginnen. Dit omdat apistogrammas eisen stellen aan het water en omgeving waaraan ook echt voldaan dient te worden. Bied je wel een goede omgeving, dan is met een geslacht van 70 soorten voldoende keus. Wil je weten wat bekende apistogrammas zijn? Lees dan het artikel over apistogrammas soorten eens. Voorbeelden van bekende soorten zijn: apistogramma cacatuoides, borelli, agassizii en ramirezi.
Weetje: de mannetjes zijn over het algemeen veel kleurrijker dan de vrouwtjes.
Apistogramma kweken
Voor aquariumliefhebbers met wensen om de apistogramma te kweken is er goed nieuws. Deze tropische vissen laten zich goed fokken. Het mannetje moet in een groter aquarium altijd met een aantal vrouwtjes worden geplaatst. In een klein aquarium volstaat slechts één mannetje met een vrouwtje als koppel. Zorg in een groter aquarium dat de broedplaatsen op een dusdanige manier in zijn gericht dat de vrouwtjes elkaars broedplaatsen niet zien. Anders gaan ze elkaars broedplaatsen vernielen. Voor sommige soorten is een platte steen waar de eitjes op afgezet kunnen worden de beste broedplaats.
Het vrouwtje is enorm toegewijd voor haar eitjes en jongen, en het is dan ook leuk om dit proces mee te maken. Na twee tot vijf dagen komen de eitjes uit en na een dag of vijf zwemmen de jongen alweer op eigen kracht rond. Na een aantal weken zijn de jongen geheel zelfstandig. Op dat moment kun je deze kleine tropische aquariumvissen in een aparte bak laten opgroeien. Dit om onderlinge territoriale strijden te voorkomen.
Weetje: soms gedraagt het mannetje zich als een vrouwtje om te zorgen dat hij geen last heeft van sterke andere territoriale apistogramma mannetjes.
Een vraag aan jou…!
Heb jij nog ervaringen, vragen of opmerkingen? Laat dan een reactie achter!