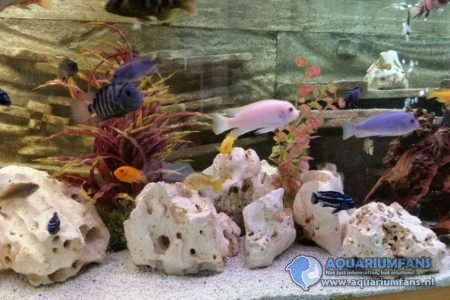 Tropical
Algemeen
| | |
| --- | --- |
| Naam: Tropical | Gebruikersnaam: Adri |
| Merk: Diverse bakken waar van een Juwel een van een onbekend merk en de rest is zelfbouw. | Afmeting/inhoud aquarium: 290 x 60 x 70 |
| Verlichting: TL en Led | Aquariumstijl: Overige |
Achtergrond
Waarom ben je eigenlijk een aquarium begonnen?
Komt later
Hoe zou jij je aquarium omschrijven?
Komt later
Aquariumbewoners
Wie woont er in je aquarium?
Wat zijn je mooiste aquarium bewoners en waarom vind je dat?
Komt later
Is er wel eens een aquarium bewoner overleden en waardoor kwam dat?
Ja, regelmatig of door ouderdom, door ziekten en natuurlijk ook in mijn begin tijd door slechte voorlichting door de aquarium speciaal zaak.
Welke bewoners zou je in de toekomst nog willen hebben en waarom?
Komt later
Aquariumplanten
Welke planten heb je in je aquarium?
Wat zijn je ervaringen met de groei van je planten?
Goed
Gebruik je CO2 of andere supplementen, en wat zijn je ervaringen daarmee?
Ja, de ervaring is goed, maar het is simpel je moet niet gaan overdrijven met supplementen.
Wat is je ideale stijl van planten en wat trekt je daar zo aan?
Harde beplanting. Die worden minder snel door de vissen gegeten of gesloopt.
Aquarium ervaringen
Wat zijn je grootste aquarium ergernissen?
Slechte voorlichting bij de aquarium speciaal zaak
Wat zijn je wensen verder nog met het aquarium?
Lekker verder experimenteren en ervaringen op doen.
Wat voor aquarium decoratie heb je in je aquarium?
Waarom maak je gebruik van juist deze decoratie?
Komt later
Welke tips wil je aan andere mensen meegeven?
Ga naar een goede aquarium speciaal zaak die je goede informatie geeft. En niet naar zijn omzet kijkt.
Komt later
Komt later
Komt later
Komt later