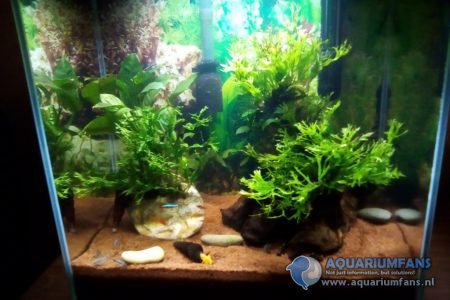 Fluval Edge 46 L
Algemeen
| | |
| --- | --- |
| Naam: Fluval Edge 46 L | Gebruikersnaam: Monique Hoekstra |
| Merk: Fluval Edge | Afmeting/inhoud aquarium: 46 L |
| Verlichting: LED | Aquariumstijl: Overige |
Achtergrond
Waarom ben je eigenlijk een aquarium begonnen?
Ik ben eraan begonnen, vanwege mijn kleinzoons interesse in aquaria/vissen. Ik vind het leuk om samen met hem hiermee bezig te zijn
Hoe zou jij je aquarium omschrijven?
Een heel mooi, decoratief aquarium
Aquariumbewoners
Wie woont er in je aquarium?
olifantslakken 2x plus 4 kleintjes
garnalen ongeveer 6
pareldanio 1 x
7 vuurtetras, 1 kardinaaltetra
5 mini pantsermeervalletjes
Wat zijn je mooiste aquarium bewoners en waarom vind je dat?
De tetra's, vanwege hun beweeglijkheid en het in schooltje zwemmen
Is er wel eens een aquarium bewoner overleden en waardoor kwam dat?
nee
Welke bewoners zou je in de toekomst nog willen hebben en waarom?
Op dit moment is er 1 kardinaaltetra en 1 pareldanio. Ik vraag mij af of dit aantal moet worden aangevuld.
Aquariumplanten
Welke planten heb je in je aquarium?
Wat zijn je ervaringen met de groei van je planten?
Nog weinig ervaring met planten en weet ook niet welke soorten erin zitten
Gebruik je CO2 of andere supplementen, en wat zijn je ervaringen daarmee?
nee
Wat is je ideale stijl van planten en wat trekt je daar zo aan?
Ik zou wat meer planten willen en het lijkt me leuk om ook mossen en drijvende planten te hebben.
Aquarium ervaringen
Wat zijn je grootste aquarium ergernissen?
Nog geen
Wat zijn je wensen verder nog met het aquarium?
mooiere beplanting en het feit dat de kardinaalstetra en pareldanio eenlingen zijn. Misschien aanvullen?
Wat voor aquarium decoratie heb je in je aquarium?
siergrind
planten op hout
poster (niet mooi)
Waarom maak je gebruik van juist deze decoratie?
Dit was bij de overname van het aquarium al zo.
Welke tips wil je aan andere mensen meegeven?