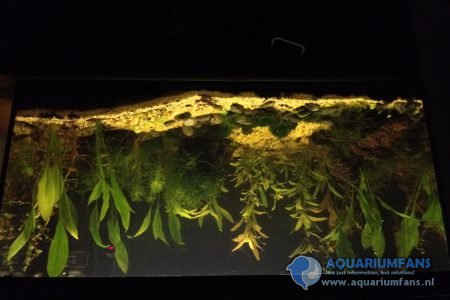 Het Aquarium
Algemeen
| | |
| --- | --- |
| Naam: Het Aquarium | Gebruikersnaam: De kleine vis |
| Merk: | Afmeting/inhoud aquarium: 60 x 30 x 30 |
| Verlichting: LED | Aquariumstijl: Aquascape |
Achtergrond
Waarom ben je eigenlijk een aquarium begonnen?
Ik heb altijd al dingen willen onderzoeken en van de natuur gehouden. Inmiddels 16, heb ik een aquarium gekocht.
Hoe zou jij je aquarium omschrijven?
Ik zoek nog inspiratie, maar het wordt druk beplant. Natuurlijk is de biofilter een belangrijk element.
Aquariumbewoners
Wie woont er in je aquarium?
Wat zijn je mooiste aquarium bewoners en waarom vind je dat?
Vuurgarnalen, leuk om ze te gaan zoeken.
Is er wel eens een aquarium bewoner overleden en waardoor kwam dat?
Niet dat ik weet.
Welke bewoners zou je in de toekomst nog willen hebben en waarom?
boraras maculata, mooie felle kleur rood, klein.Meer vuurgarnalen, kan ik ze wat meer zien.honinggourami, mooie kleur.
Aquariumplanten
Welke planten heb je in je aquarium?
Belgisch groen
Rotala indica
Echinodorus
Waterpest
Java mos
Chladoflora (mosballetje)
Hydrocotyle
Kikkerbeet
Mosselplantjes
Wat zijn je ervaringen met de groei van je planten?
De meeste groeien goed, alleen mijn cabomba is wel gestorven.
Gebruik je CO2 of andere supplementen, en wat zijn je ervaringen daarmee?
Nee
Wat is je ideale stijl van planten en wat trekt je daar zo aan?
Heel erg beplant, elk stukje moet beplant zijn. Ik vind planten gewoon heel mooi, het ziet er natuurlijk uit, en geeft het gevoel alsof je aquarium echt een mini-wereldje is opzichzelf.
Aquarium ervaringen
Wat zijn je grootste aquarium ergernissen?
Kosten
Wat zijn je wensen verder nog met het aquarium?
Alles wat ik nog moet doen. Een gezond ecosysteem creëren. Ik hoop nog kienhout te plaatsen, heb al besteld. En natuurlijk de andere aquariumbewoners toe te voegen en mijn biofilter aantesluiten.
Wat voor aquarium decoratie heb je in je aquarium?
lavasteen
zwart grind
brekerszand
Waarom maak je gebruik van juist deze decoratie?
Zwart vind ik mooi in een aquarium staan, ik hoop dat hydrocotyle al het brekerszand zal bedekken.
Welke tips wil je aan andere mensen meegeven?
Doe heel veel onderzoek naar vissen, planten die je neemt.
Laat de hoeveelheid garnalen die je koopt ook afhangen aan de grote van je aquarium en het aantal verstopplekjes.
Veel planten nemen en planten die tegen een stootje kunnen zijn niet lelijker dan planten die dat niet kunnen. Ik heb altijd heel lang mijn licht aanstaan, maar nooit last van algen gehad.
Je hoeft echt niet een goede bodem te nemen of speciale lichten te kopen, het licht gewoon aan de planten die je neemt.