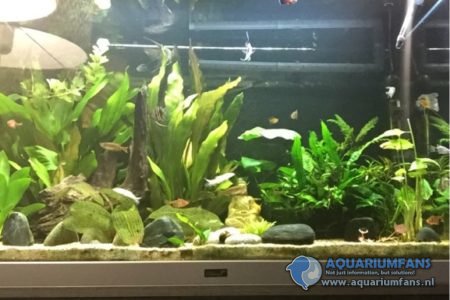 Kleuren rijkdom
Algemeen
| | |
| --- | --- |
| Naam: Kleuren rijkdom | Gebruikersnaam: chris |
| Merk: Aquatlantis | Afmeting/inhoud aquarium: 80X50X50 |
| Verlichting: Let | Aquariumstijl: Gezelschapsaquarium |
Achtergrond
Waarom ben je eigenlijk een aquarium begonnen?
Is zo mooi hè. Ik kijk maar naar mijn hobby dan dat ik de tv aan doe. Daar is toch niks op.
Hoe zou jij je aquarium omschrijven?
Ja vind vind soms lastig om planten op CO2 te testen.
Aquariumbewoners
Wie woont er in je aquarium?
Wat zijn je mooiste aquarium bewoners en waarom vind je dat?
Ik heb zo veel zou kijk wanneer ik tijd heb alle namen in te zetten
Is er wel eens een aquarium bewoner overleden en waardoor kwam dat?
Jep mijn eigen schuld. Maar ook zonder reden of waarom.
Welke bewoners zou je in de toekomst nog willen hebben en waarom?
Notobrangius rachovie de donkerblauwe kleur.
Aquariumplanten
Welke planten heb je in je aquarium?
Wat zijn je ervaringen met de groei van je planten?
Goed de bodemreiniger CO2 testen.
Gebruik je CO2 of andere supplementen, en wat zijn je ervaringen daarmee?
CO2 vloeibaar nog geen geld gehad voor duurder systeem.
Wat is je ideale stijl van planten en wat trekt je daar zo aan?
Grote planten het kleed aan. En interessant om ze zo goed mogelijk te verzorgen.
Aquarium ervaringen
Wat zijn je grootste aquarium ergernissen?
Niet echt tegen gekomen. Als iets niet goed gaat vind ik het interessant om opgelost.
Wat zijn je wensen verder nog met het aquarium?
Door groeien.
Wat voor aquarium decoratie heb je in je aquarium?
Waarom maak je gebruik van juist deze decoratie?
Ziet er mooi uit ben nog steeds niet te vreden.
Welke tips wil je aan andere mensen meegeven?
Door goed op te lette wat in de aquarium gebeurt.
Altijd vragen als je wat wil weten.