Zoetwater aquarium vissen, wat moet je weten?
Over zoetwater aquarium vissen is veel geschreven. En niet onterecht want het merendeel van de aquariums die ik tegen kom zijn visonvriendelijk. Veel vissen sterven en dat is met een beetje kennis niet nodig. Lees daarom ook eens de blog over de belangrijkste kennis rondom aquarium vissen en de top 10 aquarium vissen voor beginners.
Zoetwater aquarium vissen kunnen jaren oud worden. Helaas is dit meestal niet het geval. En dat komt door onvoldoende aquariumkennis. Zelf vind ik het belangrijk om de juiste zoetwater visvoeding te gebruiken en gebruik ik vitaminen voor mijn vissen. Daarmee verhoog je de weerstand en dat scheelt een heleboel vervelende consequenties. Zeker proberen.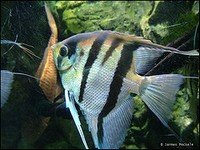 De belangrijkste tip om je aquarium zo in te richten dat vissen zich er prettig in voelen is de natuur als voorbeeld te nemen. Dat geldt niet alleen voor decoratieve elementen maar voornamelijk voor de waterwaardes. Een vis die gewend is aan relatief zuur water hoort niet thuis in zacht water.
En zo zijn er tal van voorbeelden te verzinnen voor zoetwater aquarium vissen. In deze blog vind je veel informatie over de algemene vragen. Lees hier nog meer informatie over tropische vissen
Zoetwater aquarium vissen: hoe oud worden ze?
Veel mensen weten niet dat zoetwater aquarium vissen ouder worden dan een jaar. Houd je vast, de meeste soorten worden ouder dan vijf jaar en dikwijls 10 tot 20 jaar! Veel reden dus je aquarium zo goed mogelijk in te richten. Het houden van levende beesten geeft je ook een bepaalde verantwoordelijkheid. Scheelt weer geld en het onnodige verlies van vissenlevens.
Zoetwater aquarium vissen: voeding
Meestal krijgen vissen vlokvoeding en daar moeten ze het mee doen. Helaas is dat vaak niet voldoende. Je kunt het vergelijken met elke dag magnetronmaaltijden eten. Zonder af en toe vers eten en fruit word je eerder ziek. Dat is ook het geval bij vissen.
Koop daarom ook eens een zak watervlooien of larven. Je vissen zullen je dankbaar zijn en hun immuunsysteem wordt sterker. Tip: Last van fruitvliegjes? Vang ze en gooi ze in het aquarium. Vissen zijn er dol op!
Zoetwater aquarium vissen: of toch zoutwater?
Zeeaquaria behoren tot de mooiste levende schilderijen. Als je echter net begint met een aquarium dan wordt het sterk afgeraden met een zeewater aquarium te beginnen. Beide hebben bepaalde waterwaarden maar het grootste verschil tussen zoetwater en- zoutwater is dat zoutwater allemaal zouten bevat die invloed op het water hebben. Kennis daarvan is absoluut noodzakelijk en kan complex zijn. Begin daarom altijd met een zoetwater aquarium. En vrees niet, een zoetwater aquarium kan zo moeilijk zijn als dat je wilt, maar zal een prachtige decoratieve aanvulling zijn.
Een vraag aan jou…
Heb jij nog aanvullingen, vragen of opmerkingen? Laat dan een reactie achter!